Abstract
High-level expression of d-amino acid oxidase (DAO) has been reported in Pichia pastoris by integrating the DAO gene under the control of the alcohol oxidase promoter (PAOX1). However, the time taken to reach peak product concentration is usually long (∼43 h), and cultivation requires tight regulation of methanol feeding. In this paper, we describe the expression of His-tagged DAO (HDAO) in P. pastoris using the glyceraldehydes-3-phosphate dehydrogenase promoter (PGAP). The maximal level of HDAO expression using the PGAP integrant is attained in 13 h and is equal to that obtained using the PAOX1 integrant in 43 h. We also explored the possibility of secreting HDAO in P. pastoris. In-frame fusion of Saccharomyces cerevisiae α-factor secretion signal under a PGAP or PAOX1 resulted in low-level secretion of active HDAO, which was not of practical use. The intracellularly expressed HDAO under PGAP was purified by agar-based affinity support and then immobilized on Amberzyme oxirane resin. The immobilized HDAO, with specific activity of 75 U g−1 (wet weight), could be recycled more than 14 times without significant loss of activity. The data suggest that intracellular production of HDAO under PGAP, followed by affinity purification and immobilization on oxirane resin, may serve as an effective process for the manufacture of immobilized DAO for industrial application.
This is a preview of subscription content, log in to check access.
Access options
Buy single article
Instant access to the full article PDF.
US$ 39.95
Price includes VAT for USA
Subscribe to journal
Immediate online access to all issues from 2019. Subscription will auto renew annually.
US$ 199
This is the net price. Taxes to be calculated in checkout.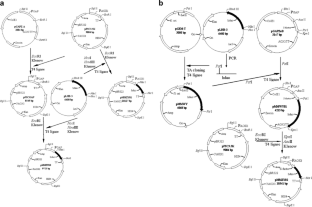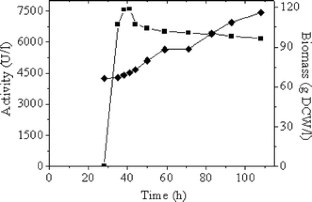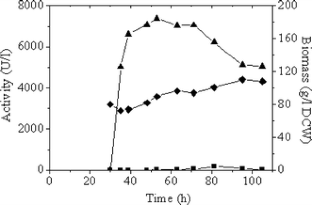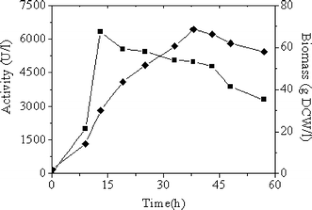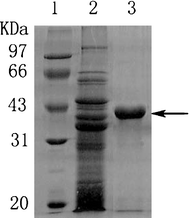 References
Alonso J, Barredo JL, Armisen P, Diez B, Salto F, Guisan JM, Garcia JL, Cortes E (1999) Engineering the d-amino acid oxidase from Trigonopsis variabilis to facilitate its overproduction in Escherichia coli and its downstream processing by tailor-made metal chelate supports. Enzyme Microb Technol 25:88–95

Bai J, Rodriguez AM, Melendez JA, Cederbaum AI (1999) Overexpression of catalase in cytosolic or mitochondrial compartment protects HepG2 cells against oxidative injury. J Biol Chem 274:26217–26224

Barber MS, Giesecke U, Reichert A, Minas W (2004) Industrial enzymatic production of cephalosporin-based beta-lactams. In: Molecular biotechnology of fungal beta-lactam antibiotics and related peptide synthetases. Springer, Berlin Heidelberg New York, pp 179–215

Becka S, Skrob F, Plhackova K, Kujan P, Holler P, Kyslik P (2003) Cross-linked cell aggregates of Trigonopsis variabilis: d-amino acid oxidase catalyst for oxidation of cephalosporin C. Biotechnol Lett 25:227–233

Bradford MM (1976) A rapid and sensitive method for the quantitation of microgram quantities of protein utilizing the principle of protein-dye binding. Anal Biochem 72:248–254

Cambiaghi S, Tomaselli S, Verga R (1991) Enzymatic process for preparing 7-aminocephalosporanic acid and derivatives. EP0496993A1

Furuya K, Matsuda A (1993) A transformant capable of producing d-amino acid oxidase. EP583817A2

Golini P, Bianchi D, Battistel E, Cesti P, Tassinari R (1995) Immobilization of d-amino acid oxidase from different yeasts-characterization and application in the deamination of cephalosporin C. Enzyme Microb Technol 17:324–329

Gonzalez FJ, Montes J, Martin F, Lopez MC, Ferminan E, Catalan J, Galan MA, Dominguez A (1997) Molecular-cloning of TvDAO1, a gene encoding a d-amino acid oxidase from Trigonopsis variabilis and its expression in Saccharomyces cerevisiae and Kluyveromyces lactis. Yeast 13:1399–1408

Hemdan ES, Zhao YJ, Sulkowski E, Porath J (1989) Surface topography of histidine residues: a facile probe by immobilized metal ion affinity chromatography. Proc Natl Acad Sci U S A 86:1811–1815

Horner R, Wagner F, Fischer L (1996) Induction of the d-amino acid oxidase from Trigonopsis variabilis. Appl Environ Microbiol 62:2106–2110

Hubert P, Porath J (1980) Metal chelate affinity chromatography. I. Influence of various parameters on the retention of nucleotides and related compounds. J Chromatogr 198:247–255

Hwang TS, Fu HM, Lin LL, Hsu WH (2000) High-level expression of Trigonopsis variabilisd-amino acid oxidase in Escherichia coli using lactose as inducer. Biotechnol Lett 22:655–658

Isoai A, Kimura H, Reichert A, Schorgendorfer K, Nikaido K, Tohda H, Giga-Hama Y, Mutoh N, Kumagai H (2002) Production of d-amino acid oxidase (DAO) of Trigonopsis variabilis in Schizosaccharomyces pombe and the characterization of biocatalysts prepared with recombinant cells. Biotechnol Bioeng 80:22–32

Lin LL, Chien HR, Wang WC, Hwang TS, Fu HM, Hsu WH (2000) Expression of Trigonopsis variabilisd-amino acid oxidase gene in Escherichia coli and characterization of its inactive mutants. Enzyme Microb Technol 27:482–491

Liu HB, Jiang WH, Yang YL (1999) Cloning, sequencing and expression of d-amino acid oxidase gene. Chin J Biotechnol 15:337–342

Pilone MS, Pollegioni L, Buto S (1992) Stability and kinetic-properties of immobilized Rhodotorula gracilisd amino acid oxidase. Biotechnol Appl Biochem 16:252–262

Sambrook J, Fritsch EF, Maniatis T (1989) Molecular cloning: a laboratory manual, 3rd edn. Cold Spring Harbor Laboratory, Cold Spring Harbor, NY

Sauber K (1993) Lessons from industry. In: van den Tweel JJ, Harder A, Buitelaar RM (eds) Stability and stabilization of enzymes. Elsevier, Amsterdam, pp 145–151

Yu J, Li DY, Zhang YJ, Yang S, Li RB, Yuan ZY (2002) High expression of Trigonopsis variabilisd-amino acid oxidase in Pichia pastoris. J Mol Catal B Enzym 18:291–297
Acknowledgements
This work was supported by an 863 Hi-Tech Program grant (no. 2001AA235081). We thank Ms. Christine Robinson and Dr. Lindsay Sparrow for critical reading of this paper.
About this article
Cite this article
Zheng, H., Wang, X., Chen, J. et al. Expression, purification, and immobilization of His-tagged d-amino acid oxidase of Trigonopsis variabilis in Pichia pastoris . Appl Microbiol Biotechnol 70, 683–689 (2006). https://doi.org/10.1007/s00253-005-0158-8
Received:

Revised:

Accepted:

Published:

Issue Date:
Keywords
Oxirane

Yeast Nitrogen Base

Integrative Vector

Basal Salt Medium

Yeast Extract Peptone Dextrose Medium