Abstract
Monitoring of micro-organisms released deliberately into the environment is essential to assess their movement during the bio-remediation process. During the last few years, DNA-based genetic methods have emerged as the preferred method for such monitoring; however, their use is restricted in cases where organisms used for bio-remediation are not well characterized or where the public domain databases do not provide sufficient information regarding their sequence. For monitoring of such micro-organisms, alternate approaches have to be undertaken. In this study, we have specifically monitored a p-nitrophenol (PNP)-degrading organism, Arthrobacter protophormiae RKJ100, using molecular methods during PNP degradation in soil microcosm. Cells were tagged with a transposon-based foreign DNA sequence prior to their introduction into PNP-contaminated microcosms. Later, this artificially introduced DNA sequence was PCR-amplified to distinguish the bio-augmented organism from the indigenous microflora during PNP bio-remediation.
This is a preview of subscription content, log in to check access.
Access options
Buy single article
Instant access to the full article PDF.
US$ 39.95
Price includes VAT for USA
Subscribe to journal
Immediate online access to all issues from 2019. Subscription will auto renew annually.
US$ 199
This is the net price. Taxes to be calculated in checkout.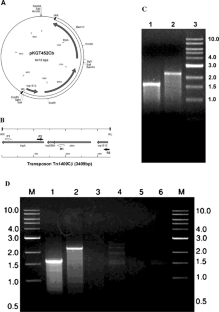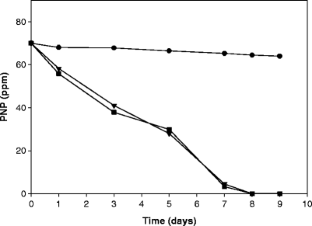 References
Bhushan B, Chauhan A, Samanta SK, Jain RK (2000) Kinetics of biodegradation of p-nitrophenol by different bacteria. Biochem Biophys Res Commun 274:626–630

Chauhan A, Jain RK (2000) Degradation of o-nitrobenzoate via anthranilic acid (o-aminobenzoate) by Arthrobacter protophormiae RKJ100: a plasmid-encoded new pathway. Biochem Biophys Res Commun 267:236–244

Chauhan A, Chakraborti AK, Jain RK (2000) Plasmid-encoded degradation of p-nitrophenol and 4-nitrocatechol by Arthrobacter protophormiae. Biochem Biophys Res Commun 270:733–740

Gartemann K-H, Eichenlaub R (2001) Isolation and characterization of IS1409, an insertion element of 4-chlorotoluene-degrading Arthrobacter sp. strain TM1, and development of a system for transposon mutagenesis. J Bacteriol 183:3729–3736

Hanne LF, Kirk LL, Appel SM, Narayan AD, Bains KK (1993) Degradation and induction specificity in actinomycetes that degrade p-nitrophenol. Appl Environ Microbiol 59:3505–3508

Hartter DR (1985) The use and importance of nitroaromatic chemicals in the chemical industry. In: Rickert DE (ed) Toxicity of nitroaromatic compounds. Chemical Industry Institute of Toxicology, Washington, DC, pp 1–14

Higson FK (1992) Microbial degradation of nitroaromatic compounds. Adv Appl Microbiol 37:1–9

Jain RK, Dreisbach JH, Spain JC (1994) Biodegradation of p-nitrophenol via 1,2,4-benzenetriol by an Arthrobacter sp. Appl Environ Microbiol 60:3030–3032

Jansson JK, Bjorklof K, Elvang AM, Jorgensen KS (2000) Biomarkers for monitoring efficacy of bioremediation by microbial inoculants. Environ Pollut 107:217–223

Kadiyala V, Spain JC (1998) A two-component monooxygenase catalyzes both the hydroxylation of p-nitrophenol and the oxidative release of nitrite from 4-nitrocatechol in Bacillus sphaericus JS905. Appl Environ Microbiol 64:2479–2484

Kassen R, Rainey PB (2004) The ecology and genetics of microbial diversity. Annu Rev Microbiol 58:207–231

Moller A, Gustafosson K, Jansson JK (1994) Specific monitoring by PCR amplification and bioluminescence of firefly luciferase gene-tagged bacteria added to environmental samples. FEMS Microbiol Ecol 15:193–206

Prosser JI (1994) Molecular marker systems for detection of genetically engineered microorganisms in the environment. Microbiology 140:5–17

Samanta SK, Singh OV, Jain RK (2002) Polycyclic aromatic hydrocarbons: environmental pollution and bioremediation. Trends Biotechnol 20:243–248

Spain JC, Hughes JB, Knackmuss HJ (2000) Biodegradation of nitroaromatic compounds and explosives. In: Spain JC (ed) Lewis, Washington, DC

Timmis KN, Pieper DH (1999) Bacteria designed for bioremediation. Trends Biotechnol 17:201–204
Acknowledgements
We are indebted to Debarati Paul for helpful discussions, to Aparajita Basu for her excellent technical assistance and to Dr. Karl-Heinz Gartemann for kindly providing the transposon delivery vector. This work, in part, was supported by the Indo Swiss Collaboration in Biotechnology (ISCB) and Department of Biotechnology (DBT). This is IMTECH Communication No. 36/2004.
About this article
Cite this article
Pandey, G., Pandey, J. & Jain, R.K. Monitoring Arthrobacter protophormiae RKJ100 in a 'tag and chase' method during p-nitrophenol bio-remediation in soil microcosms. Appl Microbiol Biotechnol 70, 757–760 (2006). https://doi.org/10.1007/s00253-005-0134-3
Received:

Revised:

Accepted:

Published:

Issue Date:
Keywords
Soil Microcosm

Microbial Potential

Soil Microcosm Experiment

Strain RKJ100

Arthrobacter Protophormiae