Abstract
Different nutrient-feeding cultures were carried out in producing recombinant protein of truncated tumor necrosis factor related apoptosis-inducing ligand (TRAIL) (114–281 amino acids of TRAIL) in Escherichia coli strain C600/pBV-TRAIL. The effects of preinduction specific growth rate, postinduction carbon source (glucose and glycerol), and feeding strategies were investigated. The higher preinduction specific growth rate (μ=0.22 h−1) contributed to the increase in the TRAIL production, at which TRAIL was accumulated in bacterial cells as 7.2% of total cellular protein, corresponding to 1.99 g l−1 in contrast with 5.1% (1.29 g l−1) at preinduction specific growth rate (μ=0.1 h−1) during high-cell-density culture. Glycerol was superior to glucose as the postinduction carbon source for TRAIL production. Under similar culture conditions, the final concentration of TRAIL was produced 1.59-fold more when glycerol was used as postinduction carbon source than when glucose was used. At the same time, the results showed that it is efficient to adopt the pH-stat feeding strategy at postinduction for the overproduction of TRAIL. The TRAIL production was increased up to 4.51 g l−1, approximately 16.1% of total cellular protein. The mechanisms behind the preinduction specific growth rate effect on the expression level may be ascribed to the leakage secretion of acetate.
This is a preview of subscription content, log in to check access.
Access options
Buy single article
Instant access to the full article PDF.
US$ 39.95
Price includes VAT for USA
Subscribe to journal
Immediate online access to all issues from 2019. Subscription will auto renew annually.
US$ 199
This is the net price. Taxes to be calculated in checkout.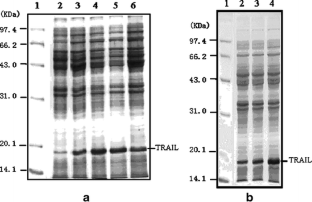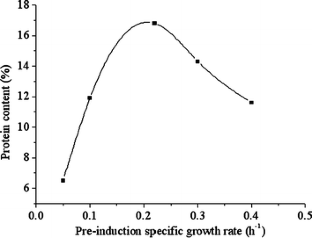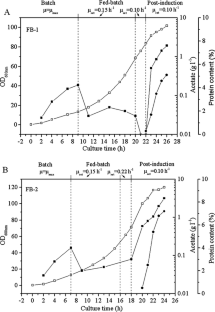 References
Aristidou AA, San KY, Bennett GN (1994) Modification of central metabolic pathways in Escherichia coli to reduce acetate accumulation by heterologous expression of the Bacillus subtilis acetolactate synthase gene. Biotechnol Bioeng 44:944–951

Babu KR, Swaminathan S, Marten S, Khanna N, Rinas U (2000) Production of interferon-α in high cell density cultures of recombinant Escherichia coli and its single step purification from refolded inclusion body proteins. Appl Microbiol Biotechnol 53:655–660

Bauer KA, Ben-Bassat A, Dawson M, De La Puente VT, Neway JO (1990) Improved expression of human interleukin-2 in high-cell-density fermentor cultures of Escherichia coli K-12 by a phosphotransacetylase mutant. Appl Environ Microbiol 56:1296–1302

Bech JE, Carlsen S (1990) Production of recombinant human growth hormone in Escherichia coli: expression of different precursors and physiological effects of glucose, acetate, and salts. Biotechnol Bioeng 36:1–11

Curless C, Pope J, Tsai LB (1990) Effects of preinduction specific growth rate on recombinant alpha consensus interferon synthesis in Escherichia coli. Biotechnol Prog 6:149–152

Curless C, Pope J, Loredo L, Tsai LB (1994) Effect of preinduction specific growth rate on secretion of granulocyte macrophage colony stimulating factor by Escherichia coli. Biotechnol Prog 10:467–471

Han K, Lim HC, Hong J (1992) Acetic acid formation in Escherichia coli fermentation. Biotechnol Bioeng 39:663–671

Holms WH (1986) The central metabolic pathways of Escherichia coli: relationship between flux and control at a branch point, efficiency of conversion to biomass, and excretion of acetate. Curr Top Cell Regul 28:69–105

Jeong KJ, Lee SY (1999) High-level production of human leptin by fed-batch cultivation of recombinant Escherichia coli and its purification. Appl Environ Microbiol 65:3027–3032

Kim JYH, Cha HJ (2003) Down-regulation of acetate pathway through antisense strategy in Escherichia coli: improved foreign protein production. Biotechnol Bioeng 83:841–853

Kirkpatrick C, Maurer LM, Oyelakin NE, Yoncheva YN, Maurer R, Slonczewski JL (2001) Acetate and formate stress: opposite responses in the proteome of Escherichia coli. J Bacteriol 183(21):6466–6477

Klemom GL, Strohl WR (1994) Development in high cell density and high productivity microbial fermentation. Curr Opin Biotechol 5:180–186

Korz DJ, Rinas U, Hellmuth K, Sanders EA, Deckwer WD (1995) Simple fed-batch technique for high cell density cultivation of Escherichia coli. J Biotechnol 39:59–65

Lee SY (1996) High cell-density culture of Escherichia coli. Trends Biotechnol 14:98–105

Lischke HH, Brandes L, Wu X, Schügerl K (1993) Influence of acetate on the growth of recombinant Escherichia coli JM103 and product formation. Bioprocess Eng 9:155–157

Mario L, Bettina F, Jochen B (2004) Effect of oxygen limitation and medium composition on Escherichia coli fermentation in shake-flask cultures. Biotechnol Prog 20:1062–1068

Panda AK, Khan RH, Mishra S, Appa Rao KBC, Totey SM (2000) Influences of yeast extract on specific cellular yield of ovine growth hormone during fed-batch fermentation of E.coli. Bioprocess Eng 22:379–383

Riesenberg D (1991) High cell-density cultivation of Escherichia coli. Curr Opin Biotechnol 51:422–430

Riesenberg D, Menzel K, Schulz V, Schumann K, Veith G, Zuber G, Knorre W (1990) A high cell density fermentation of recombinant Escherichia coli expressing human interferon alpha 1. Appl Microbiol Biotechnol 34:77–82

Shen YL, Zhang Y, Sun AY, Xia XX, Wei DZ (2004) High-level production of soluble tumor necrosis factor-related apoptosis-inducing ligand (Apo2L/TRAIL) in high-density cultivation of recombinant Escherichia coli using a combined feeding strategy. Biotechnol Lett 26:981–984

Siegel R, Ryu D (1985) Kinetic study of instability of recombinant plasmid pPLc23trpA1 in E. coli using two stage continuous culture system. Biotechnol Bioeng 27:28–33

Xia XX, Shen YL, Wei DZ (2004) Purification and characterization of recombinant sTRAIL expressed in Escherichia coli. Acta Biochim Biophys Sin 36(2):118–122

Walczak H, Miller RE, Ariail K, Gliniak B, Griffith TS, Kubin M, Chin W, Jones J, Woodward A, Le T, Smith C, Smolak P, Goodwin RG, Rauch CT, Schuh JCL, Lynch DH (1999) Tumoricidal activity of tumor necrosis factor-related apoptosis-inducing ligand in vivo. Nat Med 5(2):157–163

Wang LH, Zhu YP, Lou YH, Zhou JS, Peng YZ, Qiu Y, Jiao BH (2002) Higher density fermentation in preparation of recombinant soluble human TRAIL. Acad J Sec Mil Med Univ 23(2):132–135

Wiley SR, Schooley K, Smolak PJ, Din WS, Huang, CP, Nicholl JK, Sutherland GR, Smith TD, Rauch C, Smith CA (1995) Identification and characterization of a new member of the TNF family that induces apoptosis. Immunity 3:673–682

Wong HH, Kim YC, Lee SY, Chang HN (1998) Effect of postinduction nutrient feeding strategies on the production of bioadhesive protein in Escherichia coli. Biotechnol Bioeng 60:271–276
Acknowledgements
This work was supported by a grant from the Ministry of Science and Technology (Key Project of the National High Technology Research and Development Program of China (863 Program): Nos. 2002AA2Z345A and 2004AA2Z3801).
About this article
Cite this article
Luo, Q., Shen, Y., Wei, D. et al. Optimization of culture on the overproduction of TRAIL in high-cell-density culture by recombinant Escherichia coli . Appl Microbiol Biotechnol 71, 184–191 (2006). https://doi.org/10.1007/s00253-005-0131-6
Received:

Revised:

Accepted:

Published:

Issue Date:
Keywords
Specific Growth Rate

Feeding Strategy

Acetate Concentration

Total Cellular Protein

Exponential Feeding