Abstract
Klebsiella oxytoca, isolated from cyanide-containing wastewater, was able to utilize many nitriles as sole source of nitrogen. The major objective of this study was to explore the ability of K. oxytoca to utilize some nitriles and then further evaluate the pathways of transformation of cyanide compounds by K. oxytoca. Results from this study indicate that succinonitrile and valeronitrile were the most optimal sources of nitrogen for the growth of K. oxytoca. The biodegradation of acetonitrile proceeded with the formation of acetamide followed by acetic acid. The production of ammonia was also detected in this biodegradation experiment. Similar results were observed in the propionitrile biodegradation experiments. Collectively, this study suggests that the breakdown of acetonitrile or propionitrile by this bacterium was via a two-step enzymatic hydrolysis with amides as the intermediates and organic acids plus with ammonia as the end products.
This is a preview of subscription content, log in to check access.
Access options
Buy single article
Instant access to the full article PDF.
US$ 39.95
Price includes VAT for USA
Subscribe to journal
Immediate online access to all issues from 2019. Subscription will auto renew annually.
US$ 199
This is the net price. Taxes to be calculated in checkout.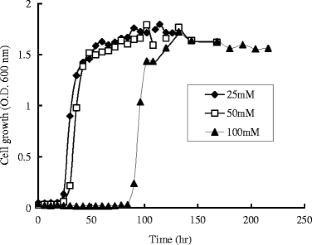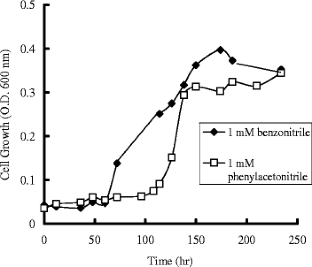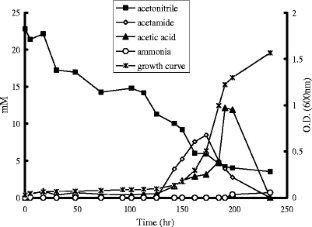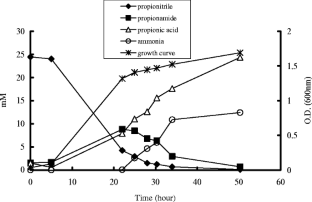 References
APHA, American Public Health Association (1995) Standard methods for the examination of water and waste water, 19th edn. APHA-AWWA-WEF, Washington, DC

Babu GRV, Wolfram JH, Marian JM, Chapatwala KD (1995) Pseudomonas marginalis: its degradative capability on organic nitriles and amides. Appl Microbiol Biotechnol 43:739–745

Banerjee A, Sharma R, Banerjee UC (2002) The nitrile-degrading enzymes: current status and future prospects. Appl Microbiol Biotechnol 60:33–44

Bui K, Fradet H, Arnaud A, Galzy P (1984) Nitrile hydratase with a wide spectrum produced by a Brevibacterium sp. J Gen Microbiol 130:89–93

Dadd MR, Claridge TDW, Walton R, Pettman AJ, Knowles CJ (2001) Regioselective biotransformation of the dinitrile compounds 2-, 3- and 4-(cyanomethyl) benzonitrile by the soil bacterium Rhodococcus rhodochrous LL 100-21. Enzyme Microb Technol 29:20–27

Dhillon JK, Shivaraman N (1999) Biodegradation of cyanide compounds by a Pseudomonas species (S1). Can J Microbiol 45:201–208

Dias JCT, Rezende RP, Rosa CA, Lachance M-A, Linardi VR (2000) Enzymatic degradation of nitriles by a Candida guilliermondii UFMG-Y65. Can J Microbiol 46:525–531

Dias JCT, Rezende RP, Linardi VR (2001) Bioconversion of nitriles by Candida guilliermondii CCT 7202 cells immobilized in barium alginate. Appl Microbiol Biotechnol 56:757–761

DiGeronimo MJ, Antoine AD (1976) Metabolism of acetonitrile and propionitrile by Nocardia rhodochrous LL 100-21. Appl Environ Microbiol 31:900–906

Fallon RD, Stieglitz B, Turner I Jr (1997) A Pseudomonas putida capable of stereoselective hydrolysis of nitriles. Appl Microbiol Biotechnol 47:156–161

Kao CM, Liu JK, Lou HR, Lin CS, Chen SC (2003) Biotransformation of cyanide to methane and ammonia by Klebsiella oxytoca. Chemosphere 50:1055–1061

Langdanhl BR, Bisp P, Ingvorse K (1996) Nitrile hydrolysis by Rhodococcus eryhropolis BL1, a acetonitrile-tolerant stain isolated from a marine sediment. Microbiology 142:145–154

Lee CM, Wang CC (2004) Denitrification with epsilon-caprolactam by acclimated mixed culture and by pure culture of bacteria isolated from polyacrylonitrile fibre manufactures wastewater treatment system. Water Sci Technol 49:341–348

Lowry OH, Rosebrough NJ, Farr AL, Randall RJ (1951) Protein measurement with the Folin phenol reagent. J Biol Chem 193:265–275

Nagasawa T, Mathew CD, Mauger J, Yamada H (1988) Nitrile hydratase catalysed production of nicotinamide from 3-cyanopyridine in Nocardia rhodochrous J1. Appl Environ Microbiol 54:1766–1769

Nawaz MS, Chapatwala KD, Wolfram JH (1989) Degradation of acetonitrile by Pseudomonas putida. Appl Environ Microbiol 55:2267–2274

Nawaz MS, Davis JW, Wolfram JH, Chapatwala KD (1991) Degradation of organic cyanides by Pseudomonas aeruginosa. Appl Biochem Biotechnol 28/29:865–875

Pollak P, Romender G, Hagedorn F, Gelbke H-P (1991) In: Elvers B, Hawkins S, Schulz G (eds) UIIman's encyclopedia of industrial chemistry, vol A17, 5th edn. Wiely-VCH, Weinheim, pp 363–376

Ramkrishna C, Desai JD (1993) Bioconversion of acrylonitrile to acrylamide by Arthrobacter sp. IPCB-3. Indian J Exp Biol 31:173–177

Rezende RP, Dias JCT, Rosa CA, Caraza F, Linardi VR (1999) Utilization of nitriles by yeasts isolated from a Brazilian gold mine. J Gen Appl Microbiol 45:185–192

Silva-Avalos J, Richmond MG, Nagappan O, Kunz DA (1990) Degradation of the metal-cyano complex tetracyanonickelate (II) by cyanide-utilizing bacterial isolates. Appl Environ Microbiol 56:3664–3670

Tauber MM, Cavaco-Paulo A, Robra KH, Gubitz GM (2000) Nitrile hydratase and amidase from Rhodococcus rhodochrous hydrolyze acrylic fibers and granular polyacrylnitriles. Appl Environ Microbiol 66:1634–1638

Wang CC, Lee CM (2001) Denitrification with acrylamide by pure culture of bacteria isolated from acrylonitrile–butadiene–styrene resin manufactured wastewater treatment system. Chemosphere 44:1047–1053

Wang CC, Lee CM, Cheng PW (2001) Acrylonitrile removal from synthetic wastewater and actual industrial wastewater with high strength nitrogen using a pure bacteria culture. Water Sci Technol 43:349–354

Wang CC, Lee CM, Chen LJ (2004) Removal of nitriles from synthetic wastewater by acrylnitrile utilizing bacteria. J Environ Sci Health Part A Tox Hazard Subst Environ Eng 39:1767–1779

Yamada H, Asano Y, Hing T, Tani Y (1979) Microbial utilization of acrylnitrile. J Ferment Technol 5:8–14

Yamada H, Asano Y, Hing T, Tani Y (1980) Microbial utilization of glutaronitrile. J Ferment Technol 6:495–500
Acknowledgements
This work was supported by Taiwan National Science Council. Additional thanks to Mr. T.Y. Chen of National Sun Yat-Sen University for his support and assistance throughout this project.
About this article
Cite this article
Kao, C.M., Chen, K.F., Liu, J.K. et al. Enzymatic degradation of nitriles by Klebsiella oxytoca . Appl Microbiol Biotechnol 71, 228–233 (2006). https://doi.org/10.1007/s00253-005-0129-0
Received:

Revised:

Accepted:

Published:

Issue Date:
Keywords
Nitrile

Minimal Inhibitory Concentration

Oxygen Uptake Rate

Benzonitrile

Nitrile Hydratase