Abstract
The binaphthyl derivative cladosporol 3 was supplied from 60 to 200 mg l−1 to shaken cultures of Cladosporium cf. cladosporioides. Compared to blank, fungal biomass was not affected by adding cladosporol till 100 mg l−1: it rather increased at higher ratios between 150 and 200 mg l−1. The production of the major pentacyclic metabolite 1, a cytokine production and tyrosine kinase inhibitor, was enhanced tenfold when cladosporol was supplied at the highest ratio (200 mg l−1) to shaken growing cultures of the fungus. The bioconversion of cladosporol to cladosporol D through reductive cleavage of the epoxide group was also observed. Interest in this kind of metabolites lies in their potential activity vs DNA topoisomerase I.
This is a preview of subscription content, log in to check access.
Access options
Buy single article
Instant access to the full article PDF.
US$ 39.95
Price includes VAT for USA
Subscribe to journal
Immediate online access to all issues from 2019. Subscription will auto renew annually.
US$ 199
This is the net price. Taxes to be calculated in checkout.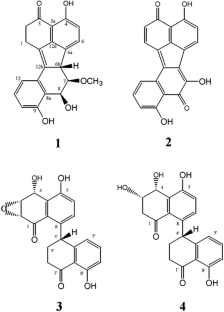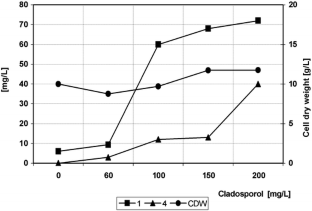 References
Arnone A, Assante G, Merlini L, Nasini G (1989) Structure and stereochemistry of Cladochrome D and E, novel perylenequinone pigments from C. cladosporioides. Gazz Chim Ital 119:557–559

Assante G, Maffi D, Saracchi M, Farina G, Moricca S, Ragazzi A (2004) Hystological studies on the mycoparasitism of Cladosporium tenuissimum and urediniospores of Uromyces appendiculatus. Mycol Res 108:170–182

Brauers G, Ebel R, Edrada R, Wray V, Berg A, Gräfe U, Proksch P (2001) Hortein, a new natural product from the fungus Hortaea werneckii associated with the sponge Aplysina aerophoba. J Nat Prod 64:651–652

Edwards RL, Lockett HJ (1976) Constituents of higher fungi. Part XVI. Bulgarhodin and bulgarein, novel benzofluoranthenequinones from the fungus Bulgaria inquinans. J Chem Soc, Perkin Trans I 2149–2155

Fujii N, Yamashita Y, Saitoh Y, Nakano H (1993) Induction of mammalian DNA topoisomerase I-mediated DNA cleavage and DNA winding by bulgarein. J Biol Chem 268:13160–13165

Koyama K, Kuramochi D, Kinoshita K, Takahashi K (2002) Hypoxylonols A and B, novel reduced benzo[j]fluoranthene derivatives from the mushroom Hypoxylon truncatum. J Nat Prod 65:1489–1490

Liu LF (1994) DNA topoisomerases: biochemistry and molecular biology. Advances in Pharmacology, vol 29A, Academic Press, New York, USA, p 320

Moricca S, Ragazzi A, Mitchelson KR, Assante G (2001) Antagonism of the two-needle pine stem rust fungi Cronartium flaccidum and Peridermium pini by Cladosporium tenuissimum in vitro and in planta. Phytopathology 91:457–468

Nasini G, Arnone A, Assante G, Bava A, Moricca S, Ragazzi A (2004) Secondary mould metabolites of Cladosporium tenuissimum, a hyperparasite rust fungi. Phytochemistry 65:2107–2111

Quang DN, Hashimoto T, Tanaka M, Baumgartner M, Stadler M, Asakawa Y (2002) Chemical constituents of the Ascomycete Daldinia concentrica. J Nat Prod 65:1869–1874

Sakagami Y, Sano A, Hara O, Mikawa T, Marumo S (1995) Cladosporol, β-1,3-glucan biosynthesis inhibitor, isolated by the fungus Cladosporium cladosporioides. Tetrahedron Lett 36:1469–1472

Tamaoki T, Nakano H (1990) Potent and specific inhibitors of protein kinase C of microbial origin. Bio/Technology 8:732–735

Weiss U, Merlini L, Nasini G (1987) Naturally occurring perylenequinones. Progress in the chemistry of organic natural products, vol 57, Springer, Wien, pp 1–71

Wrigley SK, Ainsworth AM, Kau DA, Martin SM, Bahl S, Tang JS, Hardick DJ, Rawlins P, Sadheghi R, Moore M (2001) Novel reduced benzo[j]fluoranthen-3-ones from Cladosporium cf. cladosporioides with cytokine production and tyrosine kinase inhibitory properties. J Antibiot 54:479–488
Acknowledgements
This work was in part supported by a Grant of MIUR-FIRB (Italy). Thanks are due to Prof. Wrigley and his collaborators for the C. cladosporioides culture and helpful discussion on results.
About this article
Cite this article
Assante, G., Bava, A. & Nasini, G. Enhancement of a pentacyclic tyrosine kinase inhibitor production in Cladosporium cf. cladosporioides by Cladosporol. Appl Microbiol Biotechnol 69, 718–721 (2006). https://doi.org/10.1007/s00253-005-0054-2
Received:

Revised:

Accepted:

Published:

Issue Date:
Keywords
Biotransformation

Cladosporium

Reductive Cleavage

Binaphthyl

Specific Cell Activity