Abstract
Although filamentous fungi have a unique property of secreting a large amount of homologous extracellular proteins, the use of filamentous fungi as hosts for the production of heterologous proteins is limited because of the low production levels that are generally reached. Here, we report a general screening method for the isolation of mutants with increased protein production levels. The screening method makes use of an Aspergillus niger strain that lacks the two major amylolytic enzymes, glucoamylase (GlaA) and acid amylase (AamA). The double-mutant strain grows poorly on starch and its growth is restored after reintroducing the catalytic part of the glucoamylase gene (GlaA512). We show that the fusion of a heterologous protein, a laccase from Pleurotus ostreatus (Pox2), to the catalytic part of glucoamylase (GlaA512–Pox2) severely hampers efficient production of the glucoamylase protein, resulting in a slow-growth phenotype on starch. Laccase-hypersecreting mutants were obtained by isolating mutants that displayed improved growth on starch plates. The mutant with the highest growth rate on starch displayed the highest laccase activity, indicating that increased glucoamylase protein levels are correlated with higher laccase production levels. In principle, our method can be applied to any low-produced heterologous protein that is secreted as a fusion with the glucoamylase protein.
This is a preview of subscription content, log in to check access.
Access options
Buy single article
Instant access to the full article PDF.
US$ 39.95
Price includes VAT for USA
Subscribe to journal
Immediate online access to all issues from 2019. Subscription will auto renew annually.
US$ 199
This is the net price. Taxes to be calculated in checkout.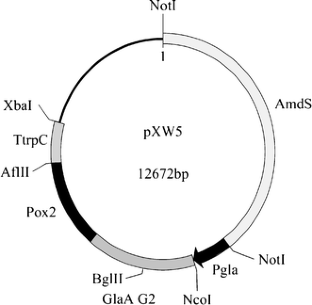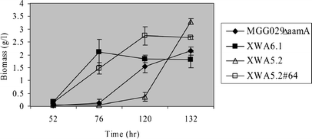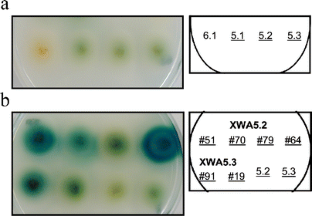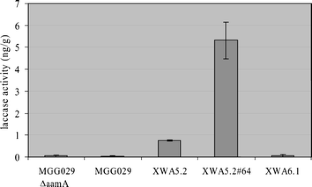 References
Archer DB (2000) Filamentous fungi as microbial cell factories for food use. Curr Opin Biotechnol 11:478–483

Archer DB, Jeenes DJ, MacKenzie DA (1994) Strategies for improving heterologous protein production from filamentous fungi. Antonie van Leeuwenhoek 65:245–250

Bennett JW, Lasure LL (1991) Growth media. In: Bennett JW, Lasure LL (eds) More gene manipulation in fungi. Academic, New York, pp 441–457

Bocking SP, Wiebe MG, Robson GD, Hansen K, Christiansen LH, Trinci AP (1999) Effect of branch frequency in Aspergillus oryzae on protein secretion and culture viscosity. Biotechnol Bioeng 65:638–648

Bos CJ, Debets AJ, Swart K, Huybers A, Kobus G, Slakhorst SM (1988) Genetic analysis and the construction of master strains for assignment of genes to six linkage groups in Aspergillus niger. Curr Genet 14:437–443

Breen A, Singleton FL (1999) Fungi in lignocellulose breakdown and biopulping. Curr Opin Biotechnol 10:252–258

Conesa A, van den Hondel CAMJJ, Punt PJ (2000) Studies on the production of fungal peroxidases in Aspergillus niger. Appl Environ Microbiol 66:3016–3023

Conesa A, van de Velde F, van Rantwijk F, Sheldon RA, van den Hondel CAMJJ, Punt PJ (2001) Expression of the Caldariomyces fumago chloroperoxidase in Aspergillus niger and characterization of the recombinant enzyme. J Biol Chem 276:17635–17640

Cornett CA, Fang TY, Reilly PJ, Ford C (2003) Starch-binding domain shuffling in Aspergillus niger glucoamylase. Protein Eng 16:521–529

de Ruiter-Jacobs YM, Broekhuijsen M, Unkles SE, Campbell EI, Kinghorn JR, Contreras R, Pouwels PH, van den Hondel CAMJJ (1989) A gene transfer system based on the homologous pyrG gene and efficient expression of bacterial genes in Aspergillus oryzae. Curr Genet 16:159–163

Giardina P, Aurilia V, Cannio R, Marzullo L, Amoresano A, Siciliano R, Pucci P, Sannia G (1996) The gene, protein and glycan structures of laccase from Pleurotus ostreatus. Eur J Biochem 235:508–515

Gouka RJ, Punt PJ, van den Hondel CAMJJ (1997a) Efficient production of secreted proteins by Aspergillus: progress, limitations and prospects. Appl Microbiol Biotechnol 47:1–11

Gouka RJ, Punt PJ, van den Hondel CAMJJ (1997b) Glucoamylase gene fusions alleviate limitations for protein production in Aspergillus awamori at the transcriptional and (post) translational levels. Appl Environ Microbiol 63:488–497

Karam J, Nicell JA (1997) Potential applications of enzymes in waste treatment. J Chem Technol Biotechnol 69:141–153

Kelly JM, Hynes MJ (1985) Transformation of Aspergillus niger by the amdS gene of Aspergillus nidulans. EMBO J 4:475–479

Lee IH, Walline RG, Plamann M (1998) Apolar growth of Neurospora crassa leads to increased secretion of extracellular proteins. Mol Microbiol 29:209–218

MacKenzie DA, Gendron LC, Jeenes DJ, Archer DB (1994) Physiological optimization of secreted protein production by Aspergillus niger. Enzyme Microb Technol 16:276–280

Mattern IE, van Noort JM, van den Berg P, Archer DB, Roberts IN, van den Hondel CAMJJ (1992) Isolation and characterization of mutants of Aspergillus niger deficient in extracellular proteases. Mol Gen Genet 234:332–336

Mayer AM, Staples RC (2002) Laccase: new functions for an old enzyme. Phytochemistry 60:551–565

Palmieri G, Giardina P, Bianco C, Scaloni A, Capasso A, Sannia G (1997) A novel white laccase from Pleurotus ostreatus. J Biol Chem 272:31301–31307

Peberdy JF (1994) Protein secretion in filamentous fungi—trying to understand a highly productive black box. Trends Biotechnol 12:50–57

Punt PJ, van den Hondel CAMJJ (1992) Transformation of filamentous fungi based on hygromycin B and phleomycin resistance markers. Methods Enzymol 216:447–457

Punt PJ, Zegers ND, Busscher M, Pouwels PH, van den Hondel CAMJJ (1991) Intracellular and extracellular production of proteins in Aspergillus under the control of expression signals of the highly expressed Aspergillus nidulans gpdA gene. J Biotechnol 17:19–33

Punt PJ, van Biezen N, Conesa A, Albers A, Mangnus J, van den Hondel CAMJJ (2002) Filamentous fungi as cell factories for heterologous protein production. Trends Biotechnol 20:200–206

Radzio R, Kück U (1997) Synthesis of biotechnologically relevant heterologous proteins in filamentous fungi. Process Biochem 32:529–539

Sambrook J, Fritsch EF, Maniatis T (1989) Molecular cloning, a laboratory manual. Cold Spring Harbor Laboratory Press, Cold Spring Harbor

Sauer J, Sigurskjold BW, Christensen U, Frandsen TP, Mirgorodskaya E, Harrison M, Roepstorff P, Svensson B (2000) Glucoamylase: structure/function relationships, and protein engineering. Biochim Biophys Acta 1543:275–293

Schrickx JM, Krave AS, Verdoes JC, van den Hondel CAMJJ, Stouthamer AH, van Verseveld HW (1993) Growth and product formation in chemostat and recycling cultures by Aspergillus niger N402 and a glucoamylase overproducing transformant, provided with multiple copies of the glaA gene. J Gen Microbiol 139:2801–2810

van den Hombergh JPTW, van de Vondervoort PJI, Fraissinet-Tachet L, Visser J (1997) Aspergillus as a host for heterologous protein production: the problem of proteases. Trends Biotechnol 15:256–263

van den Hondel CAMJJ, Punt PJ, van Gorcom RFM (1991) Heterologous gene expression in filamentous fungi. In: Bennett JW, Lasure L (eds) More gene manipulation in fungi. Academic, New York, pp 396–428

Verdoes JC, Punt PJ, Stouthamer AH, van den Hondel CAMJJ (1994) The effect of multiple copies of the upstream region on expression of the Aspergillus niger glucoamylase-encoding gene. Gene 145:179–187

Xu J, Wang L, Ridgway D, Gu T, Young Moo (2000) Increased heterologous protein production in Aspergillus niger fermentation through extracellular proteases inhibition by pelleted growth. Biotechnol Prog 16:222–227
Acknowledgements
The authors thank Dr. R.J. Gouka from Unilever, The Netherlands, for providing pUR7894 containing the cDNA sequence of the pox2 gene and Dr. D. Archer who kindly provided the A. niger acid amylase gene. We thank Dr. B.C. Lokman and Dr. V. Joosten for valuable discussions and R. Timmermans for his help with the isolation and characterization of the mutants. This work was supported by a grant from STW (Dutch Foundation for Technical Research).
About this article
Cite this article
Weenink, X.O., Punt, P.J., van den Hondel, C.A.M.J.J. et al. A new method for screening and isolation of hypersecretion mutants in Aspergillus niger . Appl Microbiol Biotechnol 69, 711–717 (2006). https://doi.org/10.1007/s00253-005-0013-y
Received:

Revised:

Accepted:

Published:

Issue Date:
Keywords
Heterologous Protein

Laccase Activity

Laccase Production

Starch Medium

Glucoamylase Gene