Abstract
Bats are flying mammals distributed worldwide known to host several types of Coronavirus (CoV). Since they were reported as the probable source of spillover of highly pathogenic CoV into the human population, investigating the circulation of this virus in bats around the world became of great importance. We analyzed samples from 103 bats from two distinct regions in Brazil. Coronavirus from the Alphacoronavirus genus was detected in 12 animals, 11 from São José do Rio Preto—SP region and 1 from Barreiras—BA region, resulting in a prevalence of 17.18% and 2.56% respectively. The virus was detected not only in intestines but also in lungs and liver. Phylogenetic analysis based on nsP12 genomic region suggests that the sequences group according to host family and sampling location. Studies on the circulation of these viruses in bats remain important to understand the ecology and evolutionary relationship of these pathogens.
This is a preview of subscription content, log in to check access.
Access options
Buy single article
Instant unlimited access to the full article PDF.
US$ 39.95
Price includes VAT for USA
Subscribe to journal
Immediate online access to all issues from 2019. Subscription will auto renew annually.
US$ 199
This is the net price. Taxes to be calculated in checkout.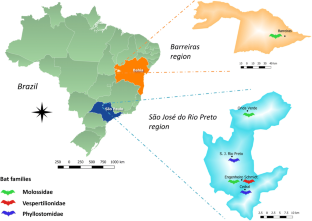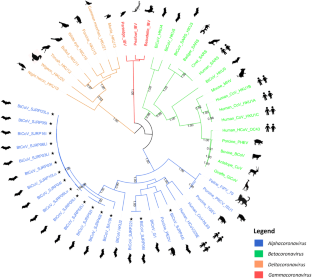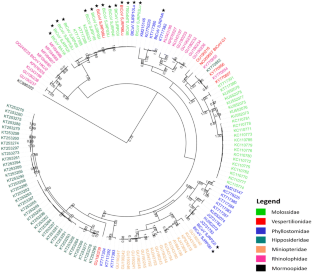 References
1.

Adams MJ, Carstens EB (2012) Ratification vote on taxonomic proposals to the International Committee on Taxonomy of Viruses (2012). Arch Virol 157:1411–1422. https://doi.org/10.1007/s00705-012-1299-6

2.

Weiss SR, Navas-Martin S (2005) Coronavirus pathogenesis and the emerging pathogen severe acute respiratory syndrome coronavirus. Microbiol Mol Biol Rev: MMBR 69:635–664. https://doi.org/10.1128/MMBR.69.4.635-664.2005

3.

Coleman CM, Frieman MB (2014) Coronaviruses: important emerging human pathogens. J Virol 88:5209–5212. https://doi.org/10.1128/JVI.03488-13

4.

Zaki AM, van Boheemen S, Bestebroer TM, Osterhaus AD, Fouchier RA (2012) Isolation of a novel coronavirus from a man with pneumonia in Saudi Arabia. N Engl J Med 367:1814–1820. https://doi.org/10.1056/NEJMoa1211721

5.

Drosten C, Gunther S, Preiser W, van der Werf S, Brodt HR, Becker S, Rabenau H, Panning M, Kolesnikova L, Fouchier RA, Berger A, Burguiere AM, Cinatl J, Eickmann M, Escriou N, Grywna K, Kramme S, Manuguerra JC, Muller S, Rickerts V, Sturmer M, Vieth S, Klenk HD, Osterhaus AD, Schmitz H, Doerr HW (2003) Identification of a novel coronavirus in patients with severe acute respiratory syndrome. N Engl J Med 348:1967–1976. https://doi.org/10.1056/NEJMoa030747

6.

Feldhamer GA, Drickamer LC, Vessey SH, Merritt JF, Krajewski C (2005) Mammalogy: adaptation, diversity, ecology. Johns Hopkins University Press, Baltimore

7.

Nogueira MR, IPd L, Moratelli R, Tavares VC, Gregorin R, Peracchi AL (2014) Checklist of Brazilian bats, with comments on original records. Check List 10:808–821. https://doi.org/10.15560/10.4.808

8.

Wilson DERD (2005) Mammal species of the world: a taxonomic and geographic reference. Johns Hopkins University Press, Baltimore

9.

Luis AD, Hayman DT, O'Shea TJ, Cryan PM, Gilbert AT, Pulliam JR, Mills JN, Timonin ME, Willis CK, Cunningham AA, Fooks AR, Rupprecht CE, Wood JL, Webb CT (2013) A comparison of bats and rodents as reservoirs of zoonotic viruses: are bats special? Proc Biol Sci 280:20122753. https://doi.org/10.1098/rspb.2012.2753rspb.2012

10.

Calisher CH, Childs JE, Field HE, Holmes KV, Schountz T (2006) Bats: important reservoir hosts of emerging viruses. Clin Microbiol Rev 19:531–545. https://doi.org/10.1128/CMR.00017-06

11.

Drexler JF, Gloza-Rausch F, Glende J, Corman VM, Muth D, Goettsche M, Seebens A, Niedrig M, Pfefferle S, Yordanov S, Zhelyazkov L, Hermanns U, Vallo P, Lukashev A, Muller MA, Deng H, Herrler G, Drosten C (2010) Genomic characterization of severe acute respiratory syndrome-related coronavirus in European bats and classification of coronaviruses based on partial RNA-dependent RNA polymerase gene sequences. J Virol 84:11336–11349. https://doi.org/10.1128/JVI.00650-10JVI.00650-10

12.

Drexler JF, Corman VM, Wegner T, Tateno AF, Zerbinati RM, Gloza-Rausch F, Seebens A, Muller MA, Drosten C (2011) Amplification of emerging viruses in a bat colony. Emerg Infect Dis 17:449–456. https://doi.org/10.3201/eid1703.100526

13.

Gloza-Rausch F, Ipsen A, Seebens A, Gottsche M, Panning M, Drexler JF, Petersen N, Annan A, Grywna K, Muller M, Pfefferle S, Drosten C (2008) Detection and prevalence patterns of group I coronaviruses in bats, northern Germany. Emerg Infect Dis 14:626–631. https://doi.org/10.3201/eid1404.071439

14.

Pfefferle S, Oppong S, Drexler JF, Gloza-Rausch F, Ipsen A, Seebens A, Muller MA, Annan A, Vallo P, Adu-Sarkodie Y, Kruppa TF, Drosten C (2009) Distant relatives of severe acute respiratory syndrome coronavirus and close relatives of human coronavirus 229E in bats, Ghana. Emerg Infect Dis 15:1377–1384. https://doi.org/10.3201/eid1509.090224

15.

Poon LL, Chu DK, Chan KH, Wong OK, Ellis TM, Leung YH, Lau SK, Woo PC, Suen KY, Yuen KY, Guan Y, Peiris JS (2005) Identification of a novel coronavirus in bats. J Virol 79:2001–2009. https://doi.org/10.1128/JVI.79.4.2001-2009.2005

16.

Chu DK, Poon LL, Chan KH, Chen H, Guan Y, Yuen KY, Peiris JS (2006) Coronaviruses in bent-winged bats (Miniopterus spp.). J Gen Virol 87:2461–2466. https://doi.org/10.1099/vir.0.82203-0

17.

Tang XC, Zhang JX, Zhang SY, Wang P, Fan XH, Li LF, Li G, Dong BQ, Liu W, Cheung CL, Xu KM, Song WJ, Vijaykrishna D, Poon LL, Peiris JS, Smith GJ, Chen H, Guan Y (2006) Prevalence and genetic diversity of coronaviruses in bats from China. J Virol 80:7481–7490. https://doi.org/10.1128/JVI.00697-06

18.

Tong S, Conrardy C, Ruone S, Kuzmin IV, Guo X, Tao Y, Niezgoda M, Haynes L, Agwanda B, Breiman RF, Anderson LJ, Rupprecht CE (2009) Detection of novel SARS-like and other coronaviruses in bats from Kenya. Emerg Infect Dis 15:482–485. https://doi.org/10.3201/eid1503.081013

19.

Quan PL, Firth C, Street C, Henriquez JA, Petrosov A, Tashmukhamedova A, Hutchison SK, Egholm M, Osinubi MO, Niezgoda M, Ogunkoya AB, Briese T, Rupprecht CE, Lipkin WI (2010) Identification of a severe acute respiratory syndrome coronavirus-like virus in a leaf-nosed bat in Nigeria. mBio 1. https://doi.org/10.1128/mBio.00208-10e00208

20.

Anthony SJ, Ojeda-Flores R, Rico-Chavez O, Navarrete-Macias I, Zambrana-Torrelio CM, Rostal MK, Epstein JH, Tipps T, Liang E, Sanchez-Leon M, Sotomayor-Bonilla J, Aguirre AA, Avila-Flores R, Medellin RA, Goldstein T, Suzan G, Daszak P, Lipkin WI (2013) Coronaviruses in bats from Mexico. J Gen Virol 94:1028–1038. https://doi.org/10.1099/vir.0.049759-0

21.

Goes LG, Ruvalcaba SG, Campos AA, Queiroz LH, de Carvalho C, Jerez JA, Durigon EL, Davalos LI, Dominguez SR (2013) Novel bat coronaviruses, Brazil and Mexico. Emerg Infect Dis 19:1711–1713. https://doi.org/10.3201/eid1910.130525

22.

Goes LGB, Campos ACA, Carvalho C, Ambar G, Queiroz LH, Cruz-Neto AP, Munir M, Durigon EL (2016) Genetic diversity of bats coronaviruses in the Atlantic Forest hotspot biome, Brazil. Infect Genet Evol 44:510–513. https://doi.org/10.1016/j.meegid.2016.07.034

23.

Corman VM, Rasche A, Diallo TD, Cottontail VM, Stocker A, Souza BF, Correa JI, Carneiro AJ, Franke CR, Nagy M, Metz M, Knornschild M, Kalko EK, Ghanem SJ, Morales KD, Salsamendi E, Spinola M, Herrler G, Voigt CC, Tschapka M, Drosten C, Drexler JF (2013) Highly diversified coronaviruses in neotropical bats. J Gen Virol 94:1984–1994. https://doi.org/10.1099/vir.0.054841-0

24.

Asano KM, Hora AS, Scheffer KC, Fahl WO, Iamamoto K, Mori E, Brandao PE (2016) Alphacoronavirus in urban Molossidae and Phyllostomidae bats, Brazil. Virol J 13:110. https://doi.org/10.1186/s12985-016-0569-4

25.

Carrington CV, Foster JE, Zhu HC, Zhang JX, Smith GJ, Thompson N, Auguste AJ, Ramkissoon V, Adesiyun AA, Guan Y (2008) Detection and phylogenetic analysis of group 1 coronaviruses in South American bats. Emerg Infect Dis 14:1890–1893. https://doi.org/10.3201/eid1412.080642

26.

Hu B, Ge X, Wang LF, Shi Z (2015) Bat origin of human coronaviruses. Virol J 12:221. https://doi.org/10.1186/s12985-015-0422-1

27.

NIH (2011) Guide for the care and use of laboratory animals. In: CftUotGftCaUoL (ed) Animals. National Academies Press (US), Washington

28.

Vizotto LD, Taddei VA (1973) Chave para determinação de quirópteros brasileiros. Gráfica Francal, São José do Rio Preto

29.

Miranda JMD, Bernardi IP, Passos FC (2006) A new species of Eptesicus (Mammalia: Chiroptera: Vespertilionidae) from the Atlantic Forest, Brazil. Zootaxa:57–68

30.

LaVal RK (1973) A revision of the Neotropical bats of the genus Myotis. Natural History Museum, Los Angeles County , Los Angeles

31.

Chu DK, Leung CY, Gilbert M, Joyner PH, Ng EM, Tse TM, Guan Y, Peiris JS, Poon LL (2011) Avian coronavirus in wild aquatic birds. J Virol 85:12815–12820. https://doi.org/10.1128/JVI.05838-11JVI.05838-11

32.

Sanger F, Nicklen S, Coulson AR (1977) DNA sequencing with chain-terminating inhibitors. Proc Natl Acad Sci U S A 74:5463–5467

33.

Ewing B, Green P (1998) Base-calling of automated sequencer traces using phred. II. Error probabilities. Genome Res 8:186–194

34.

Huang X, Madan A (1999) CAP3: a DNA sequence assembly program. Genome Res 9:868–877

35.

Edgar RC (2004) MUSCLE: a multiple sequence alignment method with reduced time and space complexity. BMC bioinformatics 5:113. https://doi.org/10.1186/1471-2105-5-113

36.

Edgar RC (2004) MUSCLE: multiple sequence alignment with high accuracy and high throughput. Nucleic Acids Res 32:1792–1797. https://doi.org/10.1093/nar/gkh340

37.

Gouy M, Guindon S, Gascuel O (2010) SeaView version 4: a multiplatform graphical user interface for sequence alignment and phylogenetic tree building. Mol Biol Evol 27:221–224. https://doi.org/10.1093/molbev/msp259

38.

Hall TA (1999) BioEdit: a user-friendly biological sequence alignment editor and analysis program for Windows 95/98/NT. Nucleic acids symposium Oxford University Press

39.

Drummond AJ, Suchard MA, Xie D, Rambaut A (2012) Bayesian phylogenetics with BEAUti and the BEAST 1.7. Mol Biol Evol 29:1969–1973 doi: 10.1093/molbev/mss075mss075 [pii]

40.

Darriba D, Taboada GL, Doallo R, Posada D (2012) jModelTest 2: more models, new heuristics and parallel computing. Nat Methods 9:772. https://doi.org/10.1038/nmeth.2109nmeth

41.

Letunic I, Bork P (2007) Interactive Tree Of Life (iTOL): an online tool for phylogenetic tree display and annotation. Bioinformatics 23:127–128. https://doi.org/10.1093/bioinformatics/btl529

42.

Letunic I, Bork P (2016) Interactive tree of life (iTOL) v3: an online tool for the display and annotation of phylogenetic and other trees. Nucleic Acids Res 44:W242–W245. https://doi.org/10.1093/nar/gkw290

43.

Letunic I, Bork P (2011) Interactive Tree Of Life v2: online annotation and display of phylogenetic trees made easy. Nucleic Acids Res 39:W475–W478. https://doi.org/10.1093/nar/gkr201

44.

Parker J, Rambaut A, Pybus OG (2008) Correlating viral phenotypes with phylogeny: accounting for phylogenetic uncertainty. Infect Genet Evol 8:239–246. https://doi.org/10.1016/j.meegid.2007.08.001

45.

QGIS (2018) QGIS Development Team - QGIS Geographic Information System. Open Source Geospatial Foundation Project

46.

IBGE (2007) IBGE - Instituto Brasileiro de Geografia e Estatística - bases cartográficas. https://mapas.ibge.gov.br/bases-e-referenciais/bases-cartograficas.html. Accessed 2018

47.

Lau SK, Woo PC, Li KS, Huang Y, Wang M, Lam CS, Xu H, Guo R, Chan KH, Zheng BJ, Yuen KY (2007) Complete genome sequence of bat coronavirus HKU2 from Chinese horseshoe bats revealed a much smaller spike gene with a different evolutionary lineage from the rest of the genome. Virology 367:428–439. https://doi.org/10.1016/j.virol.2007.06.009

48.

August TA, Mathews F, Nunn MA (2012) Alphacoronavirus detected in bats in the United Kingdom. Vector Borne Zoonotic Dis 12:530–533. https://doi.org/10.1089/vbz.2011.0829

49.

Goffard A, Demanche C, Arthur L, Pincon C, Michaux J, Dubuisson J (2015) Alphacoronaviruses detected in French bats are phylogeographically linked to coronaviruses of European bats. Viruses 7:6279–6290 doi: 10.3390/v7122937v7122937 [pii]

50.

Osborne C, Cryan PM, O'Shea TJ, Oko LM, Ndaluka C, Calisher CH, Berglund AD, Klavetter ML, Bowen RA, Holmes KV, Dominguez SR (2011) Alphacoronaviruses in New World bats: prevalence, persistence, phylogeny, and potential for interaction with humans. PLoS One 6:e19156. https://doi.org/10.1371/journal.pone.0019156PONE-D-11-00052

51.

Lelli D, Papetti A, Sabelli C, Rosti E, Moreno A, Boniotti MB (2013) Detection of coronaviruses in bats of various species in Italy. Viruses 5:2679–2689. https://doi.org/10.3390/v5112679v5112679

52.

Dominguez SR, O'Shea TJ, Oko LM, Holmes KV (2007) Detection of group 1 coronaviruses in bats in North America. Emerg Infect Dis 13:1295–1300. https://doi.org/10.3201/eid1309.070491

53.

Wacharapluesadee S, Duengkae P, Rodpan A, Kaewpom T, Maneeorn P, Kanchanasaka B, Yingsakmongkon S, Sittidetboripat N, Chareesaen C, Khlangsap N, Pidthong A, Leadprathom K, Ghai S, Epstein JH, Daszak P, Olival KJ, Blair PJ, Callahan MV, Hemachudha T (2015) Diversity of coronavirus in bats from Eastern Thailand. Virol J 12:57. https://doi.org/10.1186/s12985-015-0289-110.1186/s12985-015-0289-1

54.

Anthony SJ, Johnson CK, Greig DJ, Kramer S, Che X, Wells H, Hicks AL, Joly DO, Wolfe ND, Daszak P, Karesh W, Lipkin WI, Morse SS, Mazet JAK, Goldstein T (2017) Global patterns in coronavirus diversity. Virus Evol 3:vex012. https://doi.org/10.1093/ve/

55.

Luo Y, Li B, Jiang RD, Hu BJ, Luo DS, Zhu GJ, Hu B, Liu HZ, Zhang YZ, Yang XL, Shi ZL (2018) Longitudinal surveillance of Betacoronaviruses in fruit bats in Yunnan Province, China during 2009-2016. Virol Sin 33:87–95. https://doi.org/10.1007/s12250-018-0017-2

56.

Hu D, Zhu C, Wang Y, Ai L, Yang L, Ye F, Ding C, Chen J, He B, Zhu J, Qian H, Xu W, Feng Y, Tan W, Wang C (2017) Virome analysis for identification of novel mammalian viruses in bats from Southeast China. Sci Rep 7:10917. https://doi.org/10.1038/s41598-017-11384-w

57.

Watanabe S, Masangkay JS, Nagata N, Morikawa S, Mizutani T, Fukushi S, Alviola P, Omatsu T, Ueda N, Iha K, Taniguchi S, Fujii H, Tsuda S, Endoh M, Kato K, Tohya Y, Kyuwa S, Yoshikawa Y, Akashi H (2010) Bat coronaviruses and experimental infection of bats, the Philippines. Emerg Infect Dis 16:1217–1223. https://doi.org/10.3201/eid1608.100208

58.

Hutterer RIT, Meyer-Cords C, Rodrigues L (2005) Bat migrations in Europe: a review of banding data and literature. Federal Agency for Nature Conservation, Bonn

59.

Adams RA, Pedersen SC 2013 Bat evolution, ecology, and conservation

60.

Arnone IS, Trajano E, Pulchério-Leite A, Passos FC (2016) Long-distance movement by a great fruit-eating bat, Artibeus lituratus (Olfers, 1818), in southeastern Brazil (Chiroptera, Phyllostomidae): evidence for migration in Neotropical bats? Biota Neotropica 16. https://doi.org/10.1590/1676-0611-BN-2015-0026
Ethics declarations
This research project was approved by the Ethics Committee on the Use of Animals of the Institute of Biosciences, Letters and Exact Sciences (CEUA/IBILCE-Protocol 135/2016) (Information stated in the Methods section under the headline Samples).
Conflict of Interest
The authors declare that they have no conflict of interest.
Ethical Approval
All applicable international, national, and/or institutional guidelines for the care and use of animals were followed. All procedures performed in studies involving animals were in accordance with the ethical standards of the institution or practice at which the studies were conducted. This article does not contain any studies with human participants performed by any of the authors.
Additional information
Sequence data
GenBank Accession Numbers from MH974764 to MH974780
Electronic supplementary material
About this article
Cite this article
Bittar, C., Machado, R.R.G., Comelis, M.T. et al. Alphacoronavirus Detection in Lungs, Liver, and Intestines of Bats from Brazil. Microb Ecol 79, 203–212 (2020) doi:10.1007/s00248-019-01391-x
Received:

Accepted:

Published:

Issue Date:
Keywords
Bats

Coronavirus

Alphacoronavirus

Phylogeny