Abstract
Background
The adrenal gland plays a vital role in fetal growth. Many disease states such as congenital adrenal hyperplasia, hemorrhage and tumors can lead to morphological changes in the gland. Ultrasound measurements of normal adrenal sizes in the fetus reported in the literature have shown a trend of increasing size with gestational age. There is no literature available on standard fetal adrenal sizes or detailed appearance by fetal MRI.
Objective
The purpose of this study was to provide MR data on the size and signal characteristics of the fetal adrenal gland throughout the second and third trimesters.
Materials and methods
In this retrospective review, we selected 185 prenatal MRIs obtained from Jan. 1, 2014, to May 31, 2017, with normal abdominal findings for inclusion. The adrenal glands were identified in coronal, sagittal or axial T2-W planes and coronal T1-W plane when available. We measured the length and thickness of the medial and lateral limbs of the right and left adrenal glands and recorded signal intensity on T1-W and T2-W sequences, gender and gestational age in each case.
Results
The gestational age (GA) ranged 18–37 weeks. Visibility of the adrenal glands on T2-W images was high (90.3–97.2%) up to 30 weeks of GA but declined afterward (47.5–62.2% at 31–37 weeks). Visibility on T1-W images increased with GA, ranging from 21.4% visibility at 18–22 weeks and increasing to 40% at 35–37 weeks. Mean lengths of the adrenal gland limbs steadily increased from 8.2 mm at 18–22 weeks to 11.0 mm at 35–37 weeks. In the second trimester, adrenal glands were low in signal intensity on T2-W images and were surrounded by hyperintense perirenal fatty tissue. In the third trimester, the glands became less distinct, with increasing signal and obliteration of perirenal tissue. The glands were moderately hyperintense on T1-W images throughout pregnancy, with increasing visibility as pregnancy progressed.
Conclusion
Normal sizes and signal intensities for adrenal glands are reported. Visibility of adrenal glands on T2-W images was 90.3–97.2% up to 30 weeks but declined thereafter. Visibility on T1-W images increased in the third trimester. Adrenal gland sizes increased with gestational age.
This is a preview of subscription content, log in to check access.
Access options
Buy single article
Instant access to the full article PDF.
US$ 39.95
Price includes VAT for USA
Subscribe to journal
Immediate online access to all issues from 2019. Subscription will auto renew annually.
US$ 199
This is the net price. Taxes to be calculated in checkout.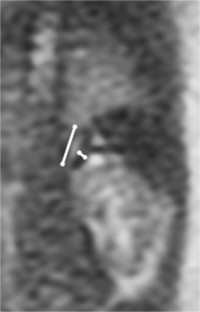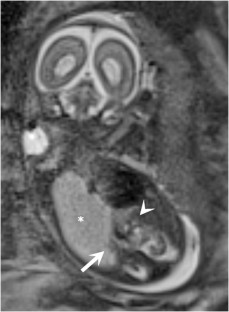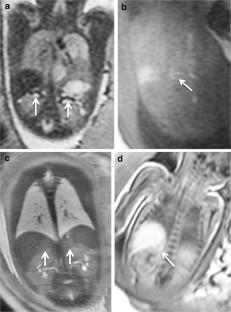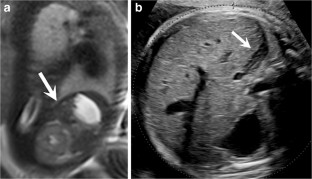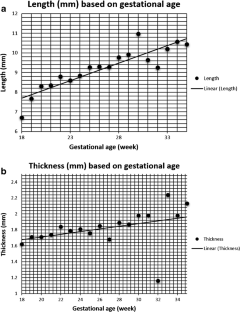 References
1.

Zhang Z, Meng H, Hou Z et al (2013) Fetal adrenal gland in the second half of gestation: morphometrical assessment with 3.0T post-mortem MRI. PLoS One 8:e75511

2.

Rosenberg E, Bowie J, Andreotti R, Fields S (1982) Sonographic evaluation of fetal adrenal glands. AJR Am J Roentgenol 139:1145–1147

3.

Van Vuuren SH, Damen-Elias HAM, Stigter RH et al (2012) Size and volume charts of fetal kidney, renal pelvis and adrenal gland. Ultrasound Obstet Gynecol. https://doi.org/10.1002/uog.11169

4.

Jirásek JE (1980) Human fetal endocrines. https://books.google.com/books?hl=en&lr=&id=Hzv6CAAAQBAJ&oi=fnd&pg=PA1&dq=Jirasek+JE+1980+Human+fetal+endocrines.+London:+martinus+nijhoff&ots=zm0Aqqzgtt&sig=kfTnXmTjs48Dr8madVOvZoeujrc#v=onepage&q&f=false. Accessed 23 Nov 2017

5.

Ishimoto H, Jaffe RB (2011) Development and function of the human fetal adrenal cortex: a key component in the feto-placental unit. Endocr Rev 32:317–355

6.

Mesiano S, Jaffe RB (1997) Developmental and functional biology of the primate fetal adrenal cortex. Endocr Rev 18:378–403

7.

Garcia-Flores J, Cruceyra M, Cañamares M et al (2017) Sonographic evaluation of fetal adrenal gland in gestational diabetes: relation to fetal growth and maternal biochemical markers. J Ultrasound Med 36:999–1007

8.

Gonzales LW, Ertsey R, Ballard PL et al (1990) Glucocorticoid stimulation of fatty acid synthesis in explants of human fetal lung. Biochim Biophys Acta 1042:1–12

9.

Bolt RJ, van Weissenbruch MM, Lafeber HN, Delemarre-van de Waal HA (2001) Glucocorticoids and lung development in the fetus and preterm infant. Pediatr Pulmonol 32:76–91

10.

Scott EM, Thomas A, Mcgarrigle HHG, Lachelin GCL (1990) Serial adrenal ultrasonography in normal neonates. J Ultrasound Med 9:279–283

11.

Rubenstein SC, Benacerraf BR, Retik AB, Mandell J (1995) Fetal suprarenal masses: sonographic appearance and differential diagnosis. Ultrasound Obstet Gynecol 5:164–167

12.

Lee W, Comstock CH, Jurcak-Zaleski S (1992) Prenatal diagnosis of adrenal hemorrhage by ultrasonography. J Ultrasound Med 11:369–371

13.

Flanagan SM, Rubesova E, Jaramillo D, Barth RA (2016) Fetal suprarenal masses — assessing the complementary role of magnetic resonance and ultrasound for diagnosis. Pediatr Radiol 46:246–254

14.

Lackova E, Cunderlik A, Ticha L, Gabor M (2017) Fetal adrenal gland enlargement — prenatal and postnatal management. Neuro Endocrinol Lett 38:31–34

15.

Heese S, Hammer K, Möllers M et al (2018) Adrenal gland size in growth restricted fetuses. J Perinat Med 46:900–904

16.

Hoffman MK, Turan OM, Parker CB et al (2016) Ultrasound measurement of the fetal adrenal gland as a predictor of spontaneous preterm birth. Obstet Gynecol 127:726–734

17.

Krzyzanowski A, Karwasik-Kajszczarek K, Dymanowska-Dyjak I et al (2014) Ultrasound evaluation of fetal adrenal gland volume. The role of fetal adrenal glands in the pathogenesis of preterm labor. Ginekol Pol 85:49–53

18.

Turan OM, Turan S, Funai EF et al (2011) Ultrasound measurement of fetal adrenal gland enlargement: an accurate predictor of preterm birth. Am J Obstet Gynecol 204:311.e1–311.e10

19.

Buhimschi CS, Turan OM, Funai EF et al (2008) Fetal adrenal gland volume and cortisol/dehydroepiandrosterone sulfate ratio in inflammation-associated preterm birth. Obstet Gynecol 111:715–722

20.

Ibrahim MI, Sherif A, El-Kady M et al (2015) Can three-dimensional ultrasound measurement of fetal adrenal gland enlargement predict preterm birth? Arch Gynecol Obstet 292:569–578

21.

Jeanty P, Chervenak F, Grannum P, Hobbins JC (1984) Normal ultrasonic size and characteristics of the fetal adrenal glands. Prenat Diagn 4:21–28

22.

Hata K, Hata T, Kitao M (1985) Ultrasonographic identification and measurement of the human fetal adrenal gland in utero. Int J Gynaecol Obstet 23:355–359

23.

Jamigorn M, Phupong V (2017) Nomograms of the whole foetal adrenal gland and foetal zone at gestational age of 16–24 weeks. J Obstet Gynaecol 37:867–871

24.

Helfer TM, Rolo LC, de Brito Melo Okasaki NA et al (2017) Reference ranges of fetal adrenal gland and fetal zone volumes between 24 and 37+6 weeks of gestation by three-dimensional ultrasound. J Matern Fetal Neonatal Med 30:568–573

25.

Huisman TAGM, Kellenberger CJ (2008) MR imaging characteristics of the normal fetal gastrointestinal tract and abdomen. Eur J Radiol 65:170–181

26.

Lewis E, Kurtz A, Dubbins P et al (1982) Real-time ultrasonographic evaluation of normal fetal adrenal glands. J Ultrasound Med 1:265–270

27.

Prayer D, Brugger PC (2007) Investigation of normal organ development with fetal MRI. Eur Radiol 17:2458–2471

28.

Brugger PC, Prayer D (2006) Fetal abdominal magnetic resonance imaging. Eur J Radiol 57:278–293

29.

Al-Alwan I, Navarro O, Daneman D, Daneman A (1999) Clinical utility of adrenal ultrasonography in the diagnosis of congenital adrenal hyperplasia. J Pediatr 135:71–75

30.

Chang C-H, Yu C-H, Chang F-M et al (2002) Assessment of fetal adrenal gland volume using three-dimensional ultrasound. Ultrasound Med Biol 28:1383–1387

31.

Gaillard DA, Lallemand AV, Moirot HH et al (1990) Fetal adrenal development during the second trimester of gestation. Pediatr Pathol 10:335–350

32.

Lewis E, Kurtz AB, Dubbins PA et al (1982) Real-time ultrasonographic evaluation of normal fetal adrenal glands. J Ultrasound Med 1:265–270

33.

Nowak D, Góralczyk K, Zurada A, Gielecki J (2007) Morphometrical analysis of the human suprarenal gland between the 4th and 7th months of gestation. Ann Anat 189:575–582

34.

Ishida M, Gonoi W, Hagiwara K et al (2015) Early postmortem volume reduction of adrenal gland: initial longitudinal computed tomographic study. Radiol Med 120:662–669
Ethics declarations
Conflicts of interest
None
Additional information
Publisher's note
Springer Nature remains neutral with regard to jurisdictional claims in published maps and institutional affiliations.
About this article
Cite this article
Smitthimedhin, A., Rubio, E.I., Blask, A.R. et al. Normal size of the fetal adrenal gland on prenatal magnetic resonance imaging. Pediatr Radiol (2020). https://doi.org/10.1007/s00247-020-04629-w
Received:

Revised:

Accepted:

Published:
Keywords
Adrenal gland

Congenital adrenal hyperplasia

Fetus

Magnetic resonance imaging

Normal values

Signal intensity

Size