Abstract
Percutaneous feeding tubes are generally considered a safe option for enteral feeding and are widely used in children who require long-term nutritional support. However, complications are not infrequent and can range from bothersome to life-threatening. Radiologists should be familiar with the imaging appearances of potential complications for optimal patient care. In this review, we discuss radiologic appearances of common complications and less frequent but serious complications related to percutaneous feeding tubes. Additionally, as fluoroscopic feeding tube evaluation is often requested as the initial imaging study, we also discuss the fluoroscopic appearances of some uncommon complications.
This is a preview of subscription content, log in to check access.
Access options
Buy single article
Instant unlimited access to the full article PDF.
US$ 39.95
Price includes VAT for USA
Subscribe to journal
Immediate online access to all issues from 2019. Subscription will auto renew annually.
US$ 199
This is the net price. Taxes to be calculated in checkout.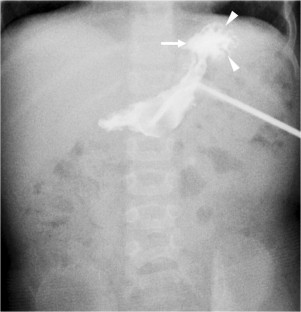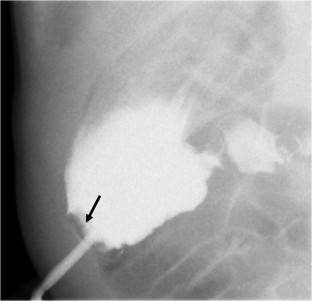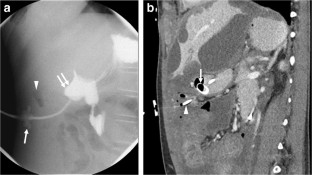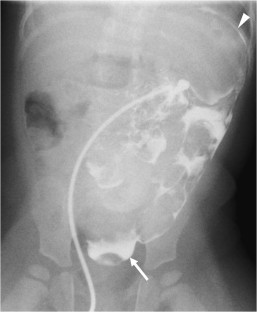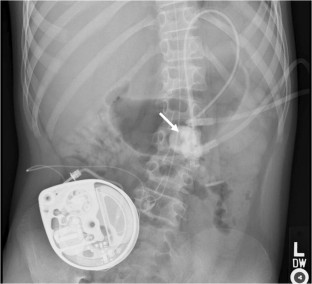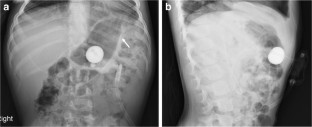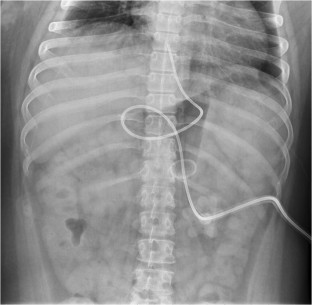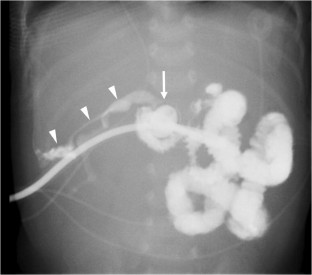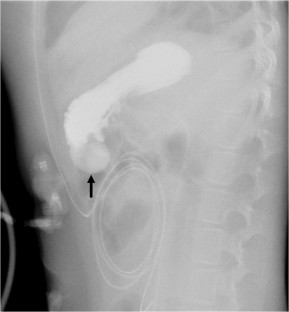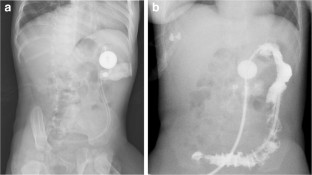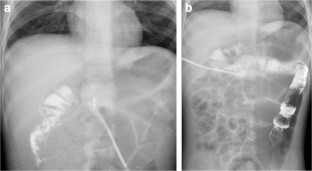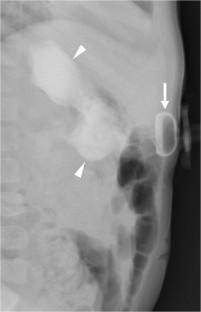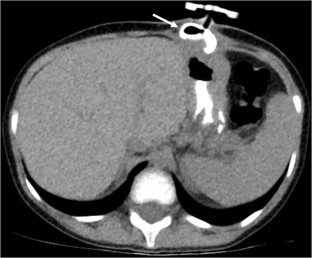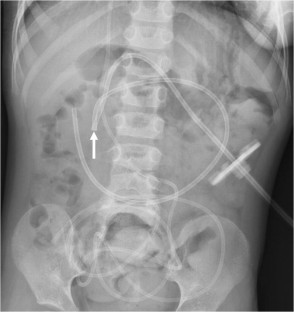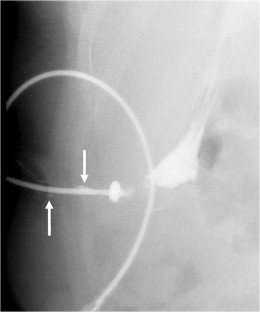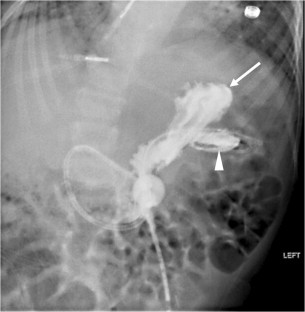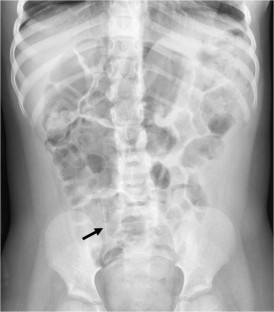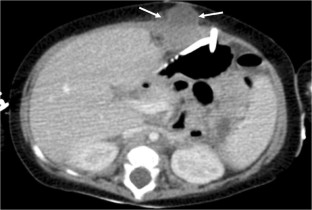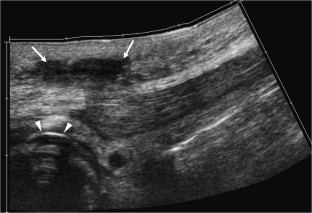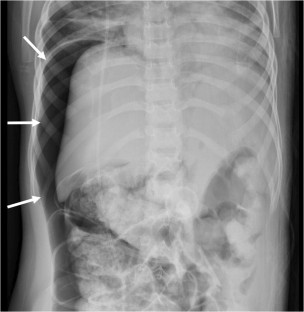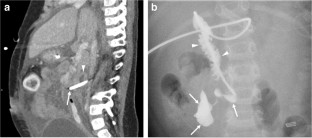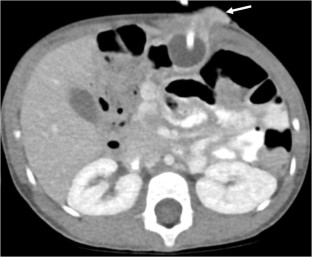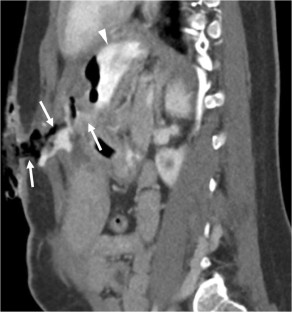 References
1.

Karthikumar B, Keshava SN, Moses V et al (2018) Percutaneous gastrostomy placement by intervention radiology: techniques and outcome. Indian J Radiol Imaging 28:225–231

2.

Yi DY (2018) Enteral nutrition in pediatric patients. Pediatr Gastroenterol Hepatol Nutr 21:12–19

3.

Taylor CA, Larson DE, Ballard DJ et al (1992) Predictors of outcome after percutaneous endoscopic gastrostomy: a community-based study. Mayo Clin Proc 67:1042–1049

4.

Larson DE, Burton DD, Schroeder KW, DiMagno EP (1987) Percutaneous endoscopic gastrostomy. Indications, success, complications, and mortality in 314 consecutive patients. Gastroenterology 93:48–52

5.

Wollman B, D'Agostino HB, Walus-Wigle JR et al (1995) Radiologic, endoscopic, and surgical gastrostomy: an institutional evaluation and meta-analysis of the literature. Radiology 197:699–704

6.

Schrag SP, Sharma R, Jaik NP et al (2007) Complications related to percutaneous endoscopic gastrostomy (PEG) tubes. A comprehensive clinical review. J Gastrointestin Liver Dis 16:407–418

7.

Lyon SM, Pascoe DM (2004) Percutaneous gastrostomy and gastrojejunostomy. Semin Intervent Radiol 21:181–189

8.

Pearce CB, Duncan HD (2002) Enteral feeding. Nasogastric, nasojejunal, percutaneous endoscopic gastrostomy, or jejunostomy: its indications and limitations. Postgrad Med J 78:198–204

9.

Rahnemai-Azar AA, Rahnemaiazar AA, Naghshizadian R et al (2014) Percutaneous endoscopic gastrostomy: indications, technique, complications and management. World J Gastroenterol 20:7739–7751

10.

Singhal S, Baker SS, Bojczuk GA, Baker RD (2017) Tube feeding in children. Pediatr Rev 38:23–34

11.

Jabbar A, McClave SA (2005) Pre-pyloric versus post-pyloric feeding. Clin Nutr 24:719–726

12.

Anselmo CB, Tercioti Junior V, Lopes LR et al (2013) Surgical gastrostomy: current indications and complications in a university hospital. Rev Col Bras Cir 40:458–462

13.

Kaya M, Sancar S, Ozcakir E (2018) A new method for laparoscopic Stamm gastrostomy. J Laparoendosc Adv Surg Tech A 28:111–115

14.

Kandil E, Alabbas H, Jacob C et al (2010) A simple and safe minimally invasive technique for laparoscopic gastrostomy. JSLS 14:62–65

15.

El-Matary W (2008) Percutaneous endoscopic gastrostomy in children. Can J Gastroenterol 22:993–998

16.

Shin JH, Park AW (2010) Updates on percutaneous radiologic gastrostomy/gastrojejunostomy and jejunostomy. Gut Liver 4:S25–S31

17.

Black MT, Hung CA, Loh C (2013) Subcutaneous T-fastener gastropexy: a new technique. AJR Am J Roentgenol 200:1157–1159

18.

Pitton MB, Herber S, Duber C (2008) Fluoroscopy-guided pull-through gastrostomy. Cardiovasc Intervent Radiol 31:142–148

19.

Food and Drug Administration. Drug Review Package Omnipaque (iohexol) Injection (1993). https://www.accessdata.fda.gov/drugsatfda_docs/nda/pre96/018956-s28_omnipaque_toc.cfm. Accessed 1 September 2019

20.

Burke DT, Geller AI, Carayannopoulos AG, Goldstein R (2011) Inadvertent percutaneous endoscopic gastrostomy tube placement through the transverse colon to the stomach causing intractable diarrhea: a case report. Diagn Ther Endosc 2011:849460

21.

Chhaparia A, Hammami MB, Bassuner J, Hachem C (2018) Trans-hepatic percutaneous endoscopic gastrostomy tube placement: a case report of a rare complication and literature review. Gastroenterology Res 11:145–149

22.

Quadri AH, Puetz TR, Dindzans V et al (2001) Enterocutaneous fistula: a rare complication of PEG tube placement. Gastrointest Endosc 53:529–531

23.

Milanchi S, Wilson MT (2008) Malposition of percutaneous endoscopic-guided gastrostomy: guideline and management. J Minim Access Surg 4:1–4

24.

Abbott L, Bromberek EF, Isserman JD, Davis JE (2018) Tube feed malposition and associated peritonitis. J Emerg Med 55:e107–e108

25.

Taheri MR, Singh H, Duerksen DR (2011) Peritonitis after gastrostomy tube replacement: a case series and review of literature. JPEN J Parenter Enteral Nutr 35:56–60

26.

Soscia J, Friedman JN (2011) A guide to the management of common gastrostomy and gastrojejunostomy tube problems. Paediatr Child Health 16:281–287

27.

Lahham S, Assaf S, Fairley R (2015) Mal-positioned gastrojejunostomy tube. West J Emerg Med 16:1199–1200

28.

Adesina A, Rammohan G, Jeanmonod R (2014) Retrograde gastrojejunostomy tube migration. Case Rep Emerg Med 2014:738506

29.

Shah J, Sunkara T, Yarlagadda KS et al (2018) Gastric outlet and duodenal obstruction as a complication of migrated gastrostomy tube: report of two cases and literature review. Gastroenterology Res 11:71–74

30.

Hawatmeh A, Alkhateeb A, Arqoub AA et al (2016) Gastrostomy tube migration complicated with acute pancreatitis: two case reports with review of literature. Int J Crit Illn Inj Sci 6:48–50

31.

Huang SY, Levine MS, Raper SE (2005) Gastrocolic fistula with migration of feeding tube into transverse colon as a complication of percutaneous endoscopic gastrostomy. AJR Am J Roentgenol 184:S65–S66

32.

Liu SY, Ng SS, Yip HC et al (2010) Migration of a percutaneous endoscopic gastrostomy tube into the transverse colon: a forgotten cause of refractory diarrhea. Endoscopy 42:E324–E325

33.

Cyrany J, Rejchrt S, Kopacova M, Bures J (2016) Buried bumper syndrome: a complication of percutaneous endoscopic gastrostomy. World J Gastroenterol 22:618–627

34.

Anagnostopoulos GK, Kostopoulos P, Arvanitidis DM (2003) Buried bumper syndrome with a fatal outcome, presenting early as gastrointestinal bleeding after percutaneous endoscopic gastrostomy placement. J Postgrad Med 49:325–327

35.

Biswas S, Dontukurthy S, Rosenzweig MG et al (2014) Buried bumper syndrome revisited: a rare but potentially fatal complication of PEG tube placement. Case Rep Crit Care 2014:634953

36.

Huang SY, Engstrom BI, Lungren MP, Kim CY (2015) Management of dysfunctional catheters and tubes inserted by interventional radiology. Semin Intervent Radiol 32:67–77

37.

Cmorej P, Barbat S, Sugawa C (2018) Complication of dislodged gastrostomy Foley catheter: antegrade migration into small bowel. BMJ Case Rep 11. https://doi.org/10.1136/bcr-2018-227551

38.

Lessne ML, Holly B, Huang SY, Kim CY (2015) Diagnosis and management of hemorrhagic complications of interventional radiology procedures. Semin Intervent Radiol 32:89–97

39.

Artul S, Nseir W, Assaf V, Abboud N (2014) Abdominal wall necrotising fasciitis due to dislodged percutaneous endoscopic gastrostomy tube. BMJ Case Rep 2014. https://doi.org/10.1136/bcr-2013-201346

40.

Hiremath R, Reddy H, Ibrahim J et al (2017) Soft tissue foreign body: utility of high resolution ultrasonography. J Clin Diagn Res 11:TC14–TC16

41.

Chau CL, Griffith JF (2005) Musculoskeletal infections: ultrasound appearances. Clin Radiol 60:149–159

42.

Lee JY, Park KS (2015) Pneumoperitoneum after percutaneous endoscopic gastrostomy: does it have clinical significance? Intest Res 13:295–296

43.

Massoumi RL, Abdelhafeez AH, Christensen MA et al (2016) Gastrojejunostomy tube bowel perforations in low-weight infants. JPEN J Parenter Enteral Nutr 40:1177–1182

44.

Campbell W, Kirk G, Refsum S, Diamond T (2006) Full-thickness gastric prolapse following percutaneous endoscopic gastrostomy. Endoscopy 38:544

45.

Navarro F, Loflin C, Diegidio P et al (2016) Herniation through gastrostomy site: case report. Int J Surg Case Rep 25:165–166

46.

El-Rifai N, Michaud L, Mention K et al (2004) Persistence of gastrocutaneous fistula after removal of gastrostomy tubes in children: prevalence and associated factors. Endoscopy 36:700–704
Ethics declarations
Conflicts of interest
None
Additional information
Publisher's note
Springer Nature remains neutral with regard to jurisdictional claims in published maps and institutional affiliations.
CME activity
This article has been selected as the CME activity for the current month. Please visit the SPR website at www.pedrad.org on the Education page and follow the instructions to complete this CME activity.
About this article
Cite this article
Kumbhar, S.S., Plunk, M.R., Nikam, R. et al. Complications of percutaneous gastrostomy and gastrojejunostomy tubes in children. Pediatr Radiol (2019) doi:10.1007/s00247-019-04576-1
Received:

Revised:

Accepted:

Published:
Keywords
Children

Complications

Feeding tube

Gastrojejunostomy

Gastrostomy

Interventional radiology

Percutaneous

Stomach