Abstract
We present findings in a 17-year-old with interrupted aortic arch, in whom standard imaging techniques missed functional and morphological problems. Flow-sensitive four-dimensional magnetic resonance (4-D MR) enabled assessment of the complex anatomy and blood-flow characteristics in the entire aorta and direct quantification of blood flow in collateral vessels. Our findings highlight the entire morphological and functional problem of interrupted aortic arch and illustrate the potential of flow-sensitive 4-D MR for surgical planning in congenital heart disease.
This is a preview of subscription content, log in to check access.
Access options
Buy single article
Instant unlimited access to the full article PDF.
US$ 39.95
Price includes VAT for USA
Subscribe to journal
Immediate online access to all issues from 2019. Subscription will auto renew annually.
US$ 199
This is the net price. Taxes to be calculated in checkout.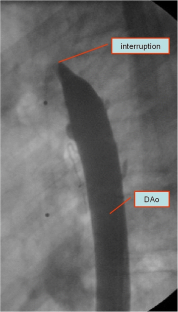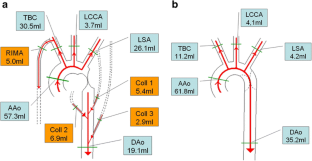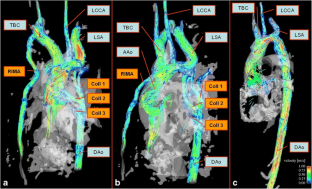 References
1.

Yu L, Shi E, Gu T (2011) Single-stage repair of interrupted aortic arch with simultaneous coronary artery bypass grafting without cardiopulmonary bypass in an adult. Ann Thorac Surg 92:1110–1113

2.

Sai Krishna C, Bhan A, Sharma S et al (2005) Interruption of aortic arch in adults: surgical experience with extra-anatomic bypass. Tex Heart Inst J 32:147–150

3.

Markl M, Harloff A, Bley TA et al (2007) Time-resolved 3D MR velocity mapping at 3 T: improved navigator-gated assessment of vascular anatomy and blood flow. J Magn Reson Imaging 25:824–831

4.

Riehle TJ, Oshinski JN, Brummer ME et al (2006) Velocity-encoded magnetic resonance image assessment of regional aortic flow in coarctation patients. Ann Thorac Surg 81:1002–1007

5.

Pujadas S, Reddy GP, Weber O et al (2006) Phase contrast MR imaging to measure changes in collateral blood flow after stenting of recurrent aortic coarctation: initial experience. J Magn Reson Imaging 24:72–76

6.

Stalder AF, Russe MF, Frydrychowicz A et al (2008) Quantitative 2D and 3D phase contrast MRI: optimized analysis of blood flow and vessel wall parameters. Magn Reson Med 60:1218–1231

7.

Nordmeyer S, Riesenkampff E, Crelier G et al (2010) Flow-sensitive four-dimensional cine magnetic resonance imaging for offline blood flow quantification in multiple vessels: a validation study. J Magn Reson Imaging 32:677–683
Acknowledgment
This study was supported by Bundesministerium für Bildung und Forschung, grant No. 01EV0706.
Electronic supplementary material
Below is the link to the electronic supplementary material.
Flow-sensitive 4-D MRI shows 3-D blood flow dynamics of the whole aorta and the collateral vessels. Red shows blood flow to the ascending aorta and the supra-aortal vessels. Green shows collateral blood flow into the right mammarian artery. Light and dark blue: collateral flow in two major collateral vessels draining into the descending aorta. At the site of aortic arch interruption no blood flow is registered. (MPG 9786 kb)
Flow-sensitive 4-D MRI shows 3-D blood flow dynamics of the whole aorta and the collateral vessels. Red shows blood flow to the ascending aorta and the supra-aortal vessels. Green shows collateral blood flow into the right mammarian artery. Light and dark blue: collateral flow in two major collateral vessels draining into the descending aorta. At the site of aortic arch interruption no blood flow is registered. (MPG 9786 kb)
About this article
Cite this article
Hirtler, D., Geiger, J., Jung, B. et al. 4-D MRI flow analysis in the course of interrupted aortic arch reveals complex morphology and quantifies amount of collateral blood flow. Pediatr Radiol 43, 1037–1040 (2013). https://doi.org/10.1007/s00247-013-2641-1
Received:

Revised:

Accepted:

Published:

Issue Date:
Keywords
Interrupted aortic arch

Flow-sensitive 4-D MR

Collateral blood flow

Congenital heart disease