Abstract
Background
The ultimate goal in the management of paediatric ileocolic intussusception is to achieve non-operative reduction and therefore patient cure. The standard non-surgical treatment consists of enema (air or liquid media).
Objective
The purpose of this study is to present external manual reduction for paediatric ileocolic intussusception. We present a new manoeuvre that is standardised, simple, safe and effective for the radiologist in the non-surgical management of this pathology.
Materials and methods
External manual reduction is performed under sedation. Execution of the manoeuvre is detailed and illustrated. The procedure was carried out 15 times in 13 paediatric patients with idiopathic ileocolic intussusception.
Results
Complete reduction exclusively by external manual reduction was accomplished on 12 occasions (80%). In the remaining three procedures, partial reduction to the cecum was obtained. Subsequent enema achieved complete reduction in two. Overall non-surgical reduction rate was 93%.
Conclusion
External manual reduction is a radiation-free, safe and effective procedure. In case of incomplete reduction, it facilitates enema performance. External manual reduction incorporates and additional initial step in the non-surgical reduction of intussusception and should be considered a first-line procedure.
This is a preview of subscription content, log in to check access.
Access options
Buy single article
Instant unlimited access to the full article PDF.
US$ 39.95
Price includes VAT for USA
Subscribe to journal
Immediate online access to all issues from 2019. Subscription will auto renew annually.
US$ 199
This is the net price. Taxes to be calculated in checkout.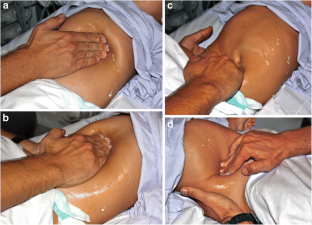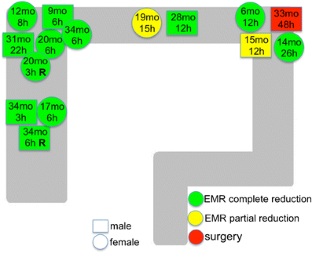 References
1.

Applegate KE (2009) Intussusception in children: evidence-based diagnosis and treatment. Pediatr Radiol 39(Suppl 2):S140–S143

2.

Applegate KE (2008) Intussusception in children: imaging choices. Semin Roentgenol 43:15–21

3.

Huppertz HI, Soriano-Gabarro M, Grimprel E et al (2006) Intussusception among young children in Europe. Pediatr Infect Dis J 25:S22–S29

4.

DiFiore JW (1999) Intussusception. Semin Pediatr Surg 8:214–220

5.

Daneman A, Navarro O (2003) Intussusception. Part 1: a review of diagnostic approaches. Pediatr Radiol 33:79–85

6.

Ko HS, Schenk JP, Troger J et al (2007) Current radiological management of intussusception in children. Eur Radiol 17:2411–2421

7.

Stringer MD, Pablot SM, Brereton RJ (1992) Paediatric intussusception. Br J Surg 79:867–876

8.

Waseem M, Rosenberg HK (2008) Intussusception. Pediatr Emerg Care 24:793–800

9.

Littlewood Teele R, Vogel SA (1998) Intussusception: the paediatric radiologist's perspective. Pediatr Surg Int 14:158–162

10.

Byrne AT, Geoghegan T, Govender P et al (2005) The imaging of intussusception. Clin Radiol 60:39–46

11.

Williams H (2008) Imaging and intussusception. Arch Dis Child Educ Pract Ed 93:30–36

12.

Collins DL, Pinckney LE, Miller KE et al (1989) Hydrostatic reduction of ileocolic intussusception: a second attempt in the operating room with general anesthesia. J Pediatr 115:204–207

13.

Shekherdimian S, Lee SL (2011) Management of pediatric intussusception in general hospitals: diagnosis, treatment, and differences based on age. World J Pediatr 7:70–73

14.

Henrikson S, Blane CE, Koujok K et al (2003) The effect of screening sonography on the positive rate of enemas for intussusception. Pediatr Radiol 33:190–193

15.

Schmit P, Rohrschneider WK, Christmann D (1999) Intestinal intussusception survey about diagnostic and nonsurgical therapeutic procedures. Pediatr Radiol 29:752–761

16.

Hooker RL, Hernanz-Schulman M, Yu C et al (2008) Radiographic evaluation of intussusception: utility of left-side-down decubitus view. Radiology 248:987–994

17.

Daneman A, Alton DJ (1996) Intussusception. Issues and controversies related to diagnosis and reduction. Radiol Clin North Am 34:743–756

18.

Weihmiller SN, Buonomo C, Bachur R (2011) Risk stratification of children being evaluated for intussusception. Pediatrics 127:e296–e303

19.

Daneman A, Navarro O (2004) Intussusception. Part 2: an update on the evolution of management. Pediatr Radiol 34:97–108, quiz 187

20.

Rohrschneider W, Troger J, Betsch B (1994) The post-reduction donut sign. Pediatr Radiol 24:156–160

21.

Navarro O, Daneman A (2004) Intussusception. Part 3: diagnosis and management of those with an identifiable or predisposing cause and those that reduce spontaneously. Pediatr Radiol 34:305–312, quiz 369

22.

del-Pozo G, Albillos JC, Tejedor D et al (1999) Intussusception in children: current concepts in diagnosis and enema reduction. Radiographics 19:299–319

23.

del-Pozo G, Gonzalez-Spinola J, Gomez-Anson B et al (1996) Intussusception: trapped peritoneal fluid detected with US – relationship to reducibility and ischemia. Radiology 201:379–383

24.

Lim HK, Bae SH, Lee KH et al (1994) Assessment of reducibility of ileocolic intussusception in children: usefulness of color Doppler sonography. Radiology 191:781–785

25.

Koumanidou C, Vakaki M, Pitsoulakis G et al (2002) Sonographic detection of lymph nodes in the intussusception of infants and young children: clinical evaluation and hydrostatic reduction. AJR 178:445–450

26.

Kong MS, Wong HF, Lin SL et al (1997) Factors related to detection of blood flow by color Doppler ultrasonography in intussusception. J US Med 16:141–144

27.

Stranzinger E, Dipietro MA, Yarram S et al (2009) Intramural and subserosal echogenic foci on US in large-bowel intussusceptions: prognostic indicator for reducibility? Pediatr Radiol 39:42–46

28.

Gartner RD, Levin TL, Borenstein SH et al (2011) Interloop fluid in intussusception: what is its significance? Pediatr Radiol 41:727–731

29.

Caro P, Iqbal A, Donoghue V et al (2011) Interloop fluid in intussusception. Pediatr Radiol 41:1483

30.

Markowitz RI, Meyer JS (1992) Pneumatic versus hydrostatic reduction of intussusception. Radiology 183:623–624

31.

Somekh E, Serour F, Goncalves D et al (1996) Air enema for reduction of intussusception in children: risk of bacteremia. Radiology 200:217–218

32.

Kirks DR, Griscom NT (1998) Practical pediatric imaging: diagnostic radiology of infants and children. Lippincott-Raven, Philadelphia

33.

Meyer JS (1992) The current radiologic management of intussusception: a survey and review. Pediatr Radiol 22:323–325

34.

Couloures KG, Beach M, Cravero JP et al (2011) Impact of provider specialty on pediatric procedural sedation complication rates. Pediatrics 127:e1154–e1160

35.

American Academy of P, American Academy of Pediatric D, Coté CJ et al (2006) Guidelines for monitoring and management of pediatric patients during and after sedation for diagnostic and therapeutic procedures: an update. Pediatrics 118:2587–2602

36.

Sirinelli D, Guilley C, Lardy H et al (2003) Reduction of acute intestinal intussusception: when and how? J Radiol 84:269–274

37.

Touloukian RJ, O'Connell JB, Markowitz RI et al (1987) Analgesic premedication in the management of ileocolic intussusception. Pediatrics 79:432–434

38.

Lee JH, Jeong YK, Hwang JC et al (2002) Graded compression sonography with adjuvant use of a posterior manual compression technique in the sonographic diagnosis of acute appendicitis. AJR 178:863–868

39.

Lee JH, Jeong YK, Park KB et al (2005) Operator-dependent techniques for graded compression sonography to detect the appendix and diagnose acute appendicitis. AJR 184:91–97

40.

Khong PL, Peh WC, Lam CH et al (2000) US-guided hydrostatic reduction of childhood intussusception: technique and demonstration. Radiographics 20:E1

41.

McAlister WH (1998) Intussusception: even Hippocrates did not standardize his technique of enema reduction. Radiology 206:595–598

42.

Fiorito ES, Recalde Cuestas LA (1959) Diagnosis and treatment of acute intestinal intussusception with controlled insufflation of air. Pediatrics 24:241–244

43.

Monrad S (1926) Acute invagination of the intestine in small children. Arch Dis Child 1:323–338

44.

Ravitch MM, McCune RM (1948) Reduction of intussusception by barium enema: a clinical and experimental study. Ann Surg 128:904–917

45.

Kirks DR (1995) Air intussusception reduction: 'the winds of change'. Pediatr Radiol 25:89–91

46.

Khanna G, Applegate K (2008) US guided intussusception reduction: are we there yet? Abdom Imaging 33:38–40

47.

Shiels WE 2nd, Kirks DR, Keller GL et al (1993) John Caffey Award. Colonic perforation by air and liquid enemas: comparison study in young pigs. AJR 160:931–935

48.

Daneman A, Alton DJ, Ein S et al (1995) Perforation during attempted intussusception reduction in children—a comparison of perforation with barium and air. Pediatr Radiol 25:81–88

49.

Grasso SN, Katz ME, Presberg HJ et al (1994) Transabdominal manually assisted reduction of pediatric intussusception: reappraisal of this historical technique. Radiology 191:777–779

50.

Ravitch MM (1966) Diagnosis and treatment intussusception—a surgical condition. Pediatrics 38:122–123

51.

Katz ME, Kolm P (1992) Intussusception reduction 1991: an international survey of pediatric radiologists. Pediatr Radiol 22:318–322

52.

Kirks DR (1994) Diagnosis and treatment of pediatric intussusception: how far should we push our radiologic techniques? Radiology 191:622–623

53.

Grasso SN, Katz ME, Presberg HJ et al (1994) Manual assistance in air reduction of intussusceptions. Radiology 193:283

54.

Swischuk LE (2004) Imaging of the newborn, infant, and young child. Lippincott Williams & Wilkins, Philadelphia

55.

Sargent MA, Wilson BP (1991) Are hydrostatic and pneumatic methods of intussusception reduction comparable? Pediatr Radiol 21:346–349

56.

Hase T, Kodama M, Mizukuro T et al (1998) Manual reduction with the index finger for infantile intussusception. A modification of Hutchinson's maneuver. Pediatr Surg Int 13:223–225

57.

Hutchinson J (1874) A successful case of abdominal section for intussusception, with remarks on this and other methods of treatment. Med Chir Trans 57:31–75

58.

Paterson CA, Langer JC, Somers S et al (1994) Pneumatic reduction of intussusception using carbon dioxide. Pediatr Radiol 24:296–297

59.

Ilivitzki A, Shtark LG, Arish K et al (2012) Deep sedation during pneumatic reduction of intussusception. Pediatr Radiol 42:562–565

60.

Evrard M (1973) Problems facing the anesthesiologist in acute intestinal intussusception in infants. Anesth Analg (Paris) 30:1085–1091

61.

Hoffman RD, Levine HA, Baram S et al (1992) Painless intussusception. Giving conservative treatment another chance. Postgrad Med 91:283–284

62.

del Palomar P, Chavarri R, Rodriguez de Benito JF et al (1984) [Anesthesia in intestinal invagination]. Rev Esp Anestesiol Reanim 31:231–233

63.

Suzuki M, Hayakawa K, Nishimura K et al (1999) Intussusception: the role of general anesthesia during hydrostatic barium reduction. Radiat Med 17:121–124

64.

Brenn BR, Katz A (1997) General anaesthesia may improve the success rate of hydrostatic reductions of intussusception. Paediatr Anaesth 7:77–81

65.

Diaz-Aldagalan Gonzalez R, Perez-Martinez A, Pison-Chacon J et al (2011) Rescue by pneumoenema under general anaesthesia of apparently non-reducible intestinal intussusception. Eur J Pediatr 171:189–191

66.

Shekherdimian S, Lee SL, Sydorak RM et al (2009) Contrast enema for pediatric intussusception: is reflux into the terminal ileum necessary for complete reduction? J Pediatr Surg 44:247–249, discussion 249-250

67.

Bajaj L, Roback MG (2003) Postreduction management of intussusception in a children's hospital emergency department. Pediatrics 112:1302–1307

68.

Connolly B, Alton DJ, Ein SH et al (1995) Partially reduced intussusception: when are repeated delayed reduction attempts appropriate? Pediatr Radiol 25:104–107
Additional information
This paper was honored with the Jacques Lefebvre Award at the 2012 ESPR meeting in Athens.
Electronic supplementary material
Below is the link to the electronic supplementary material.
About this article
Cite this article
Vazquez, J.L., Ortiz, M., Doniz, M.C. et al. External manual reduction of paediatric idiopathic ileocolic intussusception with US assistance: a new, standardised, effective and safe manoeuvre. Pediatr Radiol 42, 1197–1204 (2012). https://doi.org/10.1007/s00247-012-2424-0
Received:

Revised:

Accepted:

Published:

Issue Date:
Keywords
Paediatric

Ileocolic intussusception

External manual reduction

US

Sedation