Abstract
A 17-year-old boy presented with a 3-month history of swelling and vague pain in the scrotum. US revealed multiple anechoic cyst-like lesions in the body of left epididymis. These cysts showed tubular echogenic internal structures with peculiar twirling motion. This was recognised as the sonographic filarial dance-sign of live adult filarial worms. The boy subsequently underwent needle aspiration of the lesion, which microscopically demonstrated microfilaria of Wuchereria bancrofti. Our report includes an online video clip that will help familiarise readers with the filarial dance.
This is a preview of subscription content, log in to check access.
Access options
Buy single article
Instant unlimited access to the full article PDF.
US$ 39.95
Price includes VAT for USA
Subscribe to journal
Immediate online access to all issues from 2019. Subscription will auto renew annually.
US$ 199
This is the net price. Taxes to be calculated in checkout.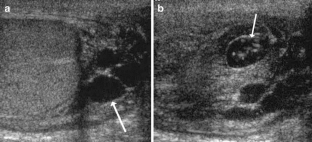 References
1.

Mand S, Marfo-Debrekyei Y, Dittrich M et al (2003) Animated documentation of the filaria dance sign (FDS) in bancroftian filariasis. Filaria J 2:3

2.

Weatherly NF (1998) Medical helminthology. In: Willet HP, Jokilk WK, Wilfret CM et al (eds) Zinsser's Microbiology, 19th edn. Appleton & Lange, Norwalk, pp 984–986

3.

Chaubal NG, Pradhan GM, Chaubal NJ et al (2003) Dance of live adult filarial worms is a reliable sign of scrotal filarial infection. J Ultrasound Med 22:765–769

4.

Grove DI (2000) Tissue nematodes. In: Mandell GL, Benett JE, Dolin R (eds) Principles and practice of infectious diseases, 5th edn. Churchill Livingstone, New York, pp 246–247

5.

Amaral F, Dreyer G, Figueredo-Silva J et al (1994) Live adult worms detected by ultrasonography in human bancroftian filariasis. Am J Trop Med Hyg 50:753–757

6.

Dreyer G, Amaral F, Norões J et al (1994) Ultrasonographic evidence for stability of adult worm location in bancroftian filariasis. Trans R Soc Trop Med Hyg 88:558

7.

Dreyer G, Addiss D, Roberts J et al (2002) Progression of lymphatic vessel dilatation in the presence of living adult Wuchereria bancrofti. Trans R Soc Trop Med Hyg 96:157–161

8.

Dreyer G, Santos A, Norões J et al (1998) Ultrasonographic detection of living adult Wuchereria bancrofti using a 3.5 MHz transducer. Am J Trop Med Hyg 59:399–403
Electronic supplementary material
Below is the link to the electronic supplementary material.
A 17-year-old boy presented with scrotal swelling. The peculiar random twirling motion of the live adult filarial worms can be seen: the filarial dance sign (MPG 2236 kb)
A 17-year-old boy presented with scrotal swelling. The peculiar random twirling motion of the live adult filarial worms can be seen: the filarial dance sign (MPG 2236 kb)
About this article
Cite this article
Shetty, G.S., Solanki, R.S., Prabhu, S.M. et al. Filarial dance—sonographic sign of filarial infection. Pediatr Radiol 42, 486–487 (2012). https://doi.org/10.1007/s00247-011-2190-4
Received:

Revised:

Accepted:

Published:

Issue Date:
Keywords
Adult Worm

Lymphatic Filariasis

Filariasis

Epididymitis

Orchitis