Abstract
We sought to determine whether awareness of the pediatric appropriate use criteria (AUC) affected transthoracic echocardiogram (TTE) ordering by cardiologists; evaluate for differences in classification of an encounter's AUC clinical scenario by investigator chart review compared with clinicians at the time of the encounter; and assess TTE yield by appropriateness rating. AUC clinical scenario(s) were assigned to patients without prior TTE by investigator chart review of visits in 2014 (n = 209) and 2016 (n = 199), and by clinician classification in 2016 (n = 671). Investigators documented TTE utilization and findings. Between 2014 and 2016, TTE utilization decreased from 54 to 33% (p < 0.001) of "rarely appropriate" (R) encounters, resulting in a decrease in overall TTE utilization from 73 to 55% of encounters (p < 0.001). There was only moderate agreement of AUC appropriateness by investigator chart review and clinician classification (κ = 0.533, p < 0.001). Abnormal TTE findings were detected in 18.7% of R encounters, with 21 of 24 abnormalities in infants younger than 4 months presenting with murmur. A decrease in TTE utilization for R encounters may represent a change in practice from increased awareness of the AUC. AUC scenario classification by clinicians at the time of the encounter could be superior to chart review. TTE abnormalities may be missed in infants younger than 4 months of age when evaluated for murmurs with the AUC.
This is a preview of subscription content, log in to check access.
Access options
Buy single article
Instant unlimited access to the full article PDF.
US$ 39.95
Price includes VAT for USA
Subscribe to journal
Immediate online access to all issues from 2019. Subscription will auto renew annually.
US$ 99
This is the net price. Taxes to be calculated in checkout.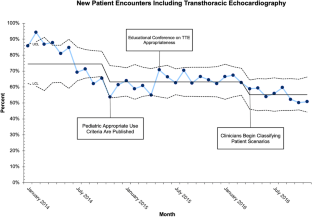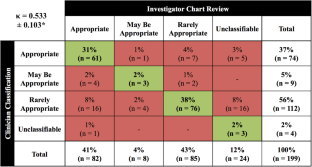 Abbreviations
A:

Appropriate

AUC:

Appropriate use criteria

M:

May be appropriate

OR:

Odds ratio

R:

Rarely appropriate

REDCap:

Research electronic data capture

TTE:

Transthoracic echocardiogram
Acknowledgements
We thank Daniel Saurers, RDCS, for creating the project interface with the echocardiography database.
Funding
MSR and ANL were supported by the National Heart, Lung, and Blood Institute (T32HL105334). Project REDCap was supported by the National Center for Advancing Translational Sciences (CTSA award UL1TR000445).
Ethics declarations
Conflict of interest
The authors declare that they have no conflict of interest.
Additional information
Publisher's Note
Springer Nature remains neutral with regard to jurisdictional claims in published maps and institutional affiliations.
Electronic supplementary material
Below is the link to the electronic supplementary material.
About this article
Cite this article
Renno, M.S., Lambert, A.N., Kannankeril, P. et al. Impact of Clinician Engagement on Implementation of the Pediatric Echocardiography Appropriate Use Criteria. Pediatr Cardiol (2020). https://doi.org/10.1007/s00246-020-02284-4
Received:

Accepted:

Published:
Keywords
Pediatric

Appropriate use criteria

Transthoracic echocardiography

Resource utilization

Quality improvement