Abstract
Ebstein anomaly of mitral valve (MV) is an extremely rare congenital heart disease. In the current report, we present a case of Ebstein of MV that was diagnosed prenatally. Fetal echocardiogram showed that the posterior leaflet of MV was tethered to the lateral wall of left ventricle (LV) with downward displacement into LV cavity. Postnatal transthoracic and transesophageal echocardiograms confirmed the diagnosis with apical displacement of the level of coaptation MV into the LV cavity. To the best of our knowledge, fetal diagnosis of Ebstein anomaly of MV has not yet been reported in the medical literature.
This is a preview of subscription content, log in to check access.
Access options
Buy single article
Instant unlimited access to the full article PDF.
US$ 39.95
Price includes VAT for USA
Subscribe to journal
Immediate online access to all issues from 2019. Subscription will auto renew annually.
US$ 99
This is the net price. Taxes to be calculated in checkout.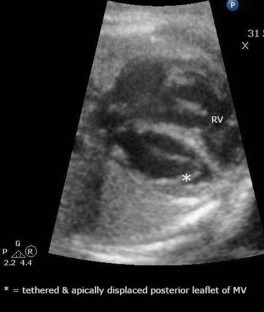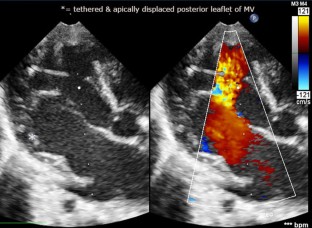 References
1.

Ebstein W (1866) Über einen sehr seltenen Fall von Insuffizienz der Valvula tricuspidalis, bedingt durch eine angeborene hochgradige Missbildung derselben. Arch Anat Physiol 33:238–254

2.

Malers E, Bjork VO, Cullhed I, Lodin H (1960) Transposition functionally totally corrected, associated with "mitral" insufficiency. Am Heart J 59:816–834

3.

Prior JT (1953) Congenital anomalies of the mitral valve; two cases associated with long survival. Am Heart J 46:649–656

4.

Bär H, Siegmund A, Wolf D, Hardt S, Katus HA, Mereles D (2009) Prevalence of asymptomatic mitral valve malformations. Clin Res Cardiol 98:305–309

5.

Ruschhaupt DG, Bharati S, Lev M (1976) Mitral valve malformation of Ebstein type in absence of corrected transposition. Am J Cardiol 38:109–112

6.

Kraus FT (1962) Ebstein malformation of left atrioventricular valve. Arch Pathol 74:220–223

7.

Dusmet M, Oberhaensli I, Cox JN (1987) Ebstein's anomaly of the tricuspid and mitral valves in an otherwise normal heart. Br Heart J 58:400–404

8.

Jacob JL, da Silveira LC, Braile DM (1991) Echocardiographic and angiographic diagnosis of Ebstein's anomaly of the mitral valve. Br Heart J 66:379–380
Ethics declarations
Conflict of interest
All the authors declare no conflict of interest.
Ethical Approval
This article does not contain any studies with human participants or animals performed by any of the authors.
Informed Consent
Informed consent was obtained from all individual participants included in the study.
Electronic supplementary material
Below is the link to the electronic supplementary material.
Video Clip 1: Fetal echocardiogram with 4 chamber view showing a tethered posterior leaflet of mitral valve. The leaflets of the MV are apically displaced as well (AVI 9143 KB)
Video Clip 2: Transthoracic echocardiogram with 2 D obtained from the left low parasternal window showing a tethered posterior leaflet, a fenestrated anterior leaflet of mitral valve, and a large apical ventricular septal defect (AVI 7415 KB)
Video Clip 3: Transesophageal echocardiogram showing a tethered posterior leaflet of MV to the lateral wall of LV with apical displacement into LV cavity (AVI 3711 KB)
About this article
Cite this article
Aly, S., Bokowski, J., Diab, K. et al. Fetal and Postnatal Echocardiographic Diagnosis of Ebstein Anomaly of the Mitral Valve. Pediatr Cardiol 39, 1276–1279 (2018). https://doi.org/10.1007/s00246-018-1903-y
Received:

Accepted:

Published:

Issue Date:
Keywords
Ebstein

Mitral valve

Fetal echocardiography