Abstract
There is controversy regarding the management of projectile embolization, a rare complication of penetrating trauma. We present the case of a 5-year-old, 20 kg male with retrograde venous projectile embolization following traumatic injury with a pellet gun. The projectile was successfully removed utilizing a novel, percutaneous approach.
This is a preview of subscription content, log in to check access.
Access options
Buy single article
Instant unlimited access to the full article PDF.
US$ 39.95
Price includes VAT for USA
Subscribe to journal
Immediate online access to all issues from 2019. Subscription will auto renew annually.
US$ 99
This is the net price. Taxes to be calculated in checkout.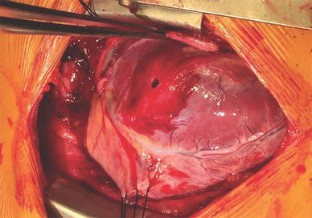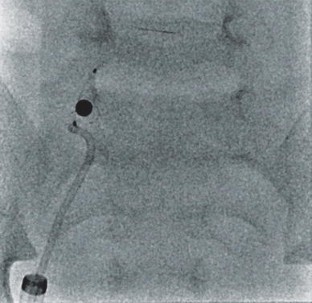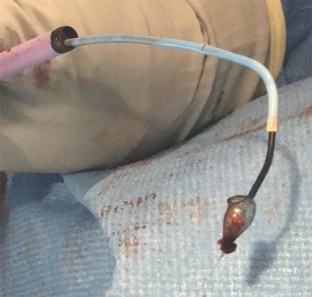 References
1.

Aidinian G, Fox CJ, Rasmussen TE, Gillespie DL (2010) Varied presentations of missile emboli in military combat. J Vasc Surg 51(1):214–217. doi:10.1016/j.jvs.2009.06.054

2.

Rich NM, Collins GJ Jr, Andersen CA, McDonald PT, Kozloff L, Ricotta JJ (1978) Missile emboli. J Trauma 18(4):236–239

3.

Bertoldo U, Enrichens F, Comba A, Ghiselli G, Vaccarisi S, Ferraris M (2004) Retrograde venous bullet embolism: a rare occurrence-case report and literature review. J Trauma 57(1):187–192

4.

Mattox KL, Beall AC Jr, Ennix CL, DeBakey ME (1979) Intravascular migratory bullets. Am J Surg 137(2):192–195

5.

Springer J, Newman W, McGoey R (2011) Intravascular bullet embolism to the right atrium. J Forensic Sci 56(Suppl 1):S259–S262. doi:10.1111/j.1556-4029.2010.01616.x

6.

Fritz JM, Newman MM et al (1949) Fate of cardiac foreign bodies. Surgery 25(6):869–879

7.

Lu K, Gandhi S, Qureshi MA, Wright AS, Kantathut N, Noeller TP (2015) Approach to management of intravascular missile emboli: review of the literature and case report. West J Emerg Med 16(4):489–496. doi:10.5811/westjem.2015.5.25553

8.

Gaylord GM, Johnsrude IS (1989) Split 24-F Amplatz dilator for percutaneous extraction of an intravascular bullet: case report and technical note. Radiology 170(3 Pt 1):888–889. doi:10.1148/radiology.170.3.2644664

9.

Greaves N (2010) Gunshot bullet embolus with pellet migration from the left brachiocephalic vein to the right ventricle: a case report. Scand J Trauma Resusc Emerg Med 18:36. doi:10.1186/1757-7241-18-36

10.

Khanna A, Drugas GT (2003) Air gun pellet embolization to the right heart: case report and review of the literature. J Trauma 54(6):1239–1241. doi:10.1097/01.ta.0000080524.77566.a4

11.

McLaughlin RL, Analitis S, VanVleet S, Pederson R (2008) Right ventricular gunshot wound with retrograde embolization. J Trauma Nurs 15(3):123–125. doi:10.1097/01.JTN.0000337154.16088.6d

12.

Nazir Z, Esufali ST, Rao NS, Rizvi I (1992) Venous bullet embolism: a case report and review of the literature. Injury 23(8):561–563

13.

Schmelzer V, Mendez-Picon G, Gervin AS (1989) Case report: transthoracic retrograde venous bullet embolization. J Trauma 29(4):525–527

14.

Schroeder ME, Pryor HI 2nd, Chun AK, Rahbar R, Arora S, Vaziri K (2011) Retrograde migration and endovascular retrieval of a venous bullet embolus. J Vasc Surg 53(4):1113–1115. doi:10.1016/j.jvs.2010.11.046

15.

Shannon FL, McCroskey BL, Moore EE, Moore FA (1987) Venous bullet embolism: rationale for mandatory extraction. J Trauma 27(10):1118–1122
Ethics declarations
Conflict of interest
The authors declare that they have no conflicts of interest related to this report.
Ethical Approval
As this is a case report, this article does not contain any studies with human participants or animals performed by any of the authors.
Informed Consent
Informed consent was obtained prior to all clinical procedures in accordance with standard clinical practice.
Electronic supplementary material
Below is the link to the electronic supplementary material.
Penetrating injury to the left ventricle just leftward to the left anterior descending coronary and cephalad to a diagonal branch. Supplementary material 1 (MOV 98554 kb)
About this article
Cite this article
Chew, J.D., Nicholson, G.T., Mettler, B.A. et al. Percutaneous Removal of Intravascular Pellet Following Penetrating Cardiac Trauma. Pediatr Cardiol 39, 191–194 (2018) doi:10.1007/s00246-017-1689-3
Received:

Accepted:

Published:

Issue Date:
Keywords
Embolus

Projectile

Pediatric

Foreign body retrieval