Abstract
We report on a 9-year-old girl who developed signs of congestive heart failure with significant ascites due to constrictive pericarditis. Cardiac catheterization was performed to establish the diagnosis and to rule out restrictive cardiomyopathy. Endomyocardial biopsies were positive for activated macrophages and small-vessel disease, but no viral genomes were detected. Open pericardectomy was performed and histopathologic examination of the resected thickened pericardium showed extensive fibrosis and hyaline degeneration. A combined infection with parvovirus B19 (PVB19) and human herpes virus 6 (HHV6; subtype B) was proven within the resected pericardium. We suggest that local HHV6-induced immunosuppression enhanced the PVB19 infection, thus resulting in chronic infection and leading to constrictive pericarditis.
This is a preview of subscription content, log in to check access.
Access options
Buy single article
Instant unlimited access to the full article PDF.
US$ 39.95
Price includes VAT for USA
Subscribe to journal
Immediate online access to all issues from 2019. Subscription will auto renew annually.
US$ 99
This is the net price. Taxes to be calculated in checkout.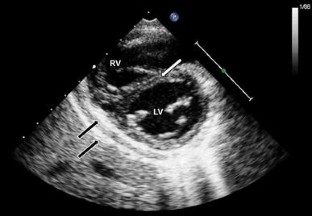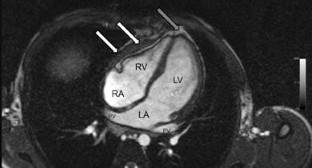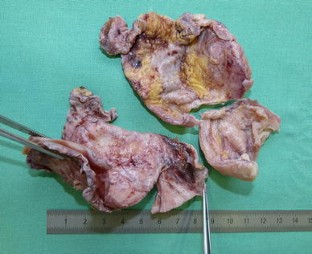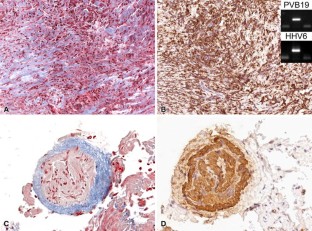 Abbreviations
PVB19:

Parvovirus B19

HHV6:

human Herpes virus 6
References
1.

Bertog SC, Thambidorai SK, Parakh K et al (2004) Constrictive pericarditis: etiology and cause-specific survival after pericardiectomy. J Am Coll Cardiol 43(8):1445–1452

2.

Bock C, Klingel K, Kandolf R (2010) Human parvovirus B19-associated myocarditis. N Engl J Med 362(13):1248–1249

3.

Bültmann BD, Klingel K, Sotlar K et al (2003) Fatal parvovirus B19-associated myocarditis clinically mimicking ischemic heart disease: an endothelial cell-mediated disease. Human Pathol 34(1):92–95

4.

Clare GC, Troughton RW (2007) Management of constrictive pericarditis in the 21st century. Curr Treat Options Cardiovasc Med 9(6):436–442

5.

de Bolle L, Naesens L, de Clercq E (2005) Update on human herpesvirus 6 biology, clinical features, and therapy. Clin Microbiol Rev 18(1):217–245

6.

Flamand L, Gosselin J, Stefanescu I, Ablashi D, Menezes (1995) Immunosuppressive effect of human herpesvirus 6 on T-cell functions: suppression of interleukin-2 synthesis and cell proliferation. Blood 85(5):1263–1271

7.

Imazio M, Brucato A, Maestroni S et al (2011) Risk of constrictive pericarditis after acute pericarditis. Circulation 124(11):1270–1275

8.

Little WC, Freeman GL (2006) Pericardial disease. Circulation 113(12):1622–1632

9.

Maisch B, Seferović PM, Ristić AD et al (2004) Guidelines on the diagnosis and management of pericardial diseases executive summary: The Task Force on the Diagnosis and Management of Pericardial Diseases of the European Society of Cardiology. Eur Heart J 25(7):587–610

10.

Rohayem J, Dinger J, Fischer R, Klingel K, Kandolf R, Rethwilm A (2001) Fatal myocarditis associated with acute parvovirus B19 and human herpesvirus 6 coinfection. J Clin Microbiol 39(12):4585–4587

11.

Troughton RW, Asher CR, Klein AL (2004) Pericarditis. Lancet 363(9410):717–727
Conflict of interest
The authors have no conflicts of interest to disclose.
Electronic supplementary material
Below is the link to the electronic supplementary material.
Supplementary material 1 (MPG 450 kb)
Supplementary material 2 (MPG 102 kb)
About this article
Cite this article
Backhoff, D., Steinmetz, M., Ruschewski, W. et al. Severe Constrictive Pericarditis After Parvovirus B19 and Human Herpes Virus 6 Infection in a 9-Year-Old Girl. Pediatr Cardiol 34, 2089–2092 (2013) doi:10.1007/s00246-013-0755-8
Received:

Accepted:

Published:

Issue Date:
Keywords
Constrictive pericarditis

Parvovirus B19

Human herpes virus 6

Child

Heart failure

Pericardectomy