Abstract
This report describes the unique case of a newborn with total anomalous pulmonary venous connection to an unroofed coronary sinus associated with Ullrich-Turner syndrome and aortic coarctation. Total anomalous pulmonary venous connection to the unroofed coronary sinus is an extremely uncommon cardiac abnormality. This congenital heart disease is difficult to diagnose and rarely ever reported. Few symptoms are to be expected when it is not associated with other congenital heart defects. This lesion results in a "naturally" corrected total anomalous pulmonary venous return and a coronary sinus atrial septal defect presenting as a left-to-right shunting lesion. Making the diagnosis of this cardiac defect, and if possible, surgical repair is of importance because cardiac dysfunction due to significant atrial left-to-right shunting is a known long-term complication in the older adult patient.
This is a preview of subscription content, log in to check access.
Access options
Buy single article
Instant unlimited access to the full article PDF.
US$ 39.95
Price includes VAT for USA
Subscribe to journal
Immediate online access to all issues from 2019. Subscription will auto renew annually.
US$ 99
This is the net price. Taxes to be calculated in checkout.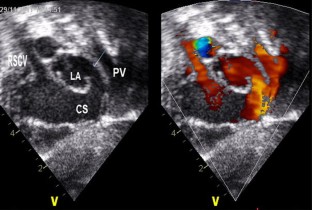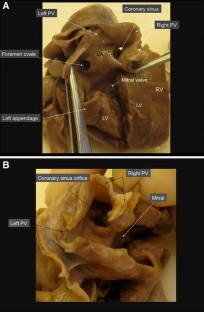 References
1.

Attenhofer Jost CH, Connolly HM, Danielson GK, Dearani JA, Warnes CA, Jamil Tajik A (2007) Clinical features and surgical outcome in 25 patients with fenestrations of the coronary sinus. Cardiol Young 17:592–600

2.

Banitt PF (1996) Total anomalous pulmonary venous connection to unroofed coronary sinus in a patient with no symptoms. Am Heart J 132:886–888

3.

Chin AJ, Murphy JD (1992) Identification of coronary sinus septal defect (unroofed coronary sinus) by colour Doppler echocardiography. Am Heart J 124:1655–1657

4.

Gupta MD, Girish MP, Ramakrishnan S (2011) Persistent left superior vena cava draining into an unroofed coronary sinus in tricuspid atresia: an uncommon anomaly. Pediatr Cardiol 32:530–531

5.

Kim H, Choe YH, Park SW, Jun TG, Kang IS, Yang JH, Eo H, Lee HJ (2010) Partially unroofed coronary sinus: MDCT and MRI findings. AJR Am J Roentgenol 195:W331–W336

6.

Knauth A, McCarthy KP, Webb S et al (2002) Interatrial communication through the mouth of the coronary sinus. Cardiol Young 12:364–372

7.

Raghib G, Ruttenberg HD, Anderson RC, Amplatz K, Adams P Jr, Edwards JE (1965) Termination of left superior vena cava in left atrium, atrial septal defect, and absence of coronary sinus: a developmental complex. Circulation 31:906–918

8.

Rhodes J, Bacha EA, Geggel RL (2006) Coexistence of three rare congenital heart defects in a single patient. Pediatr Cardiol 27:503–507

9.

Thaiyananthan NN, Jacono FJ III, Patel SR, Kern JA, Stoller JK (2009) Right-to-left anatomic shunt associated with a persistent left superior vena cava: the importance of injection site in demonstrating the shunt. Chest 136:617–620
Electronic supplementary material
Below is the link to the electronic supplementary material.
Supplementary material 1 (AVI 2897 kb)
About this article
Cite this article
Laux, D., Houyel, L., Bajolle, F. et al. Total Anomalous Pulmonary Venous Connection to the Unroofed Coronary Sinus in a Neonate. Pediatr Cardiol 34, 2006–2008 (2013) doi:10.1007/s00246-012-0551-x
Received:

Accepted:

Published:

Issue Date:
Keywords
Abnormal pulmonary venous return

Aortic coarctation

Ullrich-Turner syndrome

Unroofed coronary sinus