Abstract
This report describes an infant with heterotaxy syndrome and severe hypoplasia of the left heart who presented with profound cyanosis at birth despite a large patent ductus arteriosus. Pulmonary venous return was difficult to demonstrate by echocardiography. Angiography showed total anomalous pulmonary venous return via a plexus that drained through the paravertebral veins and bilateral superior vena cavae. Autopsy confirmed these findings, and histopathology demonstrated severe occlusive changes within the pulmonary veins.
This is a preview of subscription content, log in to check access.
Access options
Buy single article
Instant unlimited access to the full article PDF.
US$ 39.95
Price includes VAT for USA
Subscribe to journal
Immediate online access to all issues from 2019. Subscription will auto renew annually.
US$ 99
This is the net price. Taxes to be calculated in checkout.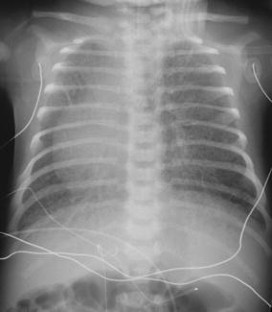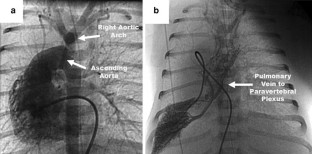 References
1.

Brann S, Brawn WJ, Faro R, Sreeram N (1995) Neonatal pulmonary vascular disease in hypoplastic left heart syndrome. Ann Thorac Surg 60:433–434

2.

Canter CE, Moorhead S, Huddleston CB, Spray TL (1993) Restrictive atrial septal communication as a determinant of outcome of cardiac transplantation for hypoplastic left heart syndrome. Circulation 88(Suppl 2):456–460

3.

Feinstein JA, Benson DW, Dubin AM et al (2012) Hypoplastic left heart syndrome: current considerations and expectations. J Am Coll Cardiol 59:1–42

4.

France NE, Brown RJK (1971) Congenital pulmonary lymphangiectasis: report of 11 examples with specific reference to cardiovascular findings. Arch Dis Child 46:528–532

5.

Glatz JA, Tabbutt S, Gaynor JW, Rome JJ, Montenegro L, Spray TL, Rychik J (2007) Hypoplastic left heart syndrome with atrial level restriction in the era of prenatal diagnosis. Ann Thorac Surg 84:1633–1638

6.

Luciani G, Pessotto R, Mombello A, Mazzucco A (1999) Hypoplastic left heart syndrome with restrictive atrial septal defect and congenital pulmonary lymphangiectasis. Cardiovasc Pathol 8:49–51

7.

Rychik J, Rome JJ, Collins MH, DeCampli WM, Spray TL (1999) The hypoplastic left heart syndrome with intact atrial septum: atrial morphology, pulmonary vascular histopathology, and outcome. J Am Coll Cardiol 34:554–560

8.

Stasik C, Goldberg C, Bove E, Devaney E, Ohye R (2006) Current outcomes and risk factors for the Norwood procedure. J Thorac Cariodvasc Surg 131:412–417
Electronic Supplementary Material
Below is the link to the electronic supplementary material.
Supplementary material 1 (MOV 2029 kb)
Supplementary material 2 (MOV 2039 kb)
Supplementary material 3 (MOV 2259 kb)
About this article
Cite this article
D'Souza, M., Vergales, J. & Anitha Jayakumar, K. Hypoplastic Left Heart Syndrome and Pulmonary Veno-occlusive Disease in an Infant. Pediatr Cardiol 34, 1949–1951 (2013). https://doi.org/10.1007/s00246-012-0498-y
Received:

Accepted:

Published:

Issue Date:
Keywords
Hypoplastic left heart syndrome (HLHS)

Total anomalous pulmonary venous return (TAPVR)

Lymphangiectasia

Pulmonary veno-occlusive (PVOD)