Abstract
The proximal course of an anomalously arising coronary artery is a decisive factor in the surgical approach for tetralogy of Fallot (TOF). Studies have shown that echocardiography provides a good anatomic definition of the ostium and proximal epicardial course of coronary arteries [1, 2]. This report describes a case of TOF with an atrioventricular canal defect whose preoperative echocardiography showed abnormal origin of the left anterior descending artery (LAD) from right aortic sinus, which was interpreted as crossing the right ventricular outflow tract. Perioperative inspection did not show any abnormal vessel crossing the outflow, and corrective surgery was performed. At the echocardiographic evaluation after surgery, it was noted that the abnormal LAD arising from right aortic sinus was taking a septal course in relation to the posterior aspect of the pulmonary annulus. It is important to recognize this anomalous course because it is benign with no surgical implications.
This is a preview of subscription content, log in to check access.
Access options
Buy single article
Instant unlimited access to the full article PDF.
US$ 39.95
Price includes VAT for USA
Subscribe to journal
Immediate online access to all issues from 2019. Subscription will auto renew annually.
US$ 99
This is the net price. Taxes to be calculated in checkout.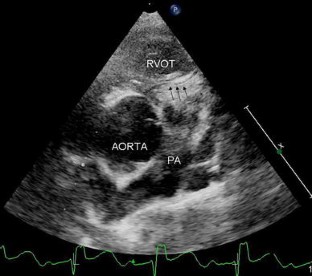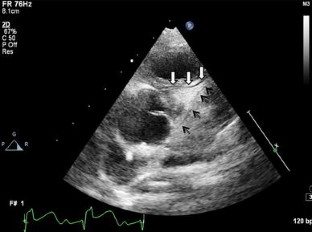 References
1.

Berry JM, Einzig S, Krabill KA, Bass JL (1988) Evaluation of coronary artery anatomy in patients with tetralogy of Fallot by two-dimensional echocardiography. Circulation 78:149–156

2.

Jureidini SB, Appleton RS, Nouri S (1989) Detection of coronary artery abnormalities in tetralogy of Fallot by two-dimensional echocardiography. J Am Coll Cardiol 14:960–967

3.

Need LR, Powell AJ, del Nido P, Geva T (2000) Coronary echocardiography in tetralogy of Fallot: diagnostic accuracy, resource utilization, and surgical implications over 13 years. J Am Coll Cardiol 36:1371–1377

4.

Roberts WC, Shirani J (1992) The four subtypes of anomalous origin of the left main coronary artery from the right aortic sinus (or from the right coronary artery). Am J Cardiol 70:119–121

5.

Yamanaka O, Hobbs RE (1990) Coronary artery anomalies in 126,595 patients undergoing coronary arteriography. Cathet Cardiovasc Diagn 21:28–40
Electronic supplementary material
Below is the link to the electronic supplementary material.
Parasternal short-axis view showing an abnormal vessel from right aortic sinus crossing the right ventricular outflow tract (RVOT). (AVI 14985 kb)
Parasternal short-axis view showing the course of the abnormal vessel posterior to the pulmonary annulus and reaching the interventricular septum. (AVI 11049 kb)
Right coronary artery arising from the right aortic sinus (AVI 11049 kb)
About this article
Cite this article
Deepa, S., Bijulal, S., Baiju, D.S. et al. Septal Course of Left Anterior Descending Artery From the Right Aortic Sinus in Tetralogy of Fallot: A Benign Anomaly and Important Lessons Learned. Pediatr Cardiol 34, 200–202 (2013). https://doi.org/10.1007/s00246-012-0444-z
Received:

Accepted:

Published:

Issue Date:
Keywords
Coronary artery anomalies

Echocardiography

Tetralogy of Fallot