Abstract
Left-ventricular noncompaction (LVNC) is characterized by prominent myocardial trabeculae with deep intratrabecular recesses. Associated with ventricular dysfunction, LVNC can present in isolation or in conjunction with structural heart defects (i.e., "nonisolated" LVNC). Although it was once considered to be difficult and unreliable, successful detection of this condition by way of fetal echocardiography has been well documented. We present what is to our knowledge the first prenatal diagnosis of LVNC in monochorionic-monozygotic twins. Nonisolated LVNC was identified in twins A and B at 23 weeks' gestation. A noncompaction-to-compaction ratio >2 was documented in both cases. Discordance for congenital heart disease was observed in the twins: Twin A presented with pulmonary atresia with an intact ventricular septum, critical tricuspid stenosis, and severe right-ventricular hypoplasia, whereas twin B presented with mild mitral valve dysplasia. Despite an initially complicated postnatal course for twin A, this case shows that it is feasible to achieve good outcomes with accurate prenatal detection and aggressive postnatal management.
This is a preview of subscription content, log in to check access.
Access options
Buy single article
Instant unlimited access to the full article PDF.
US$ 39.95
Price includes VAT for USA
Subscribe to journal
Immediate online access to all issues from 2019. Subscription will auto renew annually.
US$ 99
This is the net price. Taxes to be calculated in checkout.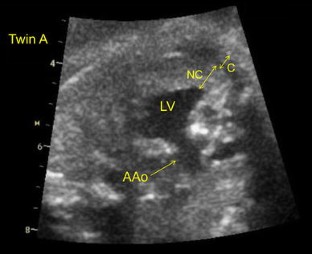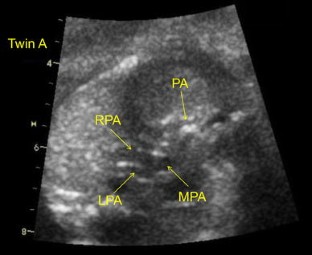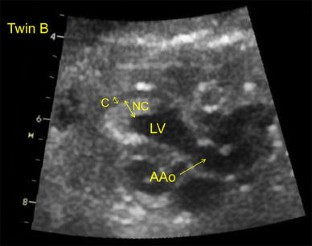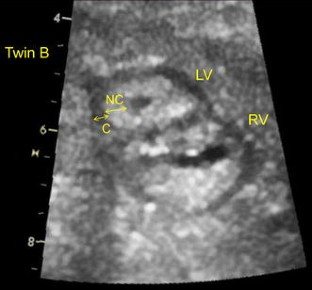 References
1.

Arunamata A, Punn R, Cuneo B, Bharati S, Silverman NH (2011) Echocardiographic diagnosis and prognosis of fetal left ventricular noncompaction. J Am Soc Echocardiogr 25(1):112–120

2.

Bleyl SB, Mumford BR, Brown-Harrison MC, Pagotto LT, Carey JC, Pysher TJ et al (1997) Xq28-linked noncompaction of the left ventricular myocardium: prenatal diagnosis and pathologic analysis of affected individuals. Am J Med Genet 72(3):257–265

3.

Chin TK, Perloff JK, Williams RG, Jue K, Mohrmann R (1990) Isolated noncompaction of left ventricular myocardium. A study of eight cases. Circulation 82(2):507–513

4.

Finsterer J (2009) Cardiogenetics, neurogenetics, and pathogenetics of left ventricular hypertrabeculation/noncompaction. Pediatr Cardiol 30(5):659–681

5.

Finsterer J, Stollberger C (2001) Spontaneous left ventricular hypertrabeculation in dystrophin duplication based Becker's muscular dystrophy. Herz 26(7):477–481

6.

Finsterer J, Stollberger C, Feichtinger H (2007) Non-compaction on autopsy in Duchenne muscular dystrophy. Cardiology 108(3):161–163

7.

Ichida F (2009) Left ventricular noncompaction. Circ J 73(1):19–26

8.

Jenni R, Oechslin E, Schneider J, Attenhofer Jost C, Kaufmann PA (2001) Echocardiographic and pathoanatomical characteristics of isolated left ventricular non-compaction: a step towards classification as a distinct cardiomyopathy. Heart 86(6):666–671

9.

Karatza AA, Holder SE, Gardiner HM (2003) Isolated non-compaction of the ventricular myocardium: prenatal diagnosis and natural history. Ultrasound Obstet Gynecol 21(1):75–80

10.

Kitao K, Ohara N, Funakoshi T, Moriyama T, Maruo T, Yamane M et al (2004) Noncompaction of the left ventricular myocardium diagnosed in pregnant woman and neonate. J Perinat Med 32(6):527–531

11.

Menon SC, O'Leary PW, Wright GB, Rios R, MacLellan-Tobert SG, Cabalka AK (2007) Fetal and neonatal presentation of noncompacted ventricular myocardium: expanding the clinical spectrum. J Am Soc Echocardiogr 20(12):1344–1350

12.

Moura C, Hillion Y, Daikha-Dahmane F, Eydoux P, Fallet C, Oury JF et al (2002) Isolated non-compaction of the myocardium diagnosed in the fetus: two sporadic and two familial cases. Cardiol Young 12(3):278–283

13.

Ozkutlu S, Bostan O, Karagöz T, Deren O, Tekinalp G (2007) Prenatal diagnosis of isolated non-compaction of the ventricular myocardium: study of six cases. Pediatr Int 49(2):172–176

14.

Pignatelli RH, McMahon CJ, Dreyer WJ, Denfield SW, Price J, Belmont JW et al (2003) Clinical characterization of left ventricular noncompaction in children: a relatively common form of cardiomyopathy. Circulation 108(21):2672–2678

15.

Sleurs E, Catte De, Benatar A (2005) Prenatal diagnosis of isolated ventricular noncompaction of the myocardium. J Ultrasound Med 24(9):1325–1329

16.

Stollberger C, Finsterer J (2004) Left ventricular hypertrabeculation/noncompaction. J Am Soc Echocardiogr 17(1):91–100

17.

Stollberger C, Finsterer J, Blazek G (2002) Left ventricular hypertrabeculation/noncompaction and association with additional cardiac abnormalities and neuromuscular disorders. Am J Cardiol 90(8):899–902

18.

Vidaeff AC, Ramin SM, Glaser AM, Gupta-Malhotra M (2011) Differences in fetal and postnatal presentations of isolated noncompaction of the ventricular myocardium. J Ultrasound Med 30(3):293–295

19.

Winer N, Lefèvre M, Nomballais MF, David A, Rival JM, Gournay V et al (1998) Persisting spongy myocardium. A case indicating the difficulty of antenatal diagnosis. Fetal Diagn Ther 13(4):227–232

20.

Tsapakis EG, Eleftheriades M, Daskalakis G, Chrelias C, Hassiakos D (2011) Prenatal diagnosis of fetal left ventricular non-compaction cardiomyopathy. Ultrasound Obstet Gynecol 39(5):592–594

21.

AlRais F, Feldstein VA, Srivastava D, Gosnell K, Moon-Grady AJ (2011) Monochorionic twins discordant for congenital heart disease: a referral center's experience and possible pathophysiologic mechanisms. Prenat Diagn 31(10):978–984

22.

Cerqueira MD, Weissman NJ, Dilsizian V, Jacobs AK, Kaul S, Laskey WK et al (2002) Standardized myocardial segmentation and nomenclature for tomographic imaging of the heart: a statement for healthcare professionals from the Cardiac Imaging Committee of the Council on Clinical Cardiology of the American Heart Association. Circulation 105(4):539–542

23.

Fazio G, Pipitone S, Iacona MA, Marchì S, Mongiovì M, Zito R et al (2007) The noncompaction of the left ventricular myocardium: our paediatric experience. J Cardiovasc Med (Hagerstown) 8(11):904–908

24.

Friedberg MK, Ursell PC, Silverman NH (2005) Isomerism of the left atrial appendage associated with ventricular noncompaction. Am J Cardiol 96(7):985–990

25.

Ichida F, Tsubata S, Bowles KR, Haneda N, Uese K, Miyawaki T et al (2001) Novel gene mutations in patients with left ventricular noncompaction or Barth syndrome. Circulation 103(9):1256–1263

26.

Koh C, Lee PW, Yung TC, Lun KS, Cheung YF (2009) Left ventricular noncompaction in children. Congenit Heart Dis 4(4):288–294

27.

Lilje C, Rázek V, Joyce JJ, Rau T, Finckh BF, Weiss F et al (2006) Complications of non-compaction of the left ventricular myocardium in a paediatric population: a prospective study. Eur Heart J 27(15):1855–1860

28.

Luckie M, Irwin B, Nair S, Greenwood J, Khattar R (2009) Left ventricular non-compaction in identical twins with thalassaemia and cardiac iron overload. Eur J Echocardiogr 10(4):509–512

29.

Ozkutlu S, Ayabakan C, Celiker A, Elshershari H (2002) Noncompaction of ventricular myocardium: a study of twelve patients. J Am Soc Echocardiogr 15(12):1523–1528
Conflict of interest
The authors have no conflict of interest to disclose.
Ethical standards
Appropriate consent was obtained from the parents of the subjects described in this case report.
Electronic supplementary material
Below is the link to the electronic supplementary material.
Movie Clip 1. Twin A. 2D long sweep shows PA with IVS, severe RV hypoplasia, and dysmorphic LV with LVNC. (MP4 2074 kb)
Movie Clip 2. Twin B. 2D short-axis view shows normal ventricular function with biventricular NC. (MPEG 1630 kb)
Movie Clip 3. Twin B. 2D apical four-chamber view shows biventricular NC. (MP4 2342 kb)
About this article
Cite this article
Vinograd, C.A., Srivastava, S. & Panesar, L.E. Fetal Diagnosis of Left-Ventricular Noncompaction Cardiomyopathy in Identical Twins With Discordant Congenital Heart Disease. Pediatr Cardiol 34, 1503–1507 (2013) doi:10.1007/s00246-012-0406-5
Received:

Accepted:

Published:

Issue Date:
Keywords
Congenital heart disease

Fetal diagnosis

Noncompaction cardiomyopathy