This is a preview of subscription content, log in to check access.
Access options
Buy single article
Instant unlimited access to the full article PDF.
US$ 39.95
Price includes VAT for USA
Subscribe to journal
Immediate online access to all issues from 2019. Subscription will auto renew annually.
US$ 99
This is the net price. Taxes to be calculated in checkout.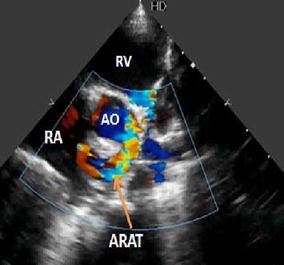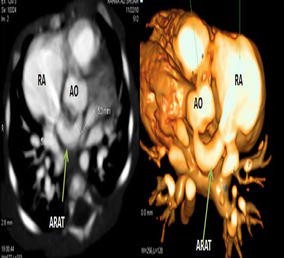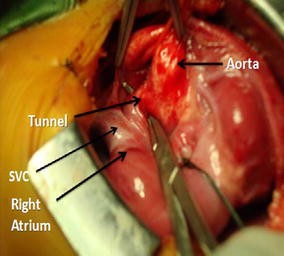 References
1.

Deshpande SR, Fyfe DA (2010) Aorto-right atrial tunnel: fetal heart failure, diagnosis, and treatment. Pediatr Cardiol 31:299–300

2.

Elwatidy AF, Galal AN, Rhydderch D, Ashmeg AK (2003) Aorta–right atrial tunnel. Ann Thorac Surg 76:929–931

3.

Gajjar T, Voleti C, Matta R, Iyer R, Dash PK, Desai N (2005) Aorto-right atrial tunnel: clinical presentation, diagnostic criteria, and surgical options. J Thorac Cardiovasc Surg 130:1287–1292

4.

Otero Coto E, Caffarena JM, Such M, Marques JL (1980) Aorta–right atrial communication: report of an unusual case. J Thorac Cardiovasc Surg 80:941–944

5.

Tanaka T, Tomita H, Watanabe K, Echigo S (2005) A case of aorto-right atrial tunnel associated with aortic and tricuspid atresia. Pediatr Int 47:466–468
Electronic supplementary material
Below is the link to the electronic supplementary material.
Video 1. Short-axis view demonstrating ARAT origin from the left aortic sinus and its termination into the RA (AVI 446 kb)
Video 2. Long-axis view demonstrating ARAT origin from the left aortic sinus (AVI 597 kb)
About this article
Cite this article
Matter, M., Elgamal, M., Abdel Rahman, A. et al. Aortico–Right Atrial Tunnel in an Infant. Pediatr Cardiol 32, 849–850 (2011). https://doi.org/10.1007/s00246-011-9971-2
Received:

Accepted:

Published:

Issue Date:
Keywords
Infective Endocarditis

Superior Vena Cava

Congestive Cardiac Failure

Pulmonary Vascular Disease

Cardiac Auscultation