Abstract
Cor triatriatum sinister is an uncommon congenital cardiac defect that has rarely been described in association with left-sided partial anomalous pulmonary venous return. We present a case of such rare anatomy with multilevel obstruction that presented in infancy as cardiogenic shock. The patient underwent staged treatment with extracorporeal membrane oxygenation stabilization, catheter-based balloon dilatation of the cor triatriatum and atrial septostomy, followed by definitive surgical repair, with excellent result.
This is a preview of subscription content, log in to check access.
Access options
Buy single article
Instant unlimited access to the full article PDF.
US$ 39.95
Price includes VAT for USA
Subscribe to journal
Immediate online access to all issues from 2019. Subscription will auto renew annually.
US$ 99
This is the net price. Taxes to be calculated in checkout.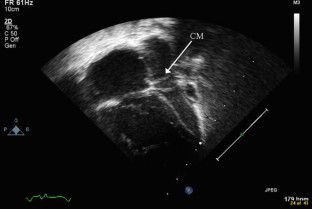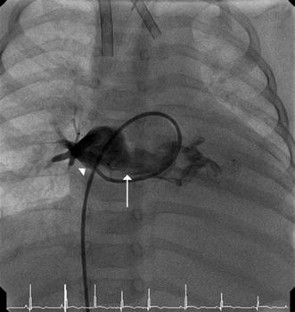 References
1.

Camilleri L, Lusson JR, Picarelli D, d'Agrosa MC, Peycelon B, de Riberolles C (1991) Association of cor triatriatum and obstruction of abnormal left pulmonary venous drainage. Apropos of a case. Arch Mal Coeur Vaiss 84(3):409–412

2.

Cooley DA, Murphy MC (1990) Cor triatriatum and anomalous pulmonary venous return: An unusual case. Tex Heart Inst J 17(2):118–121

3.

Fujimatsu T, Tsunemoto M, Shimada M, Ohta Y, Endo S, Ishizawa A et al (1990) Subtotal cor triatrium with left partial anomalous pulmonary venous connection—Successful correction in an infant. Rinsho Kyobu Geka 10(1):76–80

4.

Geggel RL, Fulton DR, Chernoff HL, Cleveland R, Hougen TJ (1987) Cor triatriatum associated with partial anomalous pulmonary venous connection to the coronary sinus: echocardiographic and angiocardiographic features. Pediatr Cardiol 8(4):279–283

5.

Geva T, Van Praagh S (1995) Abnormal pulmonary venous connections. In: Allen HD, Driscoll DJ, Shaddy RE, Feltes TF (eds) Heart disease in infants, children, and adolescents, 5th edn. Williams & Wilkins, Baltimore, pp 761–792

6.

Jegier W, Gibbons GJ, Wiglesworth FW (1963) Cortriatriatum: clinical, hemodynamic and pathological studies surgical correction in early life. Pediatrics 31:255–267

7.

Jennings RB Jr, Innes BJ (1977) Subtotal cor triatriatum with left partial anomalous pulmonary venous return. Successful surgical repair in an infant. J Thorac Cardiovasc Surg 74(3):461–466

8.

Krasemann Z, Scheld HH, Tjan TD, Krasemann T (2007) Cor triatriatum: short review of the literature upon ten new cases. Herz 32(6):506–510
Electronic supplementary material
Below is the link to the electronic supplementary material.
A subcostal long-axis echocardiographic clip shows a large, tense cor chamber in the left atrium; a compressed true left atrium; a dilated right ventricle; and an underfilled left ventricle. Left-ventricular diastolic compression is indicative of right-ventricular volume overload. (AVI 5453 kb)
About this article
Cite this article
Schiller, O., Burns, K.M., Sinha, P. et al. Cor Triatriatum With Partial Anomalous Pulmonary Venous Return: A Rare Case of Parallel Obstruction and Successful Staged Treatment. Pediatr Cardiol 33, 363–365 (2012) doi:10.1007/s00246-011-0148-9
Received:

Accepted:

Published:

Issue Date:
Keywords
Cor triatriatum

Partial anomalous pulmonary venous return

Pulmonary venous obstruction

Cardiac catheterization

Cardiac surgery