Abstract
An 11-year-old girl with Takayasu arteritis was presented with recurrent chest pain. A transthoracic echocardiogram showed moderate to severe aortic regurgitation with impaired cardiac function. Cardiac catheterization revealed the total occlusion of the small right coronary artery and left main stenosis of 40%. An intraoperative transesophageal echocardiogram showed a redundant intimal fold partially covering the left coronary ostium and this was further confirmed from the intraoperative finding. This is a case report of recurrent angina associated with obstruction of left main coronary artery orifice by an intimal fold secondary to Takayasu arteritis.
This is a preview of subscription content, log in to check access.
Access options
Buy single article
Instant unlimited access to the full article PDF.
US$ 39.95
Price includes VAT for USA
Subscribe to journal
Immediate online access to all issues from 2019. Subscription will auto renew annually.
US$ 99
This is the net price. Taxes to be calculated in checkout.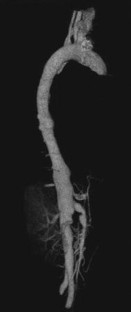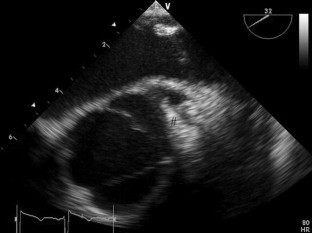 References
1.

Arend WP, Michel BA, Bloch DA, Hunder GG, Calabrese LH, Edworthy SM, Fauci AS, Leavitt RY, Lie JT, Lightfoot RW Jr, Masi AT, McShane DJ, Mills JA, Stevens MB, Wallace SL, Zvaifler NJ (1990) The American College of Rheumatology 1990 criteria for the classification of Takayasu arteritis. Arthritis Rheum 33:1129–1134

2.

Endo M, Tomizawa Y, Nishida H, Aomi S, Nakazawa M, Tsurumi Y, Kawana M, Kasanuki H (2003) Angiographic findings and surgical treatments of coronary artery involvement in Takayasu arteritis. J Thorac Cardiovasc Surg 125:570–577

3.

Gornik HL, Creager MA (2008) Aortitis. Circulation 117:3039–3051

4.

Lupi-Herrera E, Sanchez-Torres G, Marcushamer J, Mispireta J, Horwitz S, Vela JE (1977) Takayasu's arteritis. Clinical study of 107 cases. Am Heart J 93:94–103

5.

Malik IS, Harare O, AL-Nahhas A, Beatt K, Mason J (2003) Takayasu's arteritis: management of left main stem stenosis. Heart 89:e9

6.

van Son JAM, Edwards WD, Danielson GK (1994) Pathology of coronary arteries, myocardium, and great arteries in supravalvar aortic stenosis. J Thorac Cardiovasc Surg 108:21–28
Electronic supplementary material
Below is the link to the electronic supplementary material.
Movie clip 1 Intraoperative TEE uncovered the intimal fold partially obstructing the left coronary ostium. (MOV 747 kb)
Movie clip 2 Color-Doppler image of intraoperative TEE showing a turbulence along the left coronary ostium. (MOV 786 kb)
About this article
Cite this article
Nakao, M., Ong, K., Lim, Y. et al. Aortic Intimal Fold in Takayasu Arteritis Causing Obstruction of Left Coronary Ostium. Pediatr Cardiol 32, 990–992 (2011). https://doi.org/10.1007/s00246-011-0023-8
Received:

Accepted:

Published:

Issue Date:
Keywords
Intimal fold

Takayasu arteritis

Coronary obstruction