Abstract
Other authors have demonstrated the ability of three-dimensional (3D) echocardiography to produce "en face" views of anomalies such as atrioventricular valve disease and atrial and ventricular septal defects. Few data exist about the usefulness of 3D images for more complex congenital heart defects and the surgical impact of this relatively new technology. This study, covering a period of 8 months and including 43 young patients affected by complex congenital heart defects, demonstrated that the routine use of 3D echocardiography is feasible and valuable for some types of cardiac defects. In fact, 3D images have provided more detailed anatomic definition of interrelations between structures in about one-third (15/43) of our cases, yielding new insight into the anatomy analogous to what can be derived from examining a heart specimen. Our surgeons found the 3D images particularly helpful for providing a realistic and almost specimen-like preview of the surgical anatomy that facilitates planning of the surgical program.
This is a preview of subscription content, log in to check access.
Access options
Buy single article
Instant unlimited access to the full article PDF.
US$ 39.95
Price includes VAT for USA
Subscribe to journal
Immediate online access to all issues from 2019. Subscription will auto renew annually.
US$ 99
This is the net price. Taxes to be calculated in checkout.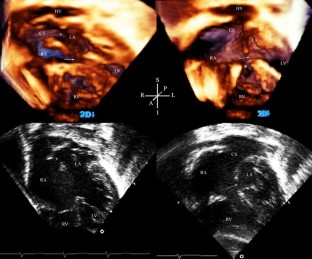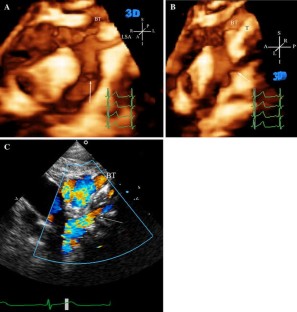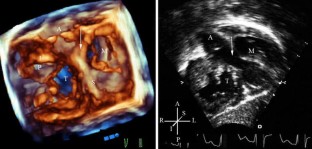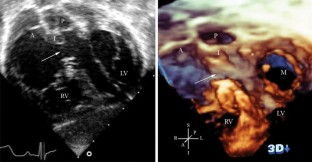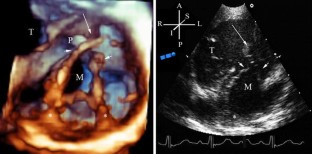 References
1.

Acar P, Maunoury C, Antonietti T et al (1998) Left ventricular ejection fraction in children measured by three-dimensional echocardiography using a new transthoracic integrated 3D-probe: a comparison with equilibrium radionuclide angiography. Eur Heart J 19:1583–1588

2.

Acar P, Saliba Z, Bonhoeffer P et al (2000) Influence of atrial septal defect anatomy in patient selection and assessment of closure with the Cardioseal device: a three-dimensional transoesophageal echocardiographic reconstruction. Eur Heart J 21:573–581

3.

Bu L, Munns S, Zhang H et al (2005) Rapid full-volume data acquisition by real-time 3-dimensional echocardiography for assessment of left ventricular indexes in children: a validation study compared with magnetic resonance imaging. J Am Soc Echocardiogr 18:299–305

4.

Chen GZ, Huang GY, Liang XC et al (2006) Methodological study on real-time three-dimensional echocardiography and its application in the diagnosis of complex congenital heart disease. Chin Med J (Engl) 119:1190–1194

5.

Cheng TO, Xie MX, Wang XF et al (2005) Real-time 3-dimensional echocardiography in assessing atrial and ventricular septal defects: an echocardiographic-surgical correlative study. Am Heart J 148:1091–1095. (Erratum in Am Heart J 149:208)

6.

De Castro S, Caselli S, Papetti F et al (2006) Feasibility and clinical impact of live three-dimensional echocardiography in the management of congenital heart disease. Echocardiography 23:553–561

7.

Del Pasqua A, Sanders SP, Rinelli G (2007) Images in cardiovascular medicine: three-dimensional echocardiography in criss-cross heart: could a specimen be better? Circulation 116:e414–e415

8.

Franke A, Kuhl HP (2003) Second-generation real-time 3D echocardiography: a revolutionary new technology. Medicamundi 34:40

9.

Goktekin O, Matsumura M, Omoto R et al (2003) Evaluation of mitral valve prolapse using newly developed real-time three-dimensional echocardiographic system with real-time volume rendering. Int J Cardiovasc Imaging 19:43–49

10.

Gutierrez-Chico JL, Zamorano JL, Perez de Isla L et al (2005) Comparison of left ventricular volumes and ejection fractions measured by three-dimensional echocardiography versus by two-dimensional echocardiography and cardiac magnetic resonance in patients with various cardiomyopathies. Am J Cardiol 95:809–813

11.

Poutanen T, Jokinen E, Sairanen H, Tikanoja T (2003) Left atrial and left ventricular function in healthy children and young adults assessed by three dimensional echocardiography. Heart 89:544–549

12.

Salehian O, Chan KL (2005) Impact of three-dimensional echocardiography in valvular heart disease. Curr Opin Cardiol 20:122–126

13.

Sitges M, Jones M, Shiota T et al (2003) Real-time three-dimensional color Doppler evaluation of the flow convergence zone for quantification of mitral regurgitation: validation experimental animal study and initial clinical experience. J Am Soc Echocardiogr 16:38–45

15.

Van den Bosch AE, Ten Harkel DJ, McGhie JS et al (2006) Surgical validation of real-time transthoracic 3D echocardiographic assessment of atrioventricular septal defects. Int J Cardiol 112:213–218

14.

Van den Bosch AE, Robbers-Visser D, Krenning BJ et al (2006) Real-time transthoracic three-dimensional echocardiographic assessment of left ventricular volume and ejection fraction in congenital heart disease. J Am Soc Echocardiogr 19:1–6

16.

Van Praagh S, Porras D, Oppido G et al (2003) Cleft mitral valve without ostium primum defect: anatomic data and surgical considerations based on 41 cases. Ann Thorac Surg 75:1752–1762
Electronic Supplementary Material
MOESM2 [INSERT CAPTION HERE] (MOV 2373 kb)
MOESM4 [INSERT CAPTION HERE] (MOV 2280 kb)
About this article
Cite this article
Del Pasqua, A., Sanders, S.P., de Zorzi, A. et al. Impact of Three-Dimensional Echocardiography in Complex Congenital Heart Defect Cases: The Surgical View. Pediatr Cardiol 30, 293 (2009). https://doi.org/10.1007/s00246-008-9348-3
Received:

Revised:

Accepted:

Published:
Keywords
Complex congenital heart disease

Congenital heart diseases

3-D echocardiography