Abstract
Right superior vena cava (SVC) drainage into the left atrium causing hypoxemia is a very rare congenital malformation. This anomaly can result in complications of chronic cyanosis and paradoxical embolism. It rarely is associated with any other congenital malformation. This is the first case report of right SVC drainage into the left atrium associated with a coronary cameral fistula. During surgical repair, the aneurysmal part of the cameral fistula was noted to be occluding a defect in the atrial septum. Repair of the cameral fistula and rerouting of the SVC via the atrial septal defect were performed.
This is a preview of subscription content, log in to check access.
Access options
Buy single article
Instant unlimited access to the full article PDF.
US$ 39.95
Price includes VAT for USA
Subscribe to journal
Immediate online access to all issues from 2019. Subscription will auto renew annually.
US$ 99
This is the net price. Taxes to be calculated in checkout.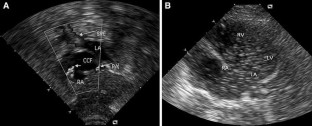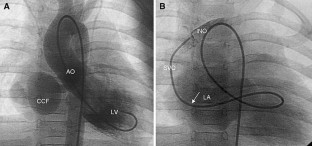 References
1.

Alday LE, Maisuls H, DeRossi R (1995) Right superior caval vein draining into the left atrium: diagnosis by color flow mapping. Cardiol Young 5:345–349

2.

Bharti S, Lev M (1984) Direct entry of the right superior vena cava into the left atrium with aneurismal dilatation and stenosis at its entry into the right atrium with stenosis of pulmonary veins: a rare case. Pediatr Cardiol 5:123–126

3.

Braudo M, Beanlands DS, Trusler G (1968) Anomalous drainage of right superior vena cava into the left atrium. Can Med Assoc J 99:715–719

4.

Meadows WR, Bergstand I, Sharp JT (1961) Isolated anomalous connection of great vein to left atrium. The syndrome of cyanosis and clubbing "normal heart", and left ventricular hypertrophy on electrocardiogram. Circulation 24:669–676

5.

Opiddo G, Napoleone CP et al (2006) Right superior vena cava draining in the left atrium: anatomical, embryological, and surgical consideration. Ann Thorac Surg 8:2313–2315

6.

Shapiro SR, Al-Sadir J, Campbell NPS et al (1981) Drainage of right superior vena cava into both atria: review of literature and description of case presenting with polycythemia and paradoxical embolization. Circulation 63:712–717

7.

Tuchman H, Brown JF, Huston JH et al (1956) Superior vena cava draining into left atrium: another cause for left ventricular hypertrophy with cyanotic congenital heart disease. Am J Med 21:481

8.

Van Praagh S, Geva T, Lock JE et al (2003) Biatrial or left atrial drainage of right superior vena cava: anatomic, morphogenetic, and surgical considerations—report of three new cases and literature review. Pediatr Cardiol 24:350–363
Electronic Supplementary Material
About this article
Cite this article
Sushil, A., Raja, J., Manvinder, S. et al. Right Superior Vena Cava Drainage into the Left Atrium Associated with a Coronary–Cameral Fistula Occluding an Atrial–Septal Defect: First Echocardiographic, Angiographic, and Surgical Description. Pediatr Cardiol 30, 356–358 (2009). https://doi.org/10.1007/s00246-008-9313-1
Received:

Revised:

Accepted:

Published:

Issue Date:
Keywords
Right SVC to left atrium

Right-to-left shunt