Abstract
Fetal echocardiography has progressed to be able to diagnose many forms of congenital heart disease and to assess the prognosis of cardiac lesions based on their anatomy and presentation in utero. However, the presence of signs of fetal heart failure, such as hydrops or valvular regurgitation, makes the assessment of prognosis difficult. This article outlines a straightforward method for the rapid evaluation of the fetus who may have congestive heart failure. The differentiation of the prehydropic state from normal is illustrated.
This is a preview of subscription content, log in to check access.
Access options
Buy single article
Instant unlimited access to the full article PDF.
US$ 39.95
Price includes VAT for USA
Subscribe to journal
Immediate online access to all issues from 2019. Subscription will auto renew annually.
US$ 99
This is the net price. Taxes to be calculated in checkout.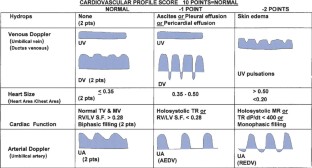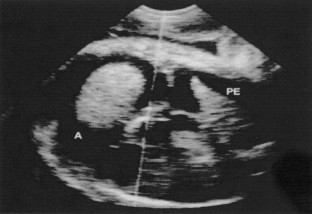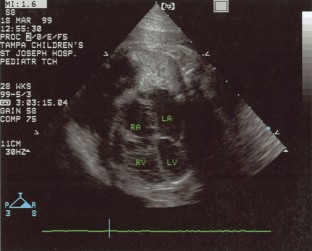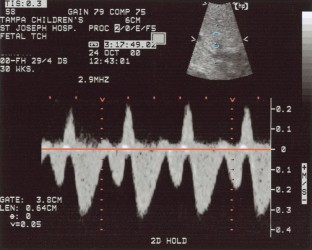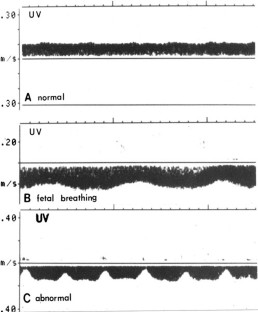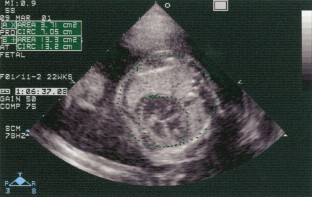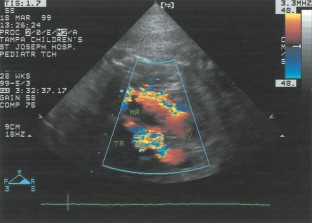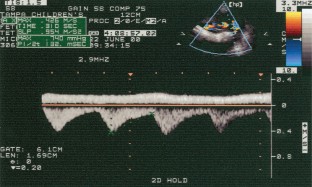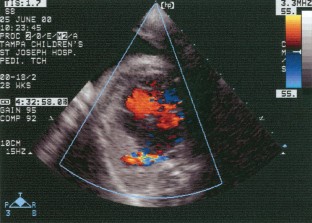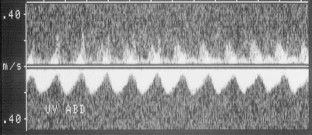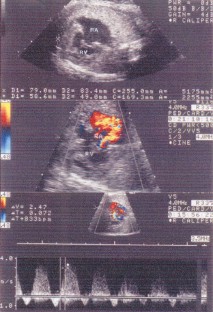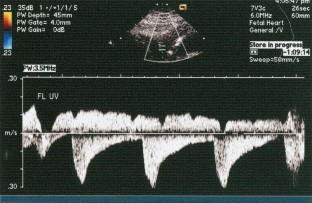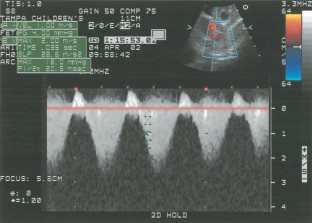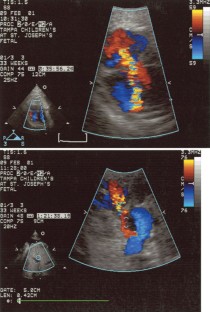 References
1.

R Chaoui R Bollmann B Goldner KS Heling C Tennstedt (1994) ArticleTitleFetal cardiomegaly: echocardiographic findings and outcome in 19 cases. Fetal Diagn Ther 9 92–104 Occurrence Handle1:STN:280:ByuB2c3is1I%3D Occurrence Handle8185846

2.

CB Falkensammer J Paul JC Huhta (2001) ArticleTitleFetal congestive heart failure: correlation of Tei index and cardiovascular score. J Perinat Med 29 390–398 Occurrence Handle1:STN:280:DC%2BD3MnnvVSjsg%3D%3D Occurrence Handle11723840

3.

JS Gerdes VK Bhutani FW Bowen SR Weil JC Huhta (1993) ArticleTitleAfterload reduction for hypertrophic cardiomyopathy and hypertension of twin–twin transfusion syndrome (abstract). Pediatr Res 33 246A

4.

S Gudmundsson JC Huhta DC Wood et al. (1991) ArticleTitleVenous Doppler ultrasonography in the fetus with non-immune hydrops. Am J Obstet Gynecol 164 33–37 Occurrence Handle1:STN:280:By6D1MnoslY%3D Occurrence Handle1986621

5.

JY Hare JC Huhta SR Weil et al. (1995) ArticleTitleBeta agonist therapy of fetal complete heart block (abstract). Am J Obstet Gynecol 172 426

6.

JL Harris TR Krueger JT Parer (1982) ArticleTitleMechanisms of late decelerations of the fetal heart rate during hypoxia. Am J Obstet Gynecol 144 491–496 Occurrence Handle1:STN:280:BiyD2crnvVA%3D Occurrence Handle7137235

7.

K Hecher R Snijders S Campbell K Nicolaides (1995) ArticleTitleFetal venous, intracardiac, and arterial blood flow measurements in intrauterine growth retardation: relationship with fetal blood gases. Am J Obstet Gynecol 173 10–15 Occurrence Handle10.1016/0002-9378(95)90161-2 Occurrence Handle1:STN:280:ByqA2MfhvVQ%3D Occurrence Handle7631665

8.

K Hecher Y Ville KH Nicolaides (1995) ArticleTitleFetal arterial Doppler studies in twin–twin transfusion syndrome. J Ultrasound Med 14 101–108 Occurrence Handle1:STN:280:BymD2cfktl0%3D Occurrence Handle8568954

9.

C Hofstaetter JC Huhta (2002) ArticleTitleOutcome assessment in hydrops fetalis using a cardiovascular score (abstract). Soc Pediatr Res . .

10.

LK Hornberger DJ Sahn CS Kleinman JA Copel KL Reed (1991) ArticleTitleTricuspid valve disease with significant tricuspid insufficiency in the fetus: diagnosis and outcome. J Am Coll Cardiol 17 167–173 Occurrence Handle1:STN:280:By6C3c%2Fmt1M%3D Occurrence Handle1987222

11.

JC Huhta (1995) ArticleTitleWhat is perinatal cardiology? (editorial). Ultrasound Obstet Gynecol 5 145–147 Occurrence Handle10.1046/j.1469-0705.1995.05030145.x Occurrence Handle1:STN:280:ByqA3cfisl0%3D Occurrence Handle7788485

12.

JC Huhta (2001) ArticleTitleRight ventricular function in the human fetus. J Perinat Med 29 381–389 Occurrence Handle1:STN:280:DC%2BD3Mnnsl2quw%3D%3D Occurrence Handle11723839

13.

WT Mahle J Rychik ZY Tian et al. (2000) ArticleTitleEchocardiographic evaluation of the fetus with congenital cystic adenomatoid malformation. Ultrasound Obstet Gynecol 16 620–624 Occurrence Handle10.1046/j.1469-0705.2000.00254.x Occurrence Handle1:STN:280:DC%2BD3M3osFWktQ%3D%3D Occurrence Handle11169367

14.

K Makikallio O Vuolteenaho P Jouppila J Rasanen (2000) ArticleTitleAssociation of severe placental insufficiency and systemic venous pressure rise in the fetus with increased neonatal cardiac troponin T levels. Am J Obstet Gynecol 183 726–731 Occurrence Handle10.1067/mob.2000.106753 Occurrence Handle1:STN:280:DC%2BD3cvksVymsQ%3D%3D Occurrence Handle10992200

15.

FA Manning CR Harman I Morrison et al. (1990) ArticleTitleFetal assessment based on fetal biophysical profile scoring. Am J Obstet Gynecol 162 703–709 Occurrence Handle1:STN:280:By%2BC1MngvFE%3D Occurrence Handle2316574

16.

RA Quintero C Comas PW Bornick MH Allen M Kruger (2000) ArticleTitleSelective versus non-selective laser photocoagulation of placental vessels in twin-to-twin transfusion syndrome. Ultrasound Obstet Gynecol 16 230 Occurrence Handle10.1046/j.1469-0705.2000.00265.x Occurrence Handle1:STN:280:DC%2BD3M7nvFOluw%3D%3D Occurrence Handle11169288

17.

J Rasanen JC Huhta (1998) ArticleTitleEchocardiography in intrauterine growth restriction. Clin Obstet Gynecol . .

18.

KL Reed CP Appleton CF Anderson L Shenker DJ Sahn (1990) ArticleTitleDoppler of vena cava flows in human fetuses. Circulation 81 498–505 Occurrence Handle1:STN:280:By%2BC38vpsFA%3D Occurrence Handle2404632

19.

M Respondek M Kammermeier A Ludomirsky SR Weil JC Huhta (1994) ArticleTitleThe prevalence and clinical significance of fetal tricuspid valve regurgitation with normal heart anatomy. Am J Obstet Gynecol 171 1265–1270 Occurrence Handle1:STN:280:ByqD28fhsVQ%3D Occurrence Handle7977531

20.

M Respondek A Respondek JC Huhta J Wilczynski (1992) ArticleTitle2D echocardiographic assessment of the fetal heart size in the 2nd and 3rd trimester of uncomplicated pregnancy. Eur J Obset Gynecol Reprod Biol 44 185–188 Occurrence Handle1:STN:280:By2B1MbhsFw%3D

21.

ML Reuss AM Rudolph MW Dae (1983) ArticleTitlePhasic blood flow patterns in the superior and inferior venae cavae and umbilical vein of fetal sheep. Am J Obstet Gynecol 145 70–78 Occurrence Handle1:STN:280:BiyD1MjntlI%3D Occurrence Handle6849346

22.

G Rizzo D Arduini (1991) ArticleTitleFetal cardiac function in intrauterine growth retardation. Am J Obstet Gynecol 165 876–882 Occurrence Handle1:STN:280:By2D2Mbis10%3D Occurrence Handle1951546

23.

G Rizzo D Arduini C Romanini (1992) ArticleTitleInferior vena cava flow velocity waveforms in appropriate and-small-for-gestational-age fetuses. Am J Obstet Gynecol 166 1271–1280 Occurrence Handle1:STN:280:By2B3s%2Fnt1M%3D Occurrence Handle1566784

24.

DS Sharif JC Huhta KJ Moise RW Morrow GY Yoon (1990) ArticleTitleChanges in fetal hemodynamics with terbutaline treatment and premature labor. J Clin Ultrasound 18 85–89 Occurrence Handle1:STN:280:By%2BB3czislc%3D Occurrence Handle2156911

25.

H Stale K Marsal G Genner et al. (1991) ArticleTitleAortic diameter pulse waves and blood flow velocity in the small for gestational age fetus. Ultrasound Med Biol 17 471–478 Occurrence Handle10.1016/0301-5629(91)90183-W Occurrence Handle1:STN:280:By2D2svhtFU%3D Occurrence Handle1962348

26.

RW Troughton CM Frampton TG Yandle et al. (2000) ArticleTitleTreatment of heart failure guided by plasma aminoterminal brain natiuretic peptide (N-BNP) concentrations. Lancet 355 1126–1130 Occurrence Handle10.1016/S0140-6736(00)02060-2 Occurrence Handle1:CAS:528:DC%2BD3cXislegsr0%3D Occurrence Handle10791374

27.

G Tulzer S Gudmundsson KM Rotondo et al. (1991) ArticleTitleDoppler in the evaluation and prognosis of fetuses with tricuspid regurgitation. J Maternal Fetal Invest 1 15–18

28.

G Tulzer S Gudmundsson DC Wood et al. (1994) ArticleTitleDoppler in non-immune hydrops fetalis. Ultrasound Obstet Gynecol 4 279–283 Occurrence Handle10.1046/j.1469-0705.1994.04040279.x Occurrence Handle1:STN:280:DC%2BD3s3ntVKmsg%3D%3D Occurrence Handle12797161

29.

G Tulzer P Khowsathit S Gudmundsson (1994) ArticleTitleDiastolic function of the fetal heart during second and third trimester: a prospective longitudinal Doppler-echocardiographic study. Eur J Pediatr 153 151–154 Occurrence Handle10.1007/s004310050109 Occurrence Handle1:STN:280:ByuB3sjhsl0%3D Occurrence Handle8181494

30.

J Westgate M Harris JSH Curnow KR Greene (1992) ArticleTitleRandomised trial of cardiotocography alone or with ST waveform analysis for intrapartum monitoring. Lancet 340 194–198 Occurrence Handle10.1016/0140-6736(92)90465-F Occurrence Handle1:STN:280:By2A2c7nvVA%3D Occurrence Handle1353134

31.

N Zosmer R Bajoria E Weiner et al. (1994) ArticleTitleClinical and echographic features of in utero cardiac dysfunction in the recipient twin in twin–twin transfusion syndrome. Br Heart J 72 74–79 Occurrence Handle1:STN:280:ByuA2cjlt1M%3D Occurrence Handle8068474
About this article
Cite this article
Huhta, J.C. Guidelines for the Evaluation of Heart Failure in the Fetus With or Without Hydrops. Pediatr Cardiol 25, 274–286 (2004). https://doi.org/10.1007/s00246-003-0591-3
Keywords
Fetal

Congestive heart failure

Congenital heart disease

Hydrops fetalis

Doppler echocardiography