Abstract
Background
Submuscular placement of tissue expanders is a common method of reconstruction in the postmastectomy patient. Though the pectoralis muscle provides ample coverage of the expander superomedially, it is insufficient for complete coverage. Inferior coverage has been described using both local muscle and fascial flaps as well as the more recently introduced acellular dermal matrix (ADM). Each method possesses advantages and disadvantages, while the use of both in conjunction may serve to provide a superior, cost-effective result.
Methods
A retrospective review was undertaken of all patients undergoing immediate breast reconstruction from January 2008 to December 2011. Patients who underwent reconstruction with the use of combined ADM and muscle-sparing serratus flap were selected for further review. A total of 16 patients (27 reconstructed breasts) were identified. Data were collected regarding patient demographics, operative details, and complications.
Results
Of the 16 patients, 6 received postoperative radiation and 9 received perioperative chemotherapy. Mean follow-up was 20.8 months. A single 8 × 16-cm sheet of ADM was sufficient for bilateral reconstruction. Complications included infection (three patients), mastectomy flap necrosis (two patients), expander exposure (one patient), wound dehiscence (one patient), hematoma (one patient), and seroma (one patient). There were no cases of capsular contracture. All patients were noted to have sufficient lateral fullness and optimal contour.
Conclusions
Combined use of a muscle-sparing serratus anterior flap with ADM is a safe and viable method of complete inferior expander coverage in immediate breast reconstruction, which has not yet been described in the literature. Potential advantages include decreased donor site morbidity, improved lateral fullness, and greater efficiency in ADM use.
Level of Evidence: Level IV, therapeutic study.
This is a preview of subscription content, log in to check access.
Access options
Buy single article
Instant unlimited access to the full article PDF.
US$ 39.95
Price includes VAT for USA
Subscribe to journal
Immediate online access to all issues from 2019. Subscription will auto renew annually.
US$ 99
This is the net price. Taxes to be calculated in checkout.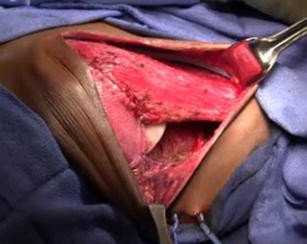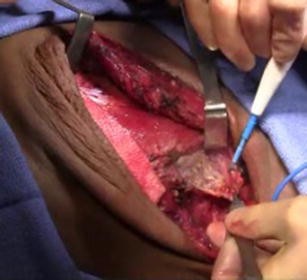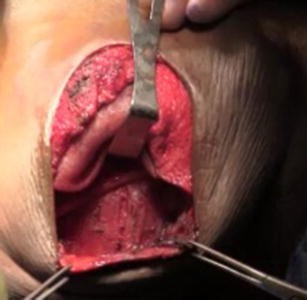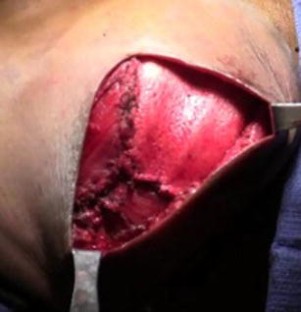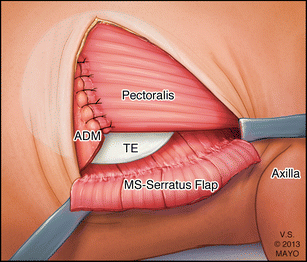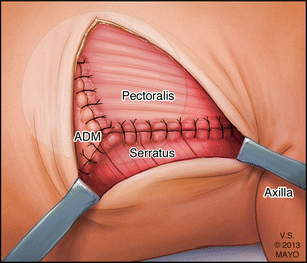 References
1.

Gamboa-Bobadilla G (2006) Implant based reconstruction using acellular dermal matrix. Ann Plast Surg 56:22

2.

Breuing K, Colwell A (2007) Inferolateral AlloDerm hammock for implant coverage in breast reconstruction. Ann Plast Surg 59:250

3.

Saint-Cyr M, Dauwe P, Wong C et al (2010) Use of the serratus anterior fascia flap for expander coverage in breast reconstruction. Plast Reconstr Surg 125:1057

4.

Zienowicz R, Karacaoglu E (2007) Implant-based breast reconstruction with allograft. Plast Reconstr Surg 120:373

5.

Holle J, Pierini A (1984) Breast reconstruction with an external oblique abdominis muscle turnover flap and a bipedicled abdominal skin flap. Plast Reconstr Surg 73:469

6.

Sbitany H, Sandeen SN, Amalfil AN, Davenport MS et al (2009) Acellular dermis-assisted prosthetic breast reconstruction versus complete submuscular coverage: a head-to-head comparison of outcomes. Plast Reconstr Surg 123:1735

7.

Spear S, Pelletiere C (2004) Immediate breast reconstruction in two stages using textured, integrated-valve tissue expanders and breast implants. Plast Reconstr Surg 114:2098

8.

Saint-Cyr M, Nagarkar P, Wong C, Thakar H et al (2010) Use of pedicled subpectoral fascia flap for expander coverage in post-mastectomy breast reconstruction: a novel technique. Plast Reconstr Surg 125:1328

9.

Namnoum JD (2009) Expander/implant reconstruction with AlloDerm: recent experience. Plast Reconstr Surg 124:387

10.

Parks JR, Hammond SE, Walsh WW, Adams RL et al (2012) Human acellular dermis (ACD) vs. no-ACD in tissue expansion breast reconstruction. Plast Reconstr Surg. doi:10.1097/PRS.0b013e318262f06e

11.

Salzberg C (2006) Nonexpansive immediate breast reconstruction using human acellular tissue matrix graft. Ann Plast Surg 57:1

12.

Bar-Meir ED, Lin SJ, Momoh AO, Tobias AM et al (2011) The lateral chest wall: a separate aesthetic unit in breast surgery. Plast Reconstr Surg 128:626e

13.

Elliot LF, Ghazi BH, Otterburn DM (2011) The scarless latissimus dorsi flap for full muscle coverage in device-based immediate breast reconstruction: an autologous alternative to acellular dermal matrix. Plast Reconstr Surg 128:71
Acknowledgments
We would like to extend our gratitude to Ms. Martha Aceves for her gracious assistance in the preparation of the associated video.
Conflict of interest
Dr. Saint-Cyr is a consultant for LifeCell Corporation. The remaining authors have no conflicts of interest with the techniques or results presented in this article.
Electronic supplementary material
Below is the link to the electronic supplementary material.
About this article
Cite this article
Ramanadham, S., Lakhiani, C., Malafa, M. et al. Combining muscle-sparing serratus flap with acellular dermal matrix in immediate breast reconstruction. Eur J Plast Surg 36, 353–358 (2013) doi:10.1007/s00238-013-0815-6
Received:

Accepted:

Published:

Issue Date:
Keywords
Breast reconstruction

Tissue expander reconstruction

Serratus muscle

Serratus flap