Abstract
Cerebrofacial venous metameric syndrome (CVMS) is a complex craniofacial vascular malformation disorder in which patients have a constellation of venous vascular malformations affecting soft tissues, bone, dura, and neural structures including the eye and brain. It is hypothesized that a somatic mutation responsible for the venous abnormalities occurred prior to migration of the neural crest cells, and because of this, facial, osseous, and cerebral involvement typically follows a segmental or "metameric" distribution. The most commonly recognized form of CVMS is Sturge-Weber syndrome. However, a wide spectrum of CVMS phenotypical presentations exist with various metameric distributions of slow-flow vascular lesions including facial venous vascular malformations, developmental venous anomalies, venous angiomas, cavernous malformations (cavernomas), dural sinus malformations, and maybe even vascular tumors such as cavernous hemangiomas. Awareness of the various manifestations as described herewith is important for treatment and screening purposes.
This is a preview of subscription content, log in to check access.
Access options
Buy single article
Instant unlimited access to the full article PDF.
US$ 39.95
Price includes VAT for USA
Subscribe to journal
Immediate online access to all issues from 2019. Subscription will auto renew annually.
US$ 199
This is the net price. Taxes to be calculated in checkout.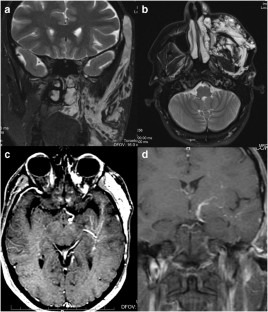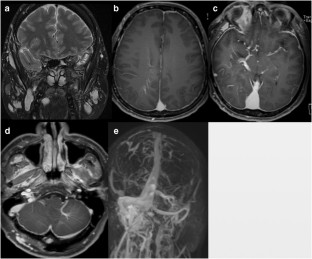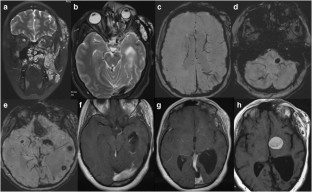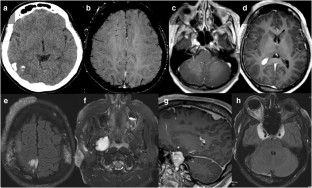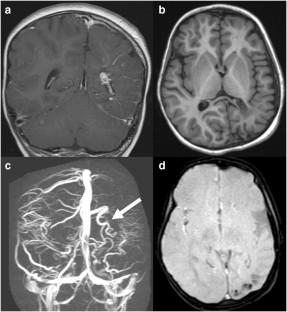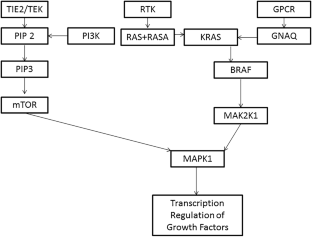 References
1.

Agid R, Terbrugge KG (2007) Cerebrofacial venous metameric syndrome 2 plus 3: facial and cerebral manifestations. Interventional neuroradiology : journal of peritherapeutic neuroradiology, surgical procedures and related neurosciences 13(1):55–58

2.

Goulao A, Alvarez H, Garcia Monaco R, Pruvost P, Lasjaunias P (1990) Venous anomalies and abnormalities of the posterior fossa. Neuroradiology. 31(6):476–482

3.

Ramli N, Sachet M, Bao C, Lasjaunias P (2003) Cerebrofacial venous metameric syndrome (CVMS) 3: Sturge-Weber syndrome with bilateral lymphatic/venous malformations of the mandible. Neuroradiology. 45(10):687–690

4.

Boukobza M, Enjolras O, Guichard JP, Gelbert F, Herbreteau D, Reizine D, Merland JJ (1996) Cerebral developmental venous anomalies associated with head and neck venous malformations. AJNR Am J Neuroradiol 17(5):987–994

5.

Shirley MD, Tang H, Gallione CJ, Baugher JD, Frelin LP, Cohen B, North PE, Marchuk DA, Comi AM, Pevsner J (2013) Sturge-Weber syndrome and port-wine stains caused by somatic mutation in GNAQ. N Engl J Med 368(21):1971–1979

6.

Nikolaev SI, Vetiska S, Bonilla X, Boudreau E, Jauhiainen S, Rezai Jahromi B, Khyzha N, DiStefano P, Suutarinen S, Kiehl TR, Mendes Pereira V, Herman AM, Krings T, Andrade-Barazarte H, Tung T, Valiante T, Zadeh G, Tymianski M, Rauramaa T, Ylä-Herttuala S, Wythe JD, Antonarakis SE, Frösen J, Fish JE, Radovanovic I (2018) Somatic activating KRAS mutations in arteriovenous malformations of the brain. N Engl J Med 378(3):250–261

7.

Lasjaunias P, Berenstein A, Brugge K (2001) Surgical neuroangiography. Springer, Functional anatomy of craniofacial arteries

8.

Krings T, Geibprasert S, Luo CB, Bhattacharya JJ, Alvarez H, Lasjaunias P (2007) Segmental neurovascular syndromes in children. Neuroimaging Clin N Am 17(2):245–258

9.

Bhattacharya JJ, Luo CB, Suh DC, Alvarez H, Rodesch G, Lasjaunias P (2001) Wyburn-Mason or Bonnet-Dechaume-Blanc as cerebrofacial arteriovenous metameric syndromes (CAMS). A new concept and a new classification. Interv Neuroradiol 7(1):5–17

10.

Comi AM (2015) Sturge-Weber syndrome. Handb Clin Neurol 132:157–168

11.

Portilla P, Husson B, Lasjaunias P, Landrieu P (2002) Sturge-Weber disease with repercussion on the prenatal development of the cerebral hemisphere. AJNR Am J Neuroradiol 23(3):490–492

12.

Brinjikji W, Hilditch CA, Tsang AC, Nicholson PJ, Krings T, Agid R (2018) Facial venous malformations are associated with cerebral developmental venous anomalies. Am J Neuroradiol 39(11):2103–2107

13.

Brinjikji W, El-Rida El-Masri A, Wald JT, Lanzino G (2017) Prevalence of developmental venous anomalies increases with age. Stroke. 48(7):1997–1999

14.

Pereira VM, Geibprasert S, Krings T, Aurboonyawat T, Ozanne A, Toulgoat F, Pongpech S, Lasjaunias PL (2008) Pathomechanisms of symptomatic developmental venous anomalies. Stroke. 39(12):3201–3215

15.

Dompmartin A, Acher A, Thibon P, Tourbach S, Hermans C, Deneys V, Pocock B, Lequerrec A, Labbé D, Barrellier MT, Vanwijck R, Vikkula M, Boon LM (2008) Association of localized intravascular coagulopathy with venous malformations. Arch Dermatol 144(7):873–877

16.

Dompmartin A, Ballieux F, Thibon P, Lequerrec A, Hermans C, Clapuyt P, Barrellier MT, Hammer F, Labbé D, Vikkula M, Boon LM (2009) Elevated D-dimer level in the differential diagnosis of venous malformations. Arch Dermatol 145(11):1239–1244

17.

Hung JW, Leung MW, Liu CS, Fung DH, Poon WL, Yam FS, Leung YC, Chung KL, Tang PM, Chao NS, Liu KK (2017) Venous malformation and localized intravascular coagulopathy in children. Eur J Pediatr Surg 27(2):181–184

18.

Dammann P, Wrede K, Zhu Y, Matsushige T, Maderwald S, Umutlu L, Quick HH, Hehr U, Rath M, Ladd ME, Felbor U, Sure U (2017) Correlation of the venous angioarchitecture of multiple cerebral cavernous malformations with familial or sporadic disease: a susceptibility-weighted imaging study with 7-Tesla MRI. J Neurosurg 126(2):570–577

19.

Zada G, Lopes MBS, Mukundan S, Laws E (2016) Cavernous sinus cavernous hemangiomas. Springer, Atlas of Sellar and Parasellar Lesions, pp 295–298

20.

Al-Olabi L, Polubothu S, Dowsett K, Andrews KA, Stadnik P, Joseph AP et al (2018) Mosaic RAS/MAPK variants cause sporadic vascular malformations which respond to targeted therapy. J Clin Investig 128(4):1496–1508

21.

Lim YH, Bacchiocchi A, Qiu J, Straub R, Bruckner A, Bercovitch L, Narayan D, Yale Center for Mendelian Genomics, McNiff J, Ko C, Robinson-Bostom L, Antaya R, Halaban R, Choate KA (2016) GNA14 somatic mutation causes congenital and sporadic vascular tumors by MAPK activation. Am J Hum Genet 99(2):443–450

22.

Limaye N, Kangas J, Mendola A, Godfraind C, Schlogel MJ, Helaers R et al (2015) Somatic activating PIK3CA mutations cause venous malformation. Am J Hum Genet 97(6):914–921

23.

Nguyen V, Hochman M, Mihm MC Jr, Nelson JS, Tan W (2019) The pathogenesis of port wine stain and Sturge Weber syndrome: complex interactions between genetic alterations and aberrant MAPK and PI3K activation. Int J Mol Sci. 20(9)
Ethics declarations
Conflict of interest
The authors declare that they have no conflict of interest.
Ethical approval
All procedures performed in the studies involving human participants were in accordance with the ethical standards of the institutional research committee and with the 1964 Helsinki Declaration and its later amendments or comparable ethical standards.
Informed consent
Informed consent was obtained from individual participants in this study.
Additional information
Publisher's note
Springer Nature remains neutral with regard to jurisdictional claims in published maps and institutional affiliations.
About this article
Cite this article
Brinjikji, W., Nicholson, P., Hilditch, C.A. et al. Cerebrofacial venous metameric syndrome—spectrum of imaging findings. Neuroradiology (2020). https://doi.org/10.1007/s00234-020-02362-7
Received:

Accepted:

Published:
Keywords
Venous vascular malformations

Developmental venous anomaly

Cavernous malformations

Hemangioma

Sturge-Weber

Congenital