Abstract
Purpose
To investigate the role of DHA supplementation in preventing age-related cognitive decline (ARCD) in individual cognitive domains by conducting systematic review and meta-analysis.
Methods
Relevant clinical trials were systematically searched at Medline, PubMed, Scopus, Cochrane, ProQuest, and Embase databases since inception to June 2018. The PRISMA guidelines were adhered for data abstraction, quality assessment, and validation of included studies. Study details such as participant characteristics, DHA supplementation, and cognitive function outcome measures, i.e., memory, attention, working memory, and executive function, were extracted to perform meta-analysis according to the Cochrane guidelines. Additional meta-regression and subgroup analyses were performed to detect confounding variables and sensitivity of results, respectively.
Results
Ten studies including 2327 elderly individuals were part of the final results. Study exhibited minimal or no pooled incremental effects on memory (0.22, 95%CI = − 0.17 to 0.61, I2 = 94.36%), attention (0.1, 95%CI = − 0.04 to 0.25, I2 = 32.25%), working memory (0.01, 95%CI = − 0.10 to 0.12, I2 = 0%), and executive function (0.03, 95%CI = − 0.05 to 0.11, I2 = 78.48%) among the DHA-supplemented group. The results from standard mean difference between the groups, on memory (0.08, 95%CI = − 0.12 to 0.28, I2 = 76.82%), attention (0.04, 95%CI = − 0.09 to 0.23, I2 = 42.63%), working memory (− 0.08, 95%CI = − 0.26 to 0.10, I2 = 37.57%), and executive function (0.17, 95%CI = − 0.01 to 0.36, I2 = 78.48%) were similar to the results of pooled incremental analysis. Lastly, results remained unaffected by sensitivity and sub-group analyses.
Conclusions
Current pieces of evidence do not support the role of DHA supplementation, in preventing/retarding ARCD of memory, executive function, attention, and working memory.
Protocol registered at PROSPERO (ID: PROSPERO 2018 CRD42018099401).
This is a preview of subscription content, log in to check access.
Access options
Buy single article
Instant access to the full article PDF.
US$ 39.95
Price includes VAT for USA
Subscribe to journal
Immediate online access to all issues from 2019. Subscription will auto renew annually.
US$ 199
This is the net price. Taxes to be calculated in checkout.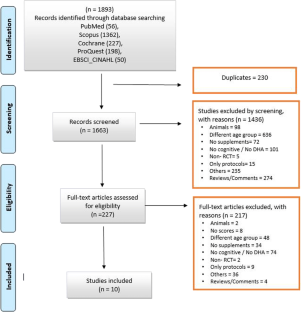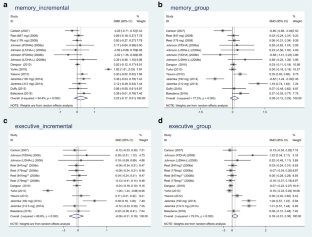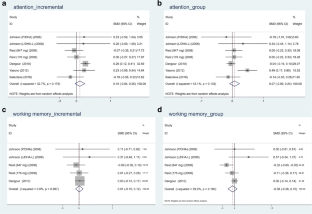 References
1.

Deary IJ, Corley J, Gow AJ, Harris SE, Houlihan LM, Marioni RE, Penke L, Rafnsson SB, Starr JM (2009) Age-associated cognitive decline. Br Med Bull 92:135–152. https://doi.org/10.1093/bmb/ldp033

2.

Konar A, Singh P, Thakur MK (2016) Age-associated cognitive decline: insights into molecular switches and recovery avenues. Aging Dis 7(2):121–129. https://doi.org/10.14336/AD.2015.1004

3.

Bazan NG, Musto AE, Knott EJ (2011) Endogenous signaling by omega-3 docosahexaenoic acid-derived mediators sustains homeostatic synaptic and circuitry integrity. Mol Neurobiol 44(2):216–222. https://doi.org/10.1007/s12035-011-8200-6

4.

Grimm MO, Kuchenbecker J, Grosgen S, Burg VK, Hundsdorfer B, Rothhaar TL, Friess P, de Wilde MC, Broersen LM, Penke B, Peter M, Vigh L, Grimm HS, Hartmann T (2011) Docosahexaenoic acid reduces amyloid beta production via multiple pleiotropic mechanisms. J Biol Chem 286(16):14028–14039. https://doi.org/10.1074/jbc.M110.182329

5.

Molfino A, Gioia G, Rossi Fanelli F, Muscaritoli M (2014) The role for dietary omega-3 fatty acids supplementation in older adults. Nutrients 6(10):4058–4073. https://doi.org/10.3390/nu6104058

6.

Vedin I, Cederholm T, Freund-Levi Y, Basun H, Garlind A, Irving GF, Eriksdotter-Jonhagen M, Wahlund LO, Dahlman I, Palmblad J (2012) Effects of DHA-rich n-3 fatty acid supplementation on gene expression in blood mononuclear leukocytes: the OmegAD study. PLoS One 7(4):e35425. https://doi.org/10.1371/journal.pone.0035425

7.

Hooijmans CR, Rutters F, Dederen PJ, Gambarota G, Veltien A, van Groen T, Broersen LM, Lutjohann D, Heerschap A, Tanila H, Kiliaan AJ (2007) Changes in cerebral blood volume and amyloid pathology in aged Alzheimer APP/PS1 mice on a docosahexaenoic acid (DHA) diet or cholesterol enriched typical Western diet (TWD). Neurobiol Dis 28(1):16–29. https://doi.org/10.1016/j.nbd.2007.06.007

8.

Bazan NG (2006) Cell survival matters: docosahexaenoic acid signaling, neuroprotection and photoreceptors. Trends Neurosci 29(5):263–271. https://doi.org/10.1016/j.tins.2006.03.005

9.

Cole GM, Frautschy SA (2010) DHA may prevent age-related dementia. J Nutr 140(4):869–874. https://doi.org/10.3945/jn.109.113910

10.

Cunnane SC, Plourde M, Pifferi F, Begin M, Feart C, Barberger-Gateau P (2009) Fish, docosahexaenoic acid and Alzheimer's disease. Prog Lipid Res 48(5):239–256. https://doi.org/10.1016/j.plipres.2009.04.001

11.

Dangour AD, Andreeva VA, Sydenham E, Uauy R (2012) Omega 3 fatty acids and cognitive health in older people. Br J Nutr 107(Suppl 2):S152–S158. https://doi.org/10.1017/S0007114512001547

12.

Jiao J, Li Q, Chu J, Zeng W, Yang M, Zhu S (2014) Effect of n-3 PUFA supplementation on cognitive function throughout the life span from infancy to old age: a systematic review and meta-analysis of randomized controlled trials. Am J Clin Nutr 100(6):1422–1436. https://doi.org/10.3945/ajcn.114.095315

13.

Yurko-Mauro K, Alexander DD, Van Elswyk ME (2015) Docosahexaenoic acid and adult memory: a systematic review and meta-analysis. PLoS One 10(3):e0120391. https://doi.org/10.1371/journal.pone.0120391

14.

Cardoso C, Afonso C, Bandarra NM (2016) Dietary DHA and health: cognitive function ageing. Nutr Res Rev 29(2):281–294. https://doi.org/10.1017/S0954422416000184

15.

Hennebelle M, Harbeby E, Tremblay S, Chouinard-Watkins R, Pifferi F, Plourde M, Guesnet P, Cunnane SC (2015) Challenges to determining whether DHA can protect against age-related cognitive decline. Clin Lipidol 10(1):91–102. https://doi.org/10.2217/clp.14.61

16.

Andreeva VA, Kesse-Guyot E, Barberger-Gateau P, Fezeu L, Hercberg S, Galan P (2011) Cognitive function after supplementation with B vitamins and long-chain omega-3 fatty acids: ancillary findings from the SU.FOL.OM3 randomized trial. Am J Clin Nutr 94(1):278–286. https://doi.org/10.3945/ajcn.110.006320

17.

Burckhardt M, Herke M, Wustmann T, Watzke S, Langer G, Fink A (2016) Omega-3 fatty acids for the treatment of dementia. Cochrane Database Syst Rev 4:CD009002. https://doi.org/10.1002/14651858.CD009002.pub3

18.

Yassine HN, Braskie MN, Mack WJ, Castor KJ, Fonteh AN, Schneider LS, Harrington MG, Chui HC (2017) Association of docosahexaenoic acid supplementation with Alzheimer disease stage in apolipoprotein E epsilon4 carriers: a review. JAMA Neurol 74(3):339–347. https://doi.org/10.1001/jamaneurol.2016.4899

19.

Lechner BE, Vohr BR (2017) Neurodevelopmental outcomes of preterm infants fed human milk: a systematic review. Clin Perinatol 44(1):69–83. https://doi.org/10.1016/j.clp.2016.11.004

20.

van de Rest O, Geleijnse JM, Kok FJ, van Staveren WA, Dullemeijer C, Olderikkert MG, Beekman AT, de Groot CP (2008) Effect of fish oil on cognitive performance in older subjects: a randomized, controlled trial. Neurology 71(6):430–438. https://doi.org/10.1212/01.wnl.0000324268.45138.86

21.

Higgins JPT, Thomas J, Chandler J, Cumpston M, Li T, Page MJ, Welch VA (July 2019) Cochrane Handbook for Systematic Reviews of Interventions version 6.0. Cochrane. https://www.training.cochrane.org/handbook

22.

Deeks JJ, and Altman DG (2001) Effect Measures for Meta‒Analysis of Trials with Binary Outcomes. In Systematic Reviews in Health Care (eds M. Egger, G.D. Smith and D.G. Altman). https://doi.org/10.1002/9780470693926.ch16

23.

Caldwell D (2007) Decision modelling for health economic evaluation. A Briggs, M Sculpher, K Claxton. Int J Epidemiol 36(2):476–477. https://doi.org/10.1093/ije/dym062

24.

Yasuno F, Tanimukai S, Sasaki M, Ikejima C, Yamashita F, Kodama C, Mizukami K, Asada T (2012) Combination of antioxidant supplements improved cognitive function in the elderly. J Alzheimers Dis 32(4):895–903. https://doi.org/10.3233/JAD-2012-121225

25.

2019 S (2019) Stata statistical software: release 16 college station. TX: StataCorp LLC

26.

Jaremka LM, Derry HM, Bornstein R, Prakash RS, Peng J, Belury MA, Andridge RR, Malarkey WB, Kiecolt-Glaser JK (2014) Omega-3 supplementation and loneliness-related memory problems: secondary analyses of a randomized controlled trial. Psychosom Med 76(8):650–658. https://doi.org/10.1097/PSY.0000000000000104

27.

McNamara RK, Kalt W, Shidler MD, McDonald J, Summer SS, Stein AL, Stover AN, Krikorian R (2018) Cognitive response to fish oil, blueberry, and combined supplementation in older adults with subjective cognitive impairment. Neurobiol Aging 64:147–156. https://doi.org/10.1016/j.neurobiolaging.2017.12.003

28.

Johnson EJ, McDonald K, Caldarella SM, Chung HY, Troen AM, Snodderly DM (2008) Cognitive findings of an exploratory trial of docosahexaenoic acid and lutein supplementation in older women. Nutr Neurosci 11(2):75–83. https://doi.org/10.1179/147683008X301450

29.

Carlson JJ, Farquhar JW, DiNucci E, Ausserer L, Zehnder J, Miller D, Berra K, Hagerty L, Haskell WL (2007) Safety and efficacy of a ginkgo biloba-containing dietary supplement on cognitive function, quality of life, and platelet function in healthy, cognitively intact older adults. J Am Diet Assoc 107(3):422–432. https://doi.org/10.1016/j.jada.2006.12.011

30.

Yurko-Mauro K, McCarthy D, Rom D, Nelson EB, Ryan AS, Blackwell A, Salem N Jr, Stedman M, Investigators M (2010) Beneficial effects of docosahexaenoic acid on cognition in age-related cognitive decline. Alzheimers Dement 6(6):456–464. https://doi.org/10.1016/j.jalz.2010.01.013

31.

Baleztena J, Ruiz-Canela M, Sayon-Orea C, Pardo M, Anorbe T, Gost JI, Gomez C, Ilarregui B, Bes-Rastrollo M (2018) Association between cognitive function and supplementation with omega-3 PUFAs and other nutrients in >/= 75 years old patients: a randomized multicenter study. PLoS One 13(3):e0193568. https://doi.org/10.1371/journal.pone.0193568

32.

Dangour AD, Allen E, Elbourne D, Fasey N, Fletcher AE, Hardy P, Holder GE, Knight R, Letley L, Richards M, Uauy R (2010) Effect of 2-y n-3 long-chain polyunsaturated fatty acid supplementation on cognitive function in older people: a randomized, double-blind, controlled trial. Am J Clin Nutr 91(6):1725–1732. https://doi.org/10.3945/ajcn.2009.29121

33.

Duffy SL, Lagopoulos J, Cockayne N, Lewis SJ, Hickie IB, Hermens DF, Naismith SL (2015) The effect of 12-wk omega-3 fatty acid supplementation on in vivo thalamus glutathione concentration in patients "at risk" for major depression. Nutrition 31(10):1247–1254. https://doi.org/10.1016/j.nut.2015.04.019

34.

Pottala JV, Yaffe K, Robinson JG, Espeland MA, Wallace R, Harris WS (2014) Higher RBC EPA + DHA corresponds with larger total brain and hippocampal volumes: WHIMS-MRI study. Neurology 82(5):435–442. https://doi.org/10.1212/WNL.0000000000000080

35.

Ammann EM, Pottala JV, Robinson JG, Espeland MA, Harris WS (2017) Erythrocyte omega-3 fatty acids are inversely associated with incident dementia: secondary analyses of longitudinal data from the Women's Health Initiative Memory Study (WHIMS). Prostaglandins Leukot Essent Fatty Acids 121:68–75. https://doi.org/10.1016/j.plefa.2017.06.006

36.

Yuan L, Zhen J, Ma W, Cai C, Huang X, Xiao R (2016) The erythrocyte fatty acid profile and cognitive function in old Chinese adults. Nutrients 8(7). https://doi.org/10.3390/nu8070385

37.

Flock MR, Skulas-Ray AC, Harris WS, Etherton TD, Fleming JA, Kris-Etherton PM (2013) Determinants of erythrocyte omega-3 fatty acid content in response to fish oil supplementation: a dose-response randomized controlled trial. J Am Heart Assoc 2(6):e000513. https://doi.org/10.1161/JAHA.113.000513

38.

Singh-MA KM, Glymour MM, Elbaz A, Berr C, Ebmeier KP et al (2012) Timing of onset of cognitive decline: results from Whitehall II prospective cohort study. BMJ 344:d7622. https://doi.org/10.1136/bmj.d7622

39.

Whitley E, Deary IJ, Ritchie SJ, Batty GD, Kumari M, Benzeval M (2016) Variations in cognitive abilities across the life course: cross-sectional evidence from understanding society: the UK household longitudinal study. Intelligence. 59:39–50. https://doi.org/10.1016/j.intell.2016.07.001
Ethics declarations
Conflict of interest
The authors declare that they have no conflict of interest.
Financial disclosure
The authors RB and BSB are employed as Clinical research scientists and received salary from Indian Council of Medical Research, India, while the author SS is a postdoctoral research fellow at the National Institute of Health, USA, and none of the authors received any financial support/sponsorship to execute this systematic review.
Additional information
Publisher's note
Springer Nature remains neutral with regard to jurisdictional claims in published maps and institutional affiliations.
About this article
Cite this article
Balachandar, R., Soundararajan, S. & Bagepally, B.S. Docosahexaenoic acid supplementation in age-related cognitive decline: a systematic review and meta-analysis. Eur J Clin Pharmacol (2020). https://doi.org/10.1007/s00228-020-02843-x
Received:

Accepted:

Published:
Keywords
Age-related cognitive decline

Memory

Executive function

Attention

Docosahexaenoic acid (DHA)