Abstract
Coastal lagoons are extremely sensitive to increasing temperature, especially in the Mediterranean basin, which has been identified as a hotspot for global warming. The warming effects on the abundance and size structure of a Mediterranean coastal lagoon plankton community were investigated in this study. Water from Cabras Lagoon (Italy) was incubated in laboratory for 16 days in winter, excluding mesozooplankton. Three temperature treatments were applied: (i) the in situ winter mean water temperature; (ii) + 3 °C, as forecasted for the Mediterranean region by the next century; (iii) + 6 °C, as forecasted for the Mediterranean region by the next two centuries. A direct and positive effect of warming on ciliate density was observed in absence of their predators, as well as a taxonomic composition shift from Oligotrichs to Scuticociliatida. In turn, a decrease in heterotrophic nanoflagellate density was detected under warming. Phytoplankton (autotrophic cell size > 2 µm) density increased significantly, while their mean cell size decreased strongly throughout the experiment at the highest temperature. A significant change in phytoplankton class composition, consisting of the increase of smaller Chlorophyceae which replaced larger Bacillariophyceae, was observed under heating. Considering picoplankton (cell size < 2 µm), a decrease in larger autotrophic cell density was contemporary to an increase in smaller heterotrophic cell density, especially at the highest temperature. This work adds novel information to the predictions about plankton community responses on warming considering several trophic levels, which has been little studied in shallow coastal lagoons and in the Mediterranean basin.
This is a preview of subscription content, log in to check access.
Access options
Buy single article
Instant unlimited access to the full article PDF.
US$ 39.95
Price includes VAT for USA
Subscribe to journal
Immediate online access to all issues from 2019. Subscription will auto renew annually.
US$ 199
This is the net price. Taxes to be calculated in checkout.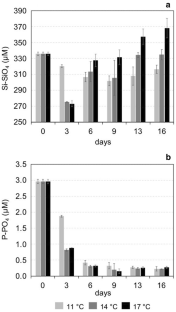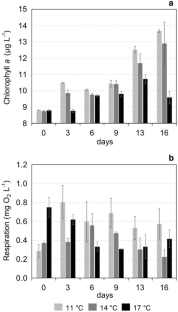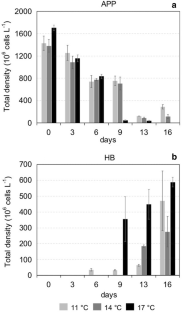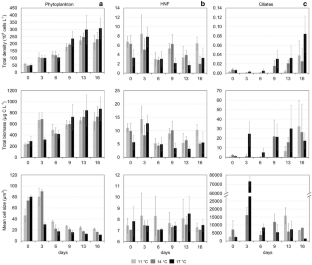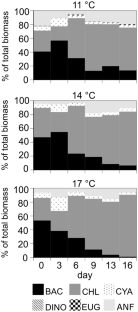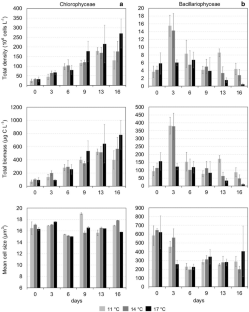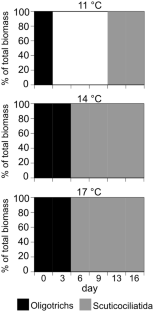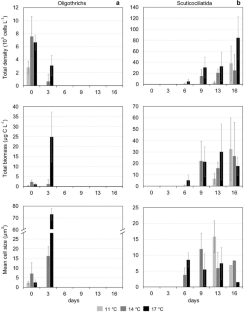 Data availability
The data sets generated during and/or analysed during the current study are available from the corresponding author upon reasonable request.
References
Abbiati M, Mistri M, Bartoli M et al (2010) Trade-off between conservation and exploitation of the transitional water ecosystems of the northern Adriatic Sea. Chem Ecol 26:105–119. https://doi.org/10.1080/02757541003693193

Aberle N, Lengfellner K, Sommer U (2007) Spring bloom succession, grazing impact and herbivore selectivity of ciliate communities in response to winter warming. Oecologia 150:668–681. https://doi.org/10.1007/s00442-006-0540-y

Barrett RDH, Schluter D (2008) Adaptation from standing genetic variation. Trends Ecol Evol 23:38–44. https://doi.org/10.1016/j.tree.2007.09.008

Berglund J, Müren U, Båmstedt U, Andersson A (2007) Efficiency of a phytoplankton-based and a bacterial-based food web in a pelagic marine system. Limnol Oceanogr 52:121–131. https://doi.org/10.4319/lo.2007.52.1.0121

Boyce DG, Worm B (2015) Patterns and ecological implications of historical marine phytoplankton change. Mar Ecol Prog Ser 534:251–272. https://doi.org/10.3354/meps11411

Boyce DG, Frank KT, Leggett WC (2015) From mice to elephants: overturning the 'one size fits all' paradigm in marine plankton food chains. Ecol Lett 18:504–515. https://doi.org/10.1111/ele.12434

del Giorgio PA, Bird DF, Prairie YT, Planas D (1996) Flow cytometric determination of bacterial abundance in lake plankton with the green nucleic acid stain SYTO 13. Limnol Oceanogr 41:783–789. https://doi.org/10.4319/lo.1996.41.4.0783

Di Poi E, Blason C, Corinaldesi C, Danovaro R, Malisana E, Fonda-Umani S (2013) Structure and interactions within the pelagic microbial food web (from viruses to microplankton) across environmental gradients in the Mediterranean Sea. Global Biogeochem Cycles 27:1034–1045. https://doi.org/10.1002/2013GB004589

Edler L (ed) (1979) Recommendations for marine Biological Studies in the Baltic Sea Phytoplankton and Chlorophyll. The Baltic Marine Biologists, Publ No 5, pp 1–38

EEA European Environment Agency (2012) Climate change impacts and vulnerability in Europe. Copenhagen, EEA Report No 12/2012. 10.2800/66071

Ferrarin C, Bajo M, Bellafiore D, Cucco A, De Pascalis F, Ghezzo M, Umgiesser G (2014) Toward homogenization of Mediterranean lagoons and their loss of hydrodiversity. Geophys Res Lett 41:5935–5941. https://doi.org/10.1002/2014GL060843

García-Ruiz JM, López-Moreno JI, Vicente-Serrano SM, Lasanta–Martínez T, Beguería S (2011) Mediterranean water resources in a global change scenario. Earth Sci Rev 105(3–4):121–139. https://doi.org/10.1016/j.earscirev.2011.01.006

Gardner JL, Peters A, Kaarney MR, Joseph L, Heinson R (2011) Declining body size: a third universal response to warming? Trends Ecol Evol 26:285–291. https://doi.org/10.1016/j.tree.2011.03.005

Gifford DJ (1985) Laboratory culture of marine planktonic oligotrichs (Ciliophora, Oligotrichida). Mar Ecol Prog Ser 23:257–267

Giorgi F, Lionello P (2008) Climate change projections for the Mediterranean region. Global Planet Change 63:90–104. https://doi.org/10.1016/j.gloplacha.2007.09.005

Jakobsen HH, Hansen PJ (1997) Prey size selection, grazing and growth response of the small heterotrophic dinoflagellate Gymnodinium sp. and the ciliate Balanion comatum—a comparative study. Mar Ecol Prog Ser 158:75–86. https://doi.org/10.3354/meps158075

Johansson M, Gorokhova E, Larsson U (2004) Annual variability in ciliate community structure potential prey and predators in the open northern Baltic Sea proper. J Plankton Res 26(1):67–80. https://doi.org/10.1093/plankt/fbg

Koshikawa H, Harada S, Watanabe M, Kogure K, Ioriya T, Kohata K, Kimura T, Sato K, Akehata T (1999) Influence of plankton community structure on the contribution of bacterial production to metazooplankton in a coastal mesocosm. Mar Ecol Prog Ser 186:31–42. https://doi.org/10.3354/meps186031

Kuuppo P (1994) Annual variation in the abundance and size of heterotrophic nanoflagellates on the SW coast of Finland the Baltic Sea. J Plankton Res 16:1525–1542. https://doi.org/10.1093/plankt/16.11.1525

Hays GC, Richardson AJ, Robinson C (2005) Climate change and marine plankton. Trends Ecol Evol 20:337–344. https://doi.org/10.1016/j.tree.2005.03.004

Lenth R (2016) V: lsmeans: least-squares means R package version 222. https://CRANR-projectorg/package=lsmeans

Lewandowska AM, Sommer U (2010) Climate change and the spring bloom: a mesocosm study on the influence of light and temperature on phytoplankton and mesozooplankton. Mar Ecol Prog Ser 405:101–111. https://doi.org/10.3354/meps08520

Lewandowska AM, Hillebrand H, Lengfellner K, Sommer U (2014) Temperature effects on phytoplankton diversity—the zooplankton link. J Sea Res 85:359–364. https://doi.org/10.1016/j.seares.2013.07.003

Litchman E, Klausmeier CA (2008) Trait-based community ecology of phytoplankton. Annu Rev Ecol Evol Syst 39:615–639. https://doi.org/10.1146/annurev.ecolsys.39.110707.173549

Litchman E, Klausmeier CA, Schofield OM, Falkowski PG (2007) The role of functional traits and trade-offs in structuring phytoplankton communities: scaling from cellular to ecosystem level. Ecol Lett 10:1170–1181. https://doi.org/10.1111/j.1461-0248.2007.01117.x

Menden-Deuer S, Lessard EJ (2000) Carbon to volume relationships for dinoflagellates diatoms and other protist plankton. Limnol Oceanogr 45:569–579. https://doi.org/10.4319/lo.2000.45.3.0569

Morabito G, Mazzocchi MG, Salmaso N et al (2018) Plankton dynamics across the freshwater transitional and marine research sites of the LTER-Italy Network Patterns fluctuations drivers. Sci Total Environ 627:373–387. https://doi.org/10.1016/j.scitotenv.2018.01.153

Müren U, Berglund J, Samulesson K, Andersson A (2005) Potential effects of elevated sea-water temperature on pelagic food webs. Hydrobiologia 545:153–166. https://doi.org/10.1007/s10750-005-2742-4

Newton A, Icely J, Cristina S et al (2014) An overview of ecological status vulnerability and future perspectives of European large shallow semi-enclosed coastal systems lagoons and transitional waters. Estuar Coast Shelf Sci 140:95–122. https://doi.org/10.1016/j.ecss.2013.05.023

Padedda BM, Lugliè A, Ceccherelli G, Trebini F, Sechi N (2010) Nutrient-flux evaluation by the LOICZ Biogeochemical Model in Mediterranean lagoons: the case of Cabras Lagoon (Central-Western Sardinia). Chem Ecol 26(2):147–162

Padedda BM, Pulina S, Magni P, Sechi N, Lugliè A (2012) Phytoplankton dynamics in relation to environmental changes in a phytoplankton-dominated Mediterranean lagoon (Cabras Lagoon Italy). Adv Oceanogr Limnol 3(2):147–169. https://doi.org/10.1080/19475721.2012.716792

Pérez-Ruzafa A, Marcos C, Pérez-Ruzafa IM (2011) Mediterranean coastal lagoons in an ecosystem and aquatic resource management context. Phys Chem Earth 36:160–166. https://doi.org/10.1016/j.pce.2010.04.013

Peter KH, Sommer U (2012) Phytoplankton cell size inter- and intraspecific effects of warming and grazing. PLoS ONE 7(11):e49632. https://doi.org/10.1371/journal.pone.0049632

Peter KH, Sommer U (2013) Phytoplankton cell size reduction in response to warming mediated by nutrient limitation. PLoS ONE 8(9):e71528. https://doi.org/10.1371/journal.pone.0071528

Peter KH, Sommer U (2015) Interactive effect of warming, nitrogen and phosphorus limitation on phytoplankton cell size. Ecol Evol 5:1011–1024. https://doi.org/10.1002/ece3.1241

Pinheiro J, Bates D, DebRoy S, Sarkar D (2012) R Development Core Team nlme: linear and nonlinear mixed effects models. R package version 3:1–105

Polovina JJ, Woodworth PA (2012) Declines in phytoplankton cell size in the subtropical oceans estimated from satellite remotely-sensed temperature and chlorophyll 1998–2007. Deep Sea Res II 77–80:82–88. https://doi.org/10.1016/j.dsr2.2012.04.006

Pugnetti A, Acri F, Bernardi Aubry F et al (2013) The Italian Long-Term Ecosystem Research (LTER-Italy) network: results, opportunities and challenges for coastal transitional ecosystems. Transit Waters Bull 7(1):43–63. https://doi.org/10.1285/i1825229Xv7n1p43

Pulina S, Padedda BM, Sechi N, Lugliè A (2011) The dominance of cyanobacteria in Mediterranean hypereutrophic lagoons: a case study of Cabras Lagoon (Sardinia Italy). Sci Mar 75:111–120. https://doi.org/10.3989/scimar.2011.75n1111

Pulina S, Padedda BM, Satta CT, Sechi N, Lugliè A (2012) Long term phytoplankton dynamics in a Mediterranean eutrophic lagoon (Cabras Lagoon Italy). Plant Biosyst 146:259–272. https://doi.org/10.1080/11263504.2012.717545

Pulina S, Brutemark A, Suikkanen S, Padedda BM, Grubisic LM, Satta CT, Caddeo T, Farina P, Sechi N, Lugliè A (2016) Effects of warming on a Mediterranean phytoplankton community. Web Ecol 16:89–92. https://doi.org/10.5194/we-16-89-2016

R Core Team (2017) R: a language and environment for statistical computing. https://www.R-project.org/

Reynolds CS (2006) Ecology of phytoplankton. Cambridge University Press, Cambridge, pp 1–552. https://doi.org/10.1017/CBO9780511542145

Rivkin R, Legendre L (2001) Biogenic carbon cycling in the upper ocean: effects of microbial respiration. Science 291:2398–2400. https://doi.org/10.1126/science.291.5512.2398

Sánchez E, Gallardo C, Gaertner MA, Arribas A, Castro M (2004) Future climate extreme events in the Mediterranean simulated by a regional climate model: a first approach. Global Planet Change 44:163–180. https://doi.org/10.1016/j.gloplacha.2004.06.010

Satta CT, Anglès S, Garcés E, Sechi N, Pulina S, Padedda BM, Stacca D, Lugliè A (2014) Dinoflagellate cyst assemblages in surface sediments from three shallow Mediterranean lagoons (Sardinia north western Mediterranean Sea). Estuar Coast 37:646–663. https://doi.org/10.1007/s12237-013-9705-1

Smetacek V (1981) Annual cycle of protozooplankton in the Kiel Bight. Mar Biol 63:1–11. https://doi.org/10.1007/BF00394657

Sommer U (1984) The paradox of the plankton: Fluctuations of phosphorus availability maintain diversity of phytoplankton in flow-through cultures. Limnol Oceanogr 29(3):633–636. https://doi.org/10.4319/lo.1984.29.3.0633

Sommer U, Aberle N, Engel A, Hansen T, Lengfellner K, Sandow M, Wohlers J, Zöllner E, Riebesell U (2007) An indoor mesocosm system to study the effect of climate change on the late winter and spring succession of Baltic Sea phyto- and zooplankton. Oecologia 150:655–667. https://doi.org/10.1007/s00442-006-0539-4

Sommer U, Charalampous E, Genitsaris S, Moustaka-Gouni M (2017) Benefits, costs and taxonomic distribution of marine phytoplankton body size. J Plankton Res 39(3):494–508. https://doi.org/10.1093/plankt/fbw071

Stibor H, Vadstein O, Diehl S et al (2004) Copepods act as a switch between alternative trophic cascades in marine pelagic food webs. Ecol Lett 7:321–328

Strickland JDH, Parsons TR (1972) A practical handbook of seawater analysis. Fisheries Research Board of Canada 167, Ottawa, pp 1–310

Strom SL, Brainard MA, Holmes JL, Olson MB (2001) Phytoplankton blooms are strongly impacted by microzooplankton grazing in coastal North Pacific waters. Mar Biol 138:355–368. https://doi.org/10.1007/s002270000461

Suikkanen S, Laamanen M, Huttunen M (2007) Long-term changes in summer phytoplankton communities of the open northern Baltic Sea. Estuar Coast Shelf Sci 71:580–592. https://doi.org/10.1016/j.ecss.2006.09.004

Tillmann U (2004) Interactions between planktonic microalgae and protozoan grazers. J Eukaryot Microbiol 51:156–168. https://doi.org/10.1111/j.1550-7408.2004.tb00540.x

Unrein F, Massana R, Alonso-Sáez L, Gasol JM (2007) Significant year-round effect of small mixotrophic flagellates on bacterioplankton in an oligotrophic coastal system. Limnol Oceanogr 52(1):456–469. https://doi.org/10.4319/lo.2007.52.1.0456

Utermöhl H (1958) Zur vervollkommung der quantitativen phytoplankton-methodik. Mitt Internat Verein Limnol 9:1–39. https://doi.org/10.1080/05384680.1958.11904091

Vidussi F, Mostajir B, Fouilland E, Le Floc'h E, Nouguier J, Roques C, Got P, Thibault-Botha D, Bouvier T, Trousselliera M (2011) Effects of experimental warming and increased ultraviolet B radiation on the Mediterranean plankton food web. Limnol Oceanogr 56:206–218. https://doi.org/10.4319/lo.2011.56.1.0206

Winder M, Sommer U (2012) Phytoplankton response to a changing climate. Hydrobiologia 698:5–16. https://doi.org/10.1007/s10750-012-1149-2
Acknowledgements
The Authors thank Carlo Aresu and his team of technicians for providing and arranging the system with "Peltier cells" to regulate and maintain constant water temperature during the experiment. Dr. Harri Kuosa is acknowledged for help with nanoflagellate analysis. The Authors are grateful to the three anonymous reviewers for their constructive comments, which improved the manuscript.
Funding
Sanna Suikkanen was supported by the Academy of Finland (Grant Number 259357). Andreas Brutemark was supported by the Visiting Scientist grant Program 2014 of the University of Sassari I.D. 17 (L.R. 7/2007).
Ethics declarations
Conflict of interest
The authors declare that they have no conflict of interest.
Ethical approval
This article does not contain any studies with human participants performed by any of the authors. All applicable international, national, and/or institutional guidelines for the care and use of animals were followed by the authors.
Additional information
Publisher's Note
Springer Nature remains neutral with regard to jurisdictional claims in published maps and institutional affiliations.
Reviewed by undisclosed experts.
Responsible Editor: U. Sommer.
Electronic supplementary material
Below is the link to the electronic supplementary material.
About this article
Cite this article
Pulina, S., Suikkanen, S., Padedda, B.M. et al. Responses of a Mediterranean coastal lagoon plankton community to experimental warming. Mar Biol 167, 22 (2020) doi:10.1007/s00227-019-3640-z
Received:

Accepted:

Published: