Abstract
A diminutive, non-native damselfish (Neopomacentrus cyanomos) was recently discovered inhabiting coral reefs near Veracruz, Mexico—far removed from where it is native in the Red Sea and the Indo-Pacific. The quantities found in the Gulf of Mexico (GOM) suggest that the fish has already established a self-sustaining population in this new ecosystem. There is understandable concern, therefore, that this new arrival may become invasive and spread, yet the invasion risk imposed by this fish has not been assessed. In this study, a computer model was employed to deliver a forecast of the potential range of incursion of N. cyanomos in the GOM spanning 5 years. The model incorporated oceanic water flow in the region, tolerances of this damselfish to the ocean environment, and their reproductive strategy in order to supply a temporal and spatial forecast of their spread. From this study, targeted early detection and removal of the fish can be directed if the fish is deemed a threat to native fauna. On the basis of this work, it is foreseeable that the reefs presently harboring N. cyanomos will likely see increased abundance of this damsel. Immediate attempts to eliminate the fish, therefore, should be focused in nearshore shallow waters spanning Veracruz to Frontera, Mexico. Further, water flows in the southern GOM are not widely conducive to long-distance transport of marine organisms with pelagic larvae, reducing the risk of this damsel permeating the greater GOM over 5 years. Aside from N. cyanomos, this study implicitly adds to mounting evidence supporting a biogeographic disconnect between the Veracruz reef complex and the greater GOM and the Caribbean.
This is a preview of subscription content, log in to check access.
Access options
Buy single article
Instant unlimited access to the full article PDF.
US$ 39.95
Price includes VAT for USA
Subscribe to journal
Immediate online access to all issues from 2019. Subscription will auto renew annually.
US$ 199
This is the net price. Taxes to be calculated in checkout.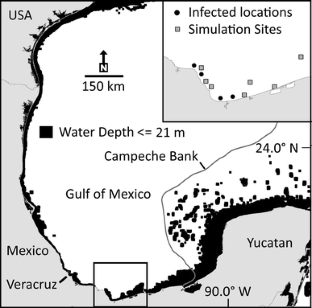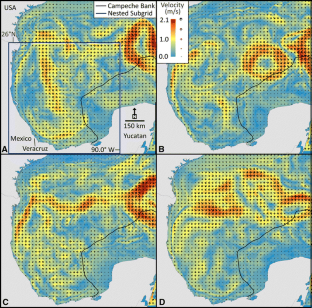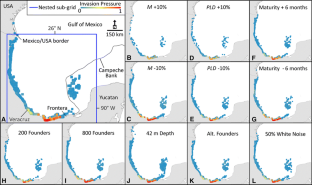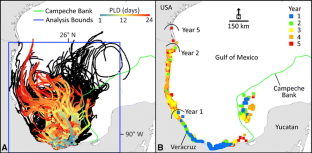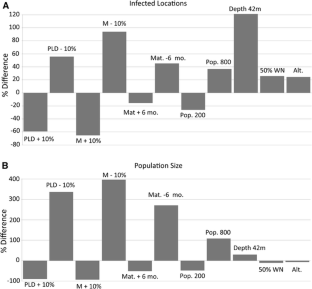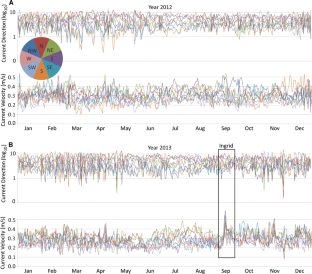 References
Albins MA (2015) Invasive Pacific lionfish Pterois volitans reduce abundance and species richness of native Bahamian coral-reef fishes. Mar Ecol Prog Ser 522:231–243

Albins MA, Hixon MA (2008) Invasive Indo-Pacific lionfish Pterois volitans reduce recruitment of Atlantic coral-reef fishes. Mar Ecol Prog Ser 367:233–238

Albins MA, Hixon MA (2011) Worst case scenario: potential long-term effects of invasive predatory lionfish (Pterois volitans) on Atlantic and Caribbean coral-reef communities. Environ Biol Fish. doi:10.1007/s10641-011-9795-1

Albins MA, Hixon MA (2013) Worst case scenario: potential long-term effects of invasive predatory lionfish (Pterois volitans) on Atlantic and Caribbean coral-reef communities. Environ Biol Fish 96(10–11):1151–1157

Allen GR (1986) Pomacentridae. In: Smith MM, Heemstra PC (eds) Smiths' sea fishes. Springer, Berlin, pp 670–682

Allen GR (1991) Damselfishes of the world. Mergus Publishers, Melle

Barbour AB, Montgomery ML, Adamson AA, Díaz-Ferguson E, Silliman BR (2008) Mangrove use by the invasive lionfish Pterois volitans. Mar Ecol Prog Ser 401:291–294

Becker JJ, Sandwell DT, Smith WHF, Braud J, Binder B, Depner J, Fabre D, Factor J, Ingalls S, Kim S-H, Ladner R, Marks K, Nelson S, Pharaoh A, Trimmer R, Von Rosenberg J, Wallace G, Weatherall P (2009) Global bathymetry and elevation data at 30 arc seconds resolution: SRTM30_PLUS. Mar Geod 32(4):355–371

Bolnick DI, Ingram T, Stutz WE, Snowberg LK, Lau OL, Paull JS (2010) Ecological release from interspecific competition leads to decoupled changes in population and individual niche width. Proc R Soc Lond B 277:1789–1797

Chassignet EP, Hulburt HE, Smedstad OM, Barron CN, Ko DS, Rhodes RC, Shriver JF, Wallcraft AJ, Arnone AR (2005) Assessment of data assimilative ocean models in the Gulf of Mexico using ocean color. Circ Gulf Mex Obs Models 161:87–100

Comyns BH, Shaw RF, Lyczkowski-Shultz J (2003) Small-scale spatial and temporal variability in growth and mortality of fish larvae in the subtropical north central Gulf of Mexico: implications for assessing recruitment success. Fish Bull 101(1):10–21

Côté IM, Green SJ, Morris JA Jr, Akins JL, Steinke D (2013) Diet richness of invasive Indo-Pacific lionfish revealed by DNA barcoding. Mar Ecol Prog Ser 472:249–256

Cowen RK, Paris CB, Srinivasan A (2006) Scaling of connectivity in marine populations. Science 311(5760):522–527

Cure K, McIlwain JL, Hixon MA (2014) Habitat plasticity in native Pacific red lionfish Pterois volitans facilitates successful invasion of the Atlantic. Mar Ecol Prog Ser 506:243–253

Frazer TK, Jacoby CA, Edwards MA, Barry SC, Manfrino CM (2012) Coping with the lionfish invasion: can targeted removals yield beneficial effects? Rev Fish Sci 20(4):185–191

González-Gándara C, de la Cruz-Francisco V (2014) Unusual record of the Indo-Pacific pomacentrid Neopomacentrus cyanomos (Bleeker, 1856) on coral reefs of the Gulf of Mexico. BioInvasions Rec 3(1):49–52

Granados-Barba A, Solís-Weiss V, Tovar-Hernández MA, Ochoa-Rivera V (2003) Distribution and diversity of the Syllidae (Annelida: Polychaeta) from the Mexican Gulf of Mexico and Caribbean. Hydrobiologia 496(1–3):337–345

Green SJ, Côté IM (2009) Record densities of Indo-Pacific lionfish on Bahamian coral reefs. Coral Reefs 28(1):107

Green SJ, Akins JL, Maljković A, Côté IM (2012) Invasive lionfish drive Atlantic coral reef fish declines. PLoS One 7(3):e32596

Hamner RM, Freshwater DW, Whitfield PE (2007) Mitochondrial cytochrome b analysis reveals two invasive lionfish species with strong founder effects in the western Atlantic. J Fish Biol 71(sb):214–222

Johnston MW, Purkis SJ (2013) Modeling the potential spread of the recently identified non-native panther grouper (Cromileptes altivelis) in the Atlantic using a cellular automata approach. PLoS One 8(8):e73023

Johnston MW, Purkis SJ (2014) Are lionfish set for a Mediterranean invasion? Modelling explains why this is unlikely to occur. Mar Pollut Bull 88(1–2):138–147. doi:10.1016/j.marpolbul.2014.09.013

Johnston MW, Purkis SJ (2015a) Hurricanes accelerated the Florida-Bahamas lionfish invasion. Glob Change Biol 21:2249–2260

Johnston MW, Purkis SJ (2015b) A coordinated and sustained international strategy is required to turn the tide on the Atlantic lionfish invasion. Mar Ecol Prog Ser 533:219–235. doi:10.3354/meps11399

Jones GP (1987) Competitive interactions among adults and juveniles in a coral reef fish. Ecology 68:1534–1547

Jones BT, Gyory J, Grey EK, Bartlein M, Ko DS, Nero RW, Taylor CM (2015) Transport of blue crab larvae in the northern Gulf of Mexico during the Deepwater Horizon oil spill. Mar Ecol Prog Ser 527:143–156

Jordán-Dahlgren E (2002) Gorgonian distribution patterns in coral reef environments of the Gulf of Mexico: evidence of sporadic ecological connectivity? Coral Reefs 21(2):205–215

Jud ZR, Layman CA, Lee JA, Arrington AD (2011) Recent invasion of a Florida (USA) estuarine system by lionfish Pterois volitans/P. miles. Aquat Biol 13(1):21–26

Kavanagh KD (2000) Larval brooding in the marine damselfish Acanthochromis polyacanthus (Pomacentridae) is correlated with highly divergent morphology, ontogeny and life-history traits. Bull Mar Sci 66(2):321–337

Kavanagh KD, Alford RA (2003) Sensory and skeletal development and growth in relation to the duration of the embryonic and larval stages in damselfishes (Pomacentridae). Biol J Linn Soc 80(2):187–206

Kool JT, Paris CB, Andréfouët S, Cowen RK (2010) Complex migration and the development of genetic structure in subdivided populations: an example from Caribbean coral reef ecosystems. Ecography 33:597–606. doi:10.1111/j.1600-0587.2009.06012.x

Kourafalou VH, Peng G, Kang H, Hogan PJ, Smedstad OM, Weisberg RH (2009) Evaluation of global ocean data assimilation experiment products on South Florida nested simulations with the hybrid coordinate ocean model. Ocean Dyn 59(1):47–66

Mehta SV, Haight RG, Homans FR, Polasky S, Venette RC (2007) Optimal detection and control strategies for invasive species management. Ecol Econ 61(2):237–245

Ortiz-Lozano L, Pérez-España H, Granados-Barba A, González-Gándara C, Gutiérrez-Velázquez A, Martos J (2013) The reef Corridor of the Southwest Gulf of Mexico: challenges for its management and conservation. Ocean Coast Manag 86:22–32

Paris CB, Cowen RK (2004) Direct evidence of a biophysical retention mechanism for coral reef fish larvae. Limnol Oceanogr 49(6):1964–1979

Paris CB, Helgers J, Van Sebille E, Srinivasan A (2013) Connectivity modeling system: a probabilistic modeling tool for the multi-scale tracking of biotic and abiotic variability in the ocean. Environ Model Softw 42:47–54

Randall JE, Allen GR, Steene RC (1990) Fishes of the great barrier reef and coral sea. University of Hawai'i Press, Honolulu

Schofield PJ (2010) Update on geographic spread of invasive lionfishes (Pterois volitans [Linnaeus 1758] and P. miles [Bennett 1828]) in the Western North Atlantic Ocean, Caribbean Sea and Gulf of Mexico. Aquat Invasions 5(Suppl 1):S117–S122

Schumacher BD, Parrish JD (2005) Spatial relationships between an introduced snapper and native goatfishes on Hawaiian reefs*. Biol Invasions 7(6):925–933. doi:10.1007/s10530-004-2983-6

Setu SK, Kumar TA, Balasubramanian T, Dabbagh AR, Keshavarz M (2010) Breeding and rearing of regal damselfish Neopomacentrus cyanomos (Bleeker, 1856): the role of green water in larval survival. World J Fish Mar Sci 2(6):551–557

Sreeraj G, Gopakumar G (2004). Reproductive biology of the regal demoiselle Neopomacentrus cyanomos (Bleeker) 1856. In: Proceedings of national seminar on new frontiers in marine bioscience research, National Institute of Ocean Technology and Society of Bioscience, Jan 22-23, 2004 (pp. 255-266). Allied Publishers

Staaterman E, Paris CB, Helgers J (2012) Orientation behavior in fish larvae: a missing piece to Hjort's critical period hypothesis. J Theor Biol 304:188–196

Thresher RE, Colin PL, Bell LJ (1989) Planktonic duration, distribution and population structure of western and central Pacific damselfishes (Pomacentridae). Copeia 1989:420–434

USGS NAS (2015) United States Geological Survey—nonindigenous aquatic species database (USGS NAS). http://nas.er.usgs.gov. Accessed 1 July 2015

Wantiez L, Thollot P (2000) Settlement, post-settlement mortality and growth of the damselfish Chromis fumea (Pisces: Pomacentridae) on two artificial reefs in New Caledonia (south-west Pacific Ocean). J Mar Biol Assoc UK 80(06):1111–1118

Whitfield PE, Gardner T, Vives SP, Gilligan MR, Courtenay WR Jr, Ray GC, Hare JA (2002) Biological invasion of the Indo-Pacific lionfish Pterois volitans along the Atlantic coast of North America. Mar Ecol Prog Ser 235:289–297

Wonham MJ, Carlton JT, Ruiz GM, Smith LD (2000) Fish and ships: relating dispersal frequency to success in biological invasions. Mar Biol 136(6):1111–1121
Acknowledgments
Many thanks are due to the National Coral Reef Institute for their support of this research effort. We also thank Dr. Pamela Schofield who provided essential life-history information about this species and also valuable feedback when composing this manuscript. This is NCRI publication no. 179.
Additional information
Reviewed by undisclosed experts.
This article is part of the Topical Collection on Invasive Species.
Responsible Editor: E. Briski.
Electronic supplementary material
Below is the link to the electronic supplementary material.
Supplementary material 1 (MP4 262993 kb)
Supplementary material 2 (MP4 177638 kb)
About this article
Cite this article
Johnston, M.W., Akins, J.L. The non-native royal damsel (Neopomacentrus cyanomos) in the southern Gulf of Mexico: An invasion risk?. Mar Biol 163, 12 (2016) doi:10.1007/s00227-015-2777-7
Received:

Accepted:

Published:
Keywords
Reef Fish

Pelagic Larval Duration

Baseline Simulation

Invasion Pressure

Invasive Lionfish