Abstract
Mutations in the gene LMNA cause a wide spectrum of diseases that are now referred to laminopathies, such as muscular dystrophies, cardiomyopathies, and progeroid syndromes. Atypical progeroid syndrome (APS) is a type of progeroid syndrome mainly associated with LMNA mutations. Abnormal skeletal features associated with APS, such as osteoporosis and acroosteolysis, are rarely reported, and recurrent fractures have never been documented. We present a 16-year-old Chinese male patient with the typical features of APS, such as progeroid manifestations, cutaneous mottled hyperpigmentation, generalized lipodystrophy, and severe metabolic complications. The patient has also been detected with some rare and severe skeletal features, such as severe osteoporosis, generalized thinning of cortical bone, and recurrent femoral fractures. Genetic mutation detection in the LMNA gene revealed a de novo heterozygous mutation, the c. 29C>T (p. T10I).
This is a preview of subscription content, log in to check access.
Access options
Buy single article
Instant access to the full article PDF.
US$ 39.95
Price includes VAT for USA
Subscribe to journal
Immediate online access to all issues from 2019. Subscription will auto renew annually.
US$ 199
This is the net price. Taxes to be calculated in checkout.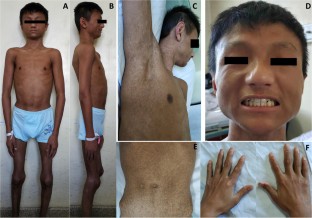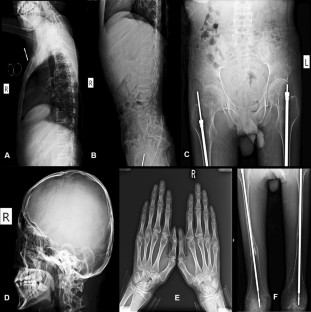 References
1.

Burtner CR, Kennedy BK (2010) Progeria syndromes and ageing: what is the connection? Nat Rev Mol Cell Biol 11(8):567–578

2.

Merideth MA et al (2008) Phenotype and course of Hutchinson-Gilford progeria syndrome. N Engl J Med 358(6):592–604

3.

Mory PB et al (2012) Phenotypic diversity in patients with lipodystrophy associated with LMNA mutations. Eur J Endocrinol 167(3):423–431

4.

Garg A et al (2009) Atypical progeroid syndrome due to heterozygous missense LMNA mutations. J Clin Endocrinol Metab 94(12):4971–4983

5.

Xia W et al (2019) Clinical and genetic analysis in a large Chinese cohort of patients with X-linked hypophosphatemia. Bone 121:212–220

6.

Guan H et al (2017) Reference and influential factors of serum bone markers in Chinese adolescents. Sci Rep 7(1):17340

7.

Liao EY et al (2008) Differences in male and female children and adolescents of acquisition with bone density in Changsha. Chin J Osteoporosis 14(12):865–874

8.

Capell BC, Collins FS (2006) Human laminopathies: nuclei gone genetically awry. Nat Rev Genet 7(12):940–952

9.

Broers JL et al (2006) Nuclear lamins: laminopathies and their role in premature ageing. Physiol Rev 86(3):967–1008

10.

Simha V et al (2003) Genetic and phenotypic heterogeneity in patients with mandibuloacral dysplasia-associated lipodystrophy. J Clin Endocrinol Metab 88(6):2821–2824

11.

Cenni V et al (2018) Mandibuloacral dysplasia: a premature ageing disease with aspects of physiological ageing. Ageing Res Rev 42:1–13

12.

Hussain I et al (2018) A novel generalized lipodystrophy-associated progeroid syndrome due to recurrent heterozygous LMNA p.T10I mutation. J Clin Endocrinol Metab 103(3):1005–1014

13.

Cabanillas R et al (2011) Nestor-Guillermo progeria syndrome: a novel premature aging condition with early onset and chronic development caused by BANF1 mutations. Am J Med Genet A 155A(11):2617–2625

14.

Cunningham VJ et al (2010) Skeletal phenotype of mandibuloacral dysplasia associated with mutations in ZMPSTE24. Bone 47(3):591–597
Acknowledgements
We are grateful to the patient and his family for their collaboration.
Ethics declarations
Conflict of interest
Ruizhi Jiajue, Kai Feng, Rui Wang, and Weibo Xia declare that they don't have conflict of interest in this work.
Human and Animal Rights and Informed Consent
All procedures performed in studies involving human participants were in accordance with the ethical standards of the Department of Scientific Research and the ethics committee in PUMCH and with the 1964 Helsinki declaration and its later amendments or comparable ethical standards.
Additional information
Publisher's Note
Springer Nature remains neutral with regard to jurisdictional claims in published maps and institutional affiliations.
About this article
Cite this article
Jiajue, R., Feng, K., Wang, R. et al. Recurrent Femoral Fractures in a Boy with an Atypical Progeroid Syndrome: A Case Report. Calcif Tissue Int 106, 325–330 (2020). https://doi.org/10.1007/s00223-019-00639-5
Received:

Accepted:

Published:

Issue Date:
Keywords
Atypical progeroid syndrome

Osteoporosis

Femoral fractures

Diabetes

Lipodystrophy