Abstract
Loess Plateau is a new rapidly developing wine region in China, but wine style from this region is rarely studied. The aroma typicalies and differences of Cabernet Sauvignon wines between Loess Plateau and other three main regions (Shandong, Ningxia and Xinjiang) in China were comprehensively analyzed by Quantitative Descriptive Analysis (QDA®), Napping® and Gas Chromatography–Olfactometry (GC–O) analysis. Results showed that differences existed between wines from Loess Plateau and other three regions in China based on their aroma characteristics. The results of QDA® and Napping® revealed that wines from Loess Plateau had richer fruity aroma, especially the typical hawthorn aroma. A similar result showed that the fruity compounds had higher flavor dilution factors in wines from Loess Plateau by aroma extract dilution analysis. Identified by GC–O and gas chromatography–mass spectrometric, ethyl butanoate, isoamyl formate and butyl acetate were key compounds for the fruity aroma of wines from Loess Plateau.
This is a preview of subscription content, log in to check access.
Access options
Buy single article
Instant access to the full article PDF.
US$ 39.95
Price includes VAT for USA
Subscribe to journal
Immediate online access to all issues from 2019. Subscription will auto renew annually.
US$ 199
This is the net price. Taxes to be calculated in checkout.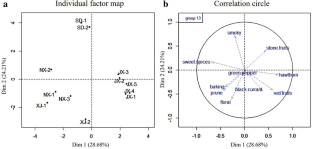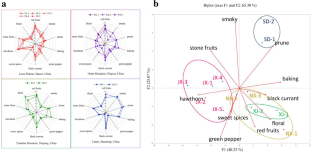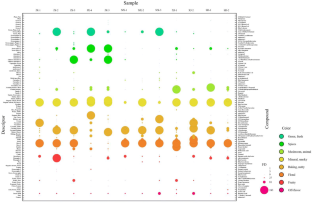 References
1.

Tang K, Xi YR, Ma Y et al (2019) Chemical and sensory characterization of Cabernet Sauvignon wines from the Chinese Loess Plateau region. Molecules 24:1122

2.

King ES, Stoumen M, Buscema F et al (2014) Regional sensory and chemical characteristics of Malbec wines from Mendoza and California. Food Chem 143:256–267

3.

Famularo B, Bruwer J, Li E (2010) Region of origin as choice factor: wine knowledge and wine tourism involvement influence. Int J Wine Bus Res 22:362–385

4.

Stone H, Sidel J, Oliver S et al (1998) Sensory evaluation by quantitative descriptive analysis. Wiley-Blackwell, Hoboken, pp 23–34

5.

Sánchez-Palomo E, Trujillo M, García Ruiz A et al (2017) Aroma profile of malbec red wines from La Mancha region: chemical and sensory characterization. Food Res Int 100:201–208

6.

Pages J (2003) Direct collection of sensory distances: application to the evaluation of ten white wines of the Loire Valley. Sci Aliments 23(5–6):679–688

7.

Perrin L, Symoneaux R, Maître I et al (2008) Comparison of three sensory methods for use with the Napping® procedure: case of ten wines from Loire valley. Food Qual Prefer 19:1–11

8.

Oliver P, Cicerale S, Pang E et al (2018) Comparison of quantitative descriptive analysis to the napping methodology with and without product training. J Sens Stud 33:e12331

9.

Fuller GH, Steltenkamp R, Tisserand GA (1964) The gas chromatograph with human sensor: perfumer model. Ann N Y Acad Sci 116:711–724

10.

Grosch W (1993) Detection of potent odorants in foods by aroma extract dilution analysis. Trends Food Sci Technol 4:68–73

11.

Song H, Liu J (2018) GC–O–MS technique and its applications in food flavor analysis. Food Res Int 114:187–198

12.

Fariña L, Villar V, Ares G et al (2015) Volatile composition and aroma profile of Uruguayan Tannat wines. Food Res Int 69:244–255

13.

Carlin S, Vrhovsek U, Franceschi P et al (2016) Regional features of northern Italian sparkling wines, identified using solid-phase micro extraction and comprehensive two-dimensional gas chromatography coupled with time-of-flight mass spectrometry. Food Chem 208:68–80

14.

Sánchez-Palomo E, Trujillo M, Ruiz AG et al (2017) Aroma profile of malbec red wines from La Mancha region: chemical and sensory characterization. Food Res Int 100:201–208

15.

Tao Y, Liu Y, Li H (2009) Sensory characters of Cabernet Sauvignon dry red wine from Changli County (China). Food Chem 114:565–569

16.

Cui Y, Wang W, Zhang FQ et al (2012) Comparative analysis of the aroma compounds of Muscat Hamburg dry white wines from different wine regions in China. Adv Mater Res 554–556:1581–1584

17.

Huang L, Ma Y, Tian X et al (2018) Chemosensory characteristics of regional Vidal icewines from China and Canada. Food Chem 261:66–74

18.

ISO-8586-2 (2008) Sensory analysis: general guidance for the selection, training and monitoring of assessors. Expert sensory assessors. International Organization for Standardization

19.

Nicolli KP, Biasoto ACT, Souza-Silva EA et al (2018) Sensory, olfactometry and comprehensive two-dimensional gas chromatography analyses as appropriate tools to characterize the effects of vine management on wine aroma. Food Chem 243:103–117

20.

Ahn YY, Ahnert S, Bagrow J et al (2011) Flavor network and the principles of food pairing. Sci Rep 1:196

21.

ISO-4121. (2003) Sensory analysis-guidelines for the use of quantitative response scales. International Organization for Standardization.

22.

Yue M, Ke T, Yan X et al (2017) Characterization of the key aroma compounds in Chinese Vidal Icewine by gas chromatography–olfactometry, quantitative measurements, aroma recombination and omission tests. J Agric Food Chem 65:394–401

23.

Cates VE, Meloan CE (1963) Separation of sulfones by Gas Chromatography. J Chromatogr A 11:472–478

24.

Sebastien LE, Husson F (2010) Sensominer: a package for sensory data analysis. J Sens Stud 23:14–25

25.

Morand E, Pages J (2006) Procrustes multiple factor analysis to analyse the overall perception of food products. Food Qual Prefer 17:36–42

26.

Yue TX, Chi M, Song CZ et al (2015) Aroma characterization of Cabernet Sauvignon wine from the Plateau of Yunnan (China) with different altitudes using SPME-GC/MS. Int J Food Prop 18:1584–1596

27.

Liu P, Kallio H, Lü D et al (2010) Acids, sugars, and sugar alcohols in Chinese hawthorn (Crataegus spp.) fruits. J Agric Food Chem 58:1012–1019

28.

Tunde J, Jiri S, Otakar R et al (2012) Polyphenolic profile and biological activity of Chinese hawthorn (Crataegus pinnatifida BUNGE) fruits. Molecules 17:14490–14509

29.

Tang K, Lei Ma, Han YH et al (2015) Comparison and chemometric analysis of the phenolic compounds and organic acids composition of Chinese wines. J Food Sci 80:C20–C28

30.

Hervé E, Price S, Burns G (2003) Eucalyptol in wines showing a "eucalyptus" aroma. In Proceedings of VIIeme Symposium International' d'Oenologie, Bordeaux, France.

31.

Tian TT, Wang JW, Wu ZL et al (2014) Effect of different extraction method on the identification of aromatic components of hawthorn juice. Sci Tech Food Ind 35(18):153–156

32.

Zhang JS, Zhang WY, Liu CY et al (2006) Analysis of chemical components in natural hawthorn perfume produced by biological technology. Fine Chem 23:977–979

33.

Xie B (1997) Studies on volatile compounds of Hawthorn. Food Ferment Ind 2:42–46

34.

Zhu J, Xiao Z (2018) Characterization of odor-active volatiles in hawthorn puree using thermal desorption system coupled to gas chromatography–mass spectrometry–olfactometry and gc-flame photometric detector. J Agric Food Chem 266:12296–12305

35.

Kalua CM (2009) Evolution of volatile compounds during the development of Cabernet Sauvignon grapes Vitis vinifera L. J Agric Food Chem 9(57):3818–3830

36.

Kalua CM, Boss PK (2010) Comparison of major volatile compounds from Riesling and Cabernet Sauvignon grapes (Vitis vinifera L.) from fruitset to harvest. Aust J Grape Wine Res 16:337–348

37.

Capone DL, Van Leeuwen K, Taylor DK et al (2011) Evolution and occurrence of 1,8-Cineole (Eucalyptol) in Australian Wine. J Agric Food Chem 59:953–959

38.

Antalick G, Tempere S, Suklje K et al (2016) 1,4-cineole: a contributor to Australian Cabernet Sauvignon typicality. Wine Viticul J 31(1):24–27
Acknowledgements
This work was supported by National Key R&D Program (2016YFD0400504), and National First-class Discipline Program of Light Industry Technology and Engineering (LITE2018-012). All wine samples were provided by Chateau Rongzi Company.
Ethics declarations
Conflict of interest
The authors declare no conflict of interest.
Compliance with ethics requirements
This article does not contain any studies with human or animal subjects.
Additional information
Publisher's Note
Springer Nature remains neutral with regard to jurisdictional claims in published maps and institutional affiliations.
About this article
Cite this article
Tang, K., Tian, X., Ma, Y. et al. Aroma characteristics of Cabernet Sauvignon wines from Loess Plateau in China by QDA®, Napping® and GC–O analysis. Eur Food Res Technol (2020). https://doi.org/10.1007/s00217-020-03448-5
Received:

Revised:

Accepted:

Published:
Keywords
Cabernet sauvignon

Loess plateau region

Aroma characterization

Comprehensive sensory analysis