Isolation and purification of five phenolic compounds from the Xinjiang wine grape (Vitis Vinifera) and determination of their antioxidant mechanism at cellular level
Abstract
Xinjiang wine grapes (Vitis Vinifera) are extraordinarily rich sources of stilbenes. In this study, two pair of isomers of resveratrol dimers trans-ε-viniferin (1) and (+)-cis-ε-viniferin (2), astilbin (4) and isoastilbin (5), and resveratrol tetramer (−)-hopeaphenol (3) were isolated and purified. Their structures were determined by means of nuclear magnetic resonance and mass spectrometry analysis. Then, cellular antioxidant activity of the five phenolic compounds was evaluated in human hepatoma (Hep G2) cells. Results indicated that (4) has the strongest antioxidant activity (10 µg/mL), while (5) is the weakest one. Mechanism process of antioxidant at genes expression was elaborated by real-time quantitative PCR, which showed that the five stilbenes could down-regulation of oxidative stress genes and apoptosis genes. Therefore, this study provides the useful evidence for these compounds to develop the functional foods and nutritional supplements.
Graphical abstract
Five phenolic compounds,
trans
-ε-viniferin (
1
) and (+)-
cis
-ε-viniferin (
2
), astilbin (
4
) and isoastilbin (
5
), resveratrol tetramer (−)-hopeaphenol (
3
) were isolated and purified. These five compounds have a significantly reduced effect on oxidative stress genes at cellular level by real-time quantitative PCR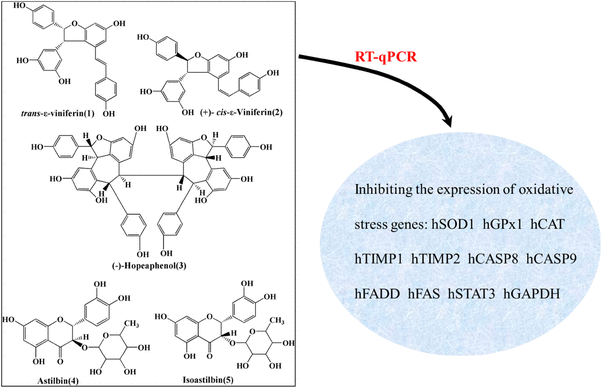 Keywords
Xinjiang wine grape 
Isolation 
Purification 
Phenolic compounds 
Cell-based antioxidant activity 
Real-time quantitative PCR 
Notes
Acknowledgements
This work was financially supported by National Natural Sciences Foundation of China (31671904, 31460411, 2136202 and 31260402), the Fundamental Research Funds for the Central Universities (GK201603095), Agricultural Science and Technology Innovation and Research (2016NY-184 and 2016NY-195), and Oversea Scholarship Program of Shaanxi Normal University.
Compliance with ethical standards
Conflict of interest
The authors declare that they have no conflict of interest.
Compliance with ethics requirements
This article does not contain any studies with human or animal subjects.
Copyright information
© Springer-Verlag GmbH Germany, part of Springer Nature 2018