Abstract
Cytochrome P450 (CYP450) and 5′-diphosphate glucuronosyltransferases (UGT) are the two major families of drug-metabolizing enzymes in the human liver microsome (HLM). As a result of their frequent abundance fluctuation among populations, the accurate quantification of these enzymes in different individuals is important for designing patient-specific dosage regimens in the framework of precision medicine. The preparation and quantification of internal standards is an essential step for the quantitative analysis of enzymes. However, the commonly employed stable isotope labeling-based strategy (QconCAT) suffers from requiring very expensive isotopic reagents, tedious experimental procedures, and long labeling times. Furthermore, arginine-to-proline conversion during metabolic isotopic labeling compromises the quantification accuracy. Therefore, we present a new strategy that replaces stable isotope-labeled amino acids with lanthanide labeling for the preparation and quantification of QconCAT internal standard peptides, which leads to a threefold reduction in the reagent costs and a fivefold reduction in the time consumed. The absolute amount of trypsin-digested QconCAT peptides can be obtained by lanthanide labeling and inductively coupled plasma–optical emission spectrometry (ICP-OES) analysis with a high quantification accuracy (%RE < 20%). By taking advantage of the highly selective and facile ICP-OES procedure and multiplexed large-scale absolute target protein quantification using biological mass spectrometry, this strategy was successfully used for the absolute quantification of drug-metabolizing enzymes. We obtained good linearity (correlation coefficient > 0.95) over concentrations spanning 2.5 orders of magnitude with improved sensitivity (limit of quantification = 2 fmol) in nine HLM samples, indicating the potential of this method for large-scale absolute target protein quantification in clinical samples.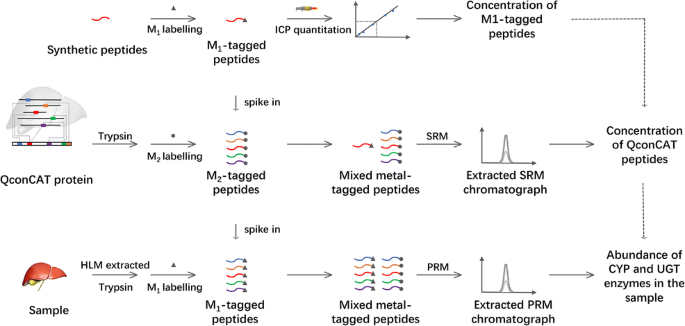 This is a preview of subscription content, log in to check access.
Access options
Buy single article
Instant access to the full article PDF.
US$ 39.95
Price includes VAT for USA
Subscribe to journal
Immediate online access to all issues from 2019. Subscription will auto renew annually.
US$ 157
This is the net price. Taxes to be calculated in checkout.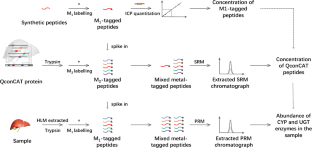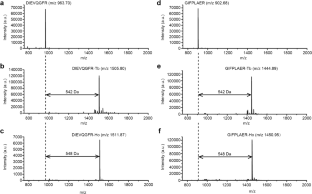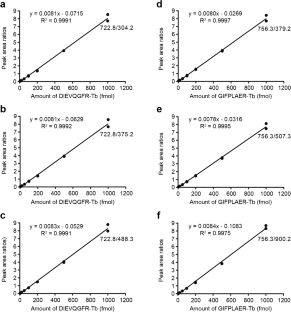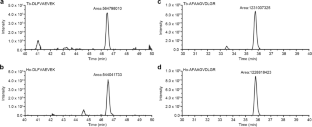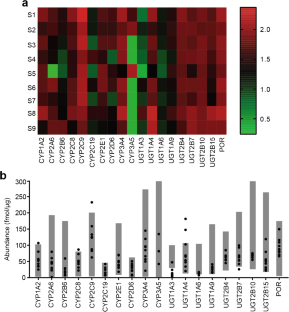 Acknowledgements
This study was supported by the National Key R&D Program of China (No. 2017YFA0505002, 2018YFF0212505, 2018YFC0910302, 2016YFA0501403, and 2017YFC0906703), the National Key Laboratory of Proteomics Grant SKLP-K201706 and the National Natural Science Foundation of China (No. 21675172) and Innovation Project 16CXZ207. The authors would also like to thank the Shiyanjia Lab (www.shiyanjia.com) for the ICP-OES analysis.
Ethics declarations
Conflict of interest
The authors declare that they have no conflicts of interest.
Additional information
Publisher's note
Springer Nature remains neutral with regard to jurisdictional claims in published maps and institutional affiliations.
Electronic supplementary material
About this article
Cite this article
Lv, Y., Zhang, H., Wang, G. et al. A novel mass spectrometry method for the absolute quantification of several cytochrome P450 and uridine 5′-diphospho-glucuronosyltransferase enzymes in the human liver. Anal Bioanal Chem (2020). https://doi.org/10.1007/s00216-020-02445-7
Received:

Revised:

Accepted:

Published:
Keywords
QconCAT

Absolute quantification

Lanthanide element labeling

Mass spectrometry

Drug-metabolizing enzymes