A hyaluronic acid fluorescent hydrogel based on fluorescence resonance energy transfer for sensitive detection of hyaluronidase
Abstract
Due to its important role in tumor development and treatment, hyaluronidase (HAase) has been widely investigated in vitro and in vivo. However, such investigation was limited by the absence of sensitive and in situ detection methods. Herein, a hyaluronic acid (HA) hydrogel based on the fluorescence resonance energy transfer (FRET) effect was constructed for the detection of HAase. FITC and AuNPs were covalently coupled with two HA derivatives respectively to form a fluorescent donor-acceptor pair. In the presence of HAase, the hydrogel established by cross-linking of HA derivatives was hydrolyzed specifically. The FRET effect in the hydrogel disappeared and the fluorescence intensity increased proportionally with the changes in the concentration of the HAase. Experiments proved that the HAase sensing system had a wide response range (0.5–100 U/mL), good anti-interference, and excellent biocompatibility. When the hydrogel was used for 3D culture of lung cancer cells, in situ fluorescent response could be achieved.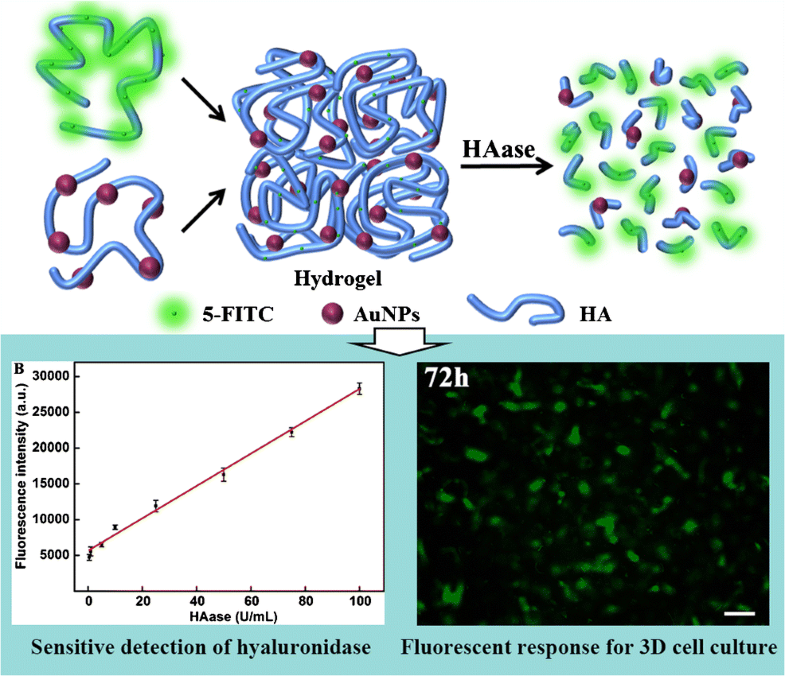 Keywords
Fluorescent sensor 
Hyaluronic acid 
Fluorescence resonance energy transfer 
Hydrogel 
Hyaluronidase 
Notes
Funding
The author(s) disclosed receipt of the following financial support for the research, authorship, and/or publication of this article: This work was funded and supported by grants from National Natural Science Foundation of China (No. 21876198), National Science and Technology Major Project of China (2017ZX10302301-003), National Key R&D Program of China (2017YFF0108600), and Natural Science Foundation of Shandong Province (ZR2019QB021).
Compliance with ethical standards
Conflict of interest
The authors declare that they have no conflicts of interest.
Copyright information
© Springer-Verlag GmbH Germany, part of Springer Nature 2020