A large-Stokes-shift fluorescent probe for Zn2+ based on AIE, and application in live cell imaging
Abstract
A fluorescence-enhanced sensor based on aggregation-induced emission (AIE) was synthesized using a di(2-picolyl)amine (DPA) group as a highly selective metal chelating agent for Zn2+. The combination of the probe and Zn2+ was achieved in an environment where the volume fraction of water was 90%, giving the probe good biocompatibility, and a large Stokes shift (100 nm) occurred after Zn2+ was combined with the probe. The obvious color change makes the probe visible to the naked eye, and gives it a high signal-to-noise ratio, and high contrast, and minimizes self-absorption. Because of the high selectivity of the DPA group to Zn2+, the sensitivity of the probe to detect Zn2+ has been improved. The mechanism of the formation of complexes between the probe and Zn2+ was confirmed by nuclear magnetic resonance spectroscopy (NMR), high-resolution mass spectrometry (HRMS), and particle size distribution. Under the optimal experimental conditions, the linear fluorescence reaction of Zn2+ was good, between 0.2 and 18 μM, and the detection limit was 1.3 × 10−7 M. The low toxicity and excellent membrane permeability of the probe in living cells enable it to be efficiently applied for Zn2+ imaging in cells.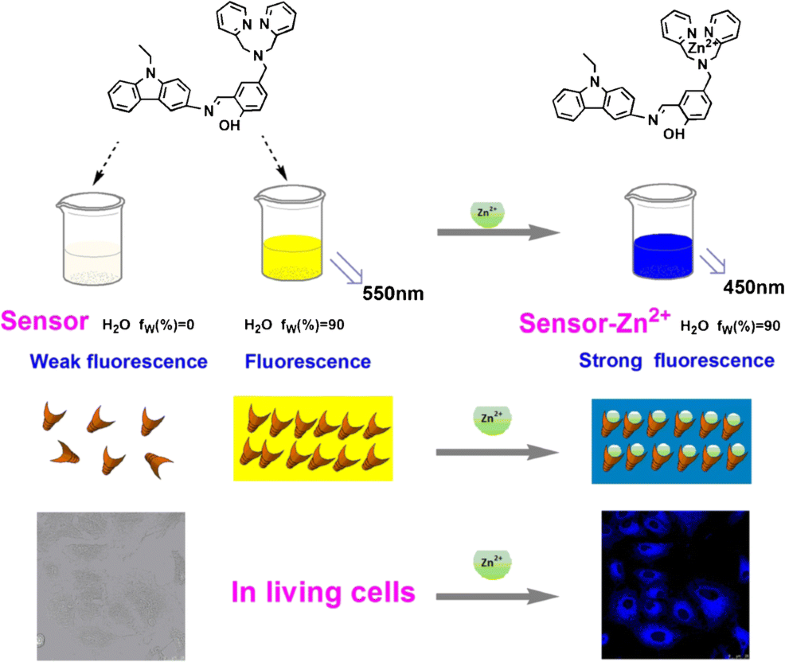 Keywords
Fluorescent probe 
Stokes shift 
Cell imaging 
Zn2+ 
Notes
Compliance with ethical standards
Conflict of interest
The authors declare that they have no conflict of interest.
Statement concerning human and animal rights
In this study, only urine samples from laboratory personnel were used, and each participant signed informed consent. The samples were used solely for this study. No markers were used that contained personally identifying information of donors. Animals were not involved in this study.
Copyright information
© Springer-Verlag GmbH Germany, part of Springer Nature 2020