Abstract
We report a method for preparing flexible substrates based on 3D Ag nanodendrites (Ag NDs)/carbon fiber cloth substrate with superhydrophobic surface. Ag NDs were deposited on carbon fiber cloth by electrochemical deposition, and the superhydrophobicity of the surface was achieved by low surface energy modification. The cylinder shape of the carbon fiber provides a three-dimensional structure for Ag NDs, increasing the "hot spot" effect, and is the excellent choice as SERS substrate. At the same time, micro/nanostructures provided by fibers and nanodendrites can easily obtain ultra-wet surfaces. The analyte solution can be directly detected in a droplet onto the superhydrophobic surface without pretreatment, which greatly shortens the detection time. The lowest concentration of crystal violet (CV) that can be detected is 10−10 M, demonstrating good SERS sensitivity of the prepared substrate. It was successfully applied in simultaneous detection of at least three molecules. Thiram and malachite green (MG) can be detected simultaneously in real lake water. Moreover, the conductivity, physical flexibility, and stability of the flexible carbon fiber cloth gives this substrate potential in other fields such as electrochemistry.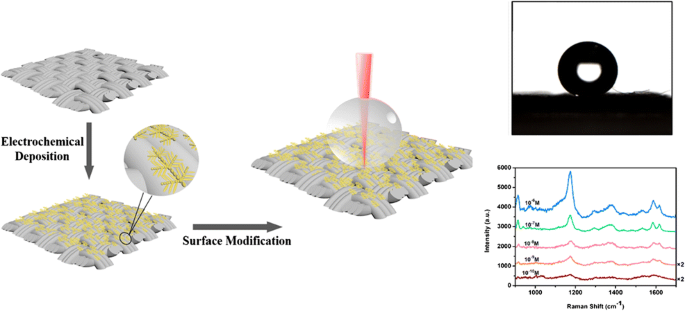 This is a preview of subscription content, log in to check access.
Access options
Buy single article
Instant access to the full article PDF.
US$ 39.95
Price includes VAT for USA
Subscribe to journal
Immediate online access to all issues from 2019. Subscription will auto renew annually.
US$ 157
This is the net price. Taxes to be calculated in checkout.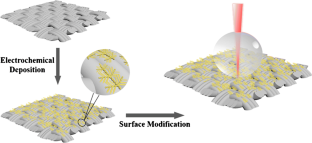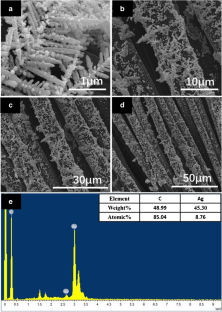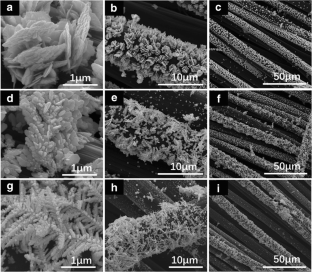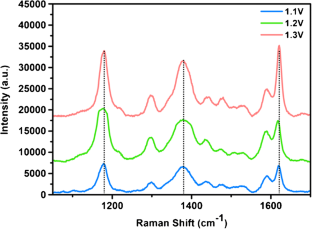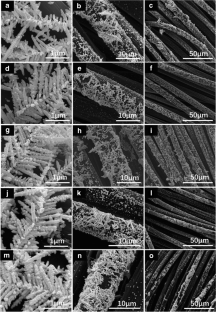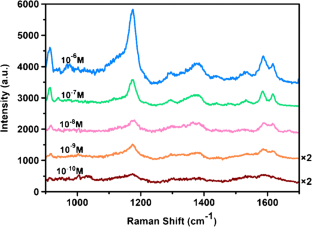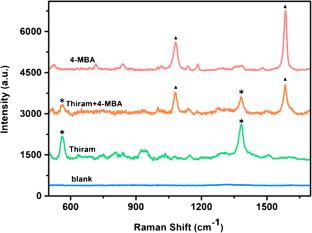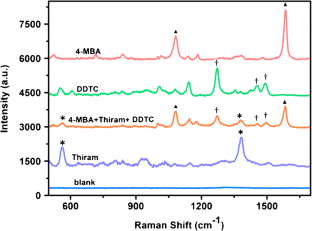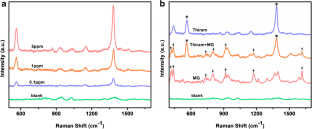 References
1.

Peica N, Pavel I, Pinzaru SC, Rastogi VK, Kiefer W. Vibrational characterization of E102 food additive by Raman and surface-enhanced Raman spectroscopy and theoretical studies. J Raman Spectrosc. 2005;36(6–7):657–66.

2.

Jiang L, Gu K, Liu R, Jin S, Wang H, Pan C. Rapid detection of pesticide residues in fruits by surface-enhanced Raman scattering based on modified QuEChERS pretreatment method with portable Raman instrument. SN Appl Sciences. 2019;1(6):627.

3.

Su J, Wang DF, Norbel L, Shen JL, Zhao ZH, Dou YZ, et al. Multicolor gold silver nano-mushrooms as ready-to-use SERS probes for ultrasensitive and multiplex DNA/miRNA detection. Anal Chem. 2017;89(4):2531–8.

4.

Cheng J, Wang S, Zhang S, Wang PL, Xie JC, Han CQ, et al. Rapid and sensitive determination of clenbuterol residues in animal urine by surface-enhanced Raman spectroscopy. Sensor Actuat B-Chem. 2019;279:7–14.

5.

Zhang CM, Liang X, You TT, Yang N, Gao YK, Yin PG. An ultrasensitive "turn-off" SERS sensor for quantitatively detecting heparin based on 4-mercaptobenzoic acid functionalized gold nanoparticles. Anal Methods. 2017;9(17):2517–22.

6.

Kim DJ, Park SG, Kim DH, Kim SH. SERS-active-charged microgels for size- and charge-selective molecular analysis of complex biological samples. Small. 2018;14(40):10.

7.

Kim NH, Hwang W, Baek K, Rohman MR, Kim J, Kim HW, et al. Smart SERS hot spots: single molecules can be positioned in a plasmonic nanojunction using host-guest chemistry. J Am Chem Soc. 2018;140(13) jacs.8b01501.

8.

Liu GQ, Duan GT, Jia LC, Wang JJ, Wang HZ, Cai WP, et al. Fabrication of self-standing silver nanoplate arrays by seed-decorated electrochemical route and their structure-induced properties. J Nanomater. 2013;7.

9.

Fang JX, Yi Y, Ding BJ, Song XP. A route to increase the enhancement factor of surface enhanced Raman scattering (SERS) via a high density Ag flower-like pattern. Appl Phys Lett. 2008;92(13):3.

10.

Plowman B, Ippolito SJ, Bansal V, Sabri YM, O'Mullane AP, Bhargava SK. Gold nanospikes formed through a simple electrochemical route with high electrocatalytic and surface enhanced Raman scattering activity. Chem Commun. 2009;33:5039–41.

11.

Duy PK, Yen PTH, Chun S, Ha VTT, Chung H. Carbon fiber cloth-supported Au nanodendrites as a rugged surface-enhanced Raman scattering substrate and electrochemical sensing platform. Sensor Actuat B-Chem. 2016;225:377–83.

12.

Warsi MF, Shakir I, Shahid M, Sarfraz M, Nadeem M, Gilani ZA. Conformal coating of cobalt-nickel layered double hydroxides nanoflakes on carbon fibers for high-performance electrochemical energy storage supercapacitor devices. Electrochim Acta. 2014;135:513–8.

13.

Yu ZY, Chen LF, Yu SH. Growth of NiFe2O4 nanoparticles on carbon cloth for high performance flexible supercapacitors. J Mater Chem A. 2014;2(28):10889–94.

14.

Wang ZR, Wang H, Liu B, Qiu WZ, Zhang J, Ran SH, et al. Transferable and flexible nanorod-assembled TiO2 cloths for dye-sensitized solar cells, photodetectors, and photocatalysts. ACS Nano. 2011;5(10):8412–9.

15.

Chen T, Li XW, Qiu CC, Zhu WC, Ma HY, Chen SH, et al. Electrochemical sensing of glucose by carbon cloth-supported Co3O4/PbO2 core-shell nanorod arrays. Biosens Bioelectron. 2014;53:200–6.

16.

Gao YK, You TT, Yang N, Zhang CM, Yin PG. Superhydrophobic 3D forest-like Ag microball/nanodendrite hierarchical structure as SERS sensor for rapid droplets detection. Adv Mater Interfaces. 2019;6(8):8.

17.

Zheng YM, Han D, Zhai J, Jiang L. In situ investigation on dynamic suspending of microdroplet on lotus leaf and gradient of wettable micro- and nanostructure from water condensation. Appl Phys Lett. 2008;92(8):3.

18.

Patankar NA. Mimicking the lotus effect: influence of double roughness structures and slender pillars. Langmuir. 2004;20(19):8209–13.

19.

Feng L, Zhang YA, Xi JM, Zhu Y, Wang N, Xia F, et al. Petal effect: a superhydrophobic state with high adhesive force. Langmuir. 2008;24(8):4114–9.

20.

Wang Z, Lei F, Xiao D, Ning L, Yao L, Cao D, et al. Silver nanoislands over silica spheres platform: enriching trace-amount analytes for ultrasensitive and reproducible SERS detections. Nanoscale. 2017. https://doi.org/10.1039/C7NR06987A.

21.

George JE, Unnikrishnan VK, Mathur D, Chidangil S, George SD. Flexible superhydrophobic SERS substrates fabricated by in situ reduction of Ag on femtosecond laser-written hierarchical surfaces. Sensor Actuat B-Chem. 2018;272:485–93.

22.

Shang B, Wang YB, Yang P, Peng B, Deng ZW. Synthesis of superhydrophobic polydopamine-Ag microbowl/nanoparticle array substrates for highly sensitive, durable and reproducible surface-enhanced Raman scattering detection. Sensor Actuat B-Chem. 2018;255:995–1005.

23.

Xu DR, Teng F, Wang ZS, Lu N. Droplet-confined electroless deposition of silver nanoparticles on ordered superhydrophobic structures for high uniform SERS measurements. ACS Appl Mater Interfaces. 2017;9(25):21548–53.

24.

Kang H, Heo YJ, Kim DJ, Kim JH, Jeon TY, Cho S, et al. Droplet-guiding superhydrophobic arrays of plasmonic microposts for molecular concentration and detection. ACS Appl Mater Interfaces. 2017;9(42):37201–9.

25.

Li HZ, Yang Q, Hou J, Li YA, Li MZ, Song YL. Bioinspired micropatterned superhydrophilic Au-areoles for surface-enhanced Raman scattering (SERS) trace detection. Adv Funct Mater. 2018;28(21):7.

26.

Cheung M, Lee WWY, McCracken JN, Larmour IA, Brennan S, Bell SEJ. Raman analysis of dilute aqueous samples by localized evaporation of submicroliter droplets on the tips of superhydrophobic copper wires. Anal Chem. 2016;88(8):4541–7.

27.

Ben-Jacob E, Garik P. The formation of patterns in non-equilibrium growth. Nature. 1990;343(6258):523–30.

28.

Mullins WW, Sekerka RF. Morphological stability of a particle growing by diffusion or heat flow. J Appl Phys. 1963;34(2):323–9.

29.

Wang SQ, Xu LP, Wen YQ, Du HW, Wang ST, Zhang XJ. Space-confined fabrication of silver nanodendrites and their enhanced SERS activity. Nanoscale. 2013;5(10):4284–90.

30.

Saleema N, Sarkar DK, Gallant D, Paynter RW, Chen XG. Chemical nature of superhydrophobic aluminum alloy surfaces produced via a one-step process using fluoroalkyl-silane in a base medium. Acs Appl Mater Inter. 2011;3(12):4775–81.

31.

Xiao F, Yuan SJ, Liang B, Li GQ, Pehkonen SO, Zhang TJ. Superhydrophobic CuO nanoneedle-covered copper surfaces for anticorrosion. J Mater Chem A. 2015;3(8):4374–88.

32.

Su Y, Xu ST, Zhang JA, Chen XJ, Jiang LP, Zheng TT, et al. Plasmon near-field coupling of bimetallic nanostars and a hierarchical bimetallic SERS "hot field": toward ultrasensitive simultaneous detection of multiple cardiorenal syndrome biomarkers. Anal Chem. 2019;91(1):864–72.

33.

Zhu CH, Meng GW, Zheng P, Huang Q, Li ZB, Hu XY, et al. A hierarchically ordered array of silver-nanorod bundles for surface-enhanced Raman scattering detection of phenolic pollutants. Adv Mater. 2016;28(24):4871–6.

34.

Yaseen T, Pu HB, Sun DW. Fabrication of silver-coated gold nanoparticles to simultaneously detect multi-class insecticide residues in peach with SERS technique. Talanta. 2019;196:537–45.
Funding
This work was supported by the National Natural Science Foundation of China (51572009, 51872011, 51902011).
Ethics declarations
Conflict of interest
The authors declare that they have no conflicts of interest.
Additional information
Publisher's note
Springer Nature remains neutral with regard to jurisdictional claims in published maps and institutional affiliations.
Electronic supplementary material
About this article
Cite this article
Lu, S., You, T., Yang, N. et al. Flexible SERS substrate based on Ag nanodendrite–coated carbon fiber cloth: simultaneous detection for multiple pesticides in liquid droplet. Anal Bioanal Chem 412, 1159–1167 (2020). https://doi.org/10.1007/s00216-019-02344-6
Received:

Accepted:

Published:

Issue Date:
Keywords
SERS

Superhydrophobicity

Ag nanodendrites

Flexible substrate

Carbon fiber cloth