Mass spectrometry of in-gel digests reveals differences in amino acid sequences of high-molecular-weight glutenin subunits in spelt and emmer compared to common wheat
Abstract
High-molecular-weight glutenin subunits (HMW-GS) play an important role for the baking quality of wheat. The ancient wheats emmer and spelt differ in their HMW-GS pattern compared to modern common wheat and this might be one reason for their comparatively poor baking quality. The aim of this study was to elucidate similarities and differences in the amino acid sequences of two 1Bx HMW-GS of common wheat, spelt and emmer. First, the sodium dodecyl polyacrylamide gel electrophoresis (SDS-PAGE) system was optimized to separate common wheat, spelt and emmer Bx6 and Bx7 from other HMW-GS (e.g., 1Ax and 1By) in high concentrations. The in-gel digests of the Bx6 and Bx7 bands were analyzed by untargeted LC-MS/MS experiments revealing different UniProtKB accessions in spelt and emmer compared to common wheat. The HMW-GS Bx6 and Bx7, respectively, of emmer and spelt showed differences in the amino acid sequences compared to those of common wheat. The identities of the peptide variations were confirmed by targeted LC-MS/MS. These peptides can be used to differentiate between Bx6 and Bx7 of spelt and emmer and Bx6 and Bx7 of common wheat. The findings should help to increase the reliability and curation status of wheat protein databases and to understand the effects of protein structure on the functional properties.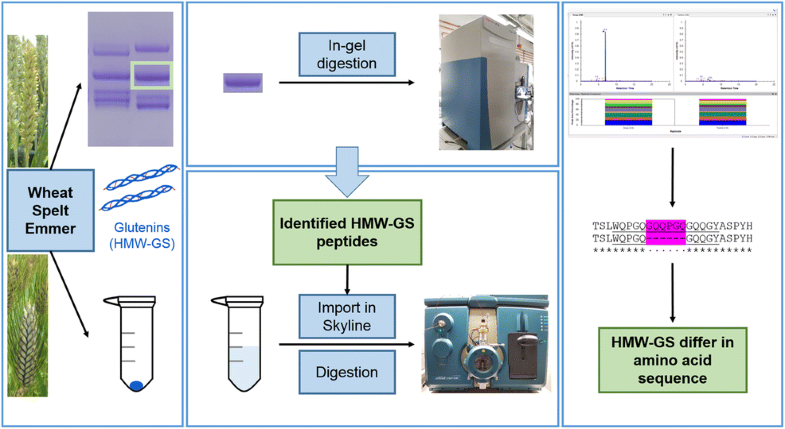 Keywords
High-molecular-weight glutenin subunits (HMW-GS) 
LC-MS/MS 
Proteomics 
SDS-PAGE 
Wheat 
Notes
Acknowledgments
The authors thank Sami Kaviani-Nejad and Katharina Booz (Leibniz-LSB@TUM) and Bert Schipper (Wageningen UR) for excellent technical assistance.
Author contributions
All authors contributed to the study conception and design. Experimental work, data analysis, and preparation of tables and figures were performed by Sabrina Geisslitz. Data analysis was additionally done by Antoine H. P. America. The first draft of the manuscript was written by Sabrina Geisslitz and all authors commented on previous versions of the manuscript. All authors read and approved the final manuscript.
Funding information
This IGF Project of the FEI was supported via AiF within the programme for promoting the Industrial Collective Research (IGF) of the German Ministry of Economic Affairs and Energy (BMWi), based on a resolution of the German Parliament. Project AiF 18355 N. This submission was supported by the Fachgruppe Analytische Chemie of the Gesellschaft Deutscher Chemiker via a scholarship for finalizing a publication in a cooperation project. Additional funding came from the Technical University of Munich (TUM) through the TUM Graduate School (GS) Internationalization Grant.
Compliance with ethical standards
No human or animal subjects were used in the study. No informed consent was required for this study.
Conflict of interest
The authors declare that they have no conflict of interest.
Copyright information
© Springer-Verlag GmbH Germany, part of Springer Nature 2019