A nanobody-based test for highly sensitive detection of hemoglobin in fecal samples
Abstract
Colon cancer has a high prevalence worldwide and is a serious public health problem. Early diagnosis greatly improves its prognosis and, among the existing methods, the detection of fecal occult blood is the only noninvasive test recommended for screening of the disease. To promote its massive application as a screening tool for asymptomatic populations in low-resource settings, the availability of a reliable and cost-effective method is imperative. Here, we describe the development and validation of a sensitive nanobody-based immunoassay for the detection of hemoglobin in human fecal samples. The nanobodies were selected from a library generated from a llama immunized with human hemoglobin, using a high-throughput platform that enabled the identification of the best nanobody pair. The assay allowed a sub-ng/mL limit of detection to be reached in phosphate-buffered saline, and was validated with stool samples, showing excellent reproducibility (CV% < 15 inter-day precision) and accuracy at 2 and 4 μg of hemoglobin per gram of feces, which are well below the recommended cutoff for this test (10–20 μg/g). Moreover, no cross-reactivity was observed with a panel of dietary non-human hemoglobins removing the need for pre-test dietary restrictions. Considering that the monodomain nature of nanobodies facilitates their straightforward and low-cost production by bacterial fermentation, with their provided sequences and using synthetic genes, the assay reported here could be replicated in any laboratory to perform thousands of tests for early detection of colorectal cancer at almost no cost.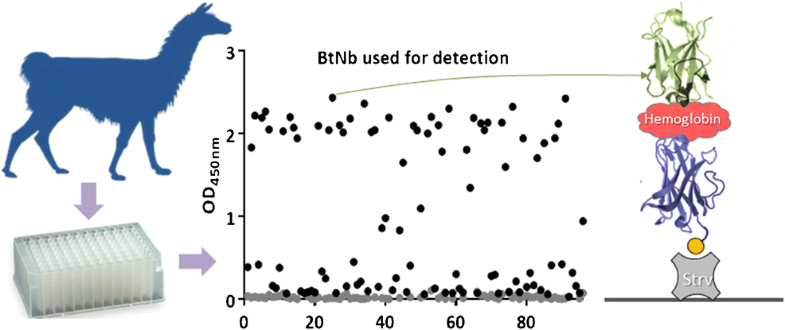 Keywords
Immunoassay/ELISA 
Phage display 
Colorectar cancer 
FOBT 
Nanobody 
Notes
Acknowledgements
Dr. Ana Acuña and Dr. Mariana González from Parasitology and Mycology Department from Central Laboratory of Pasteur Hospital who kindly provided the stool samples used in this study.
Funding information
This work was supported with funds provided by CSIC-149 UdelaR. Triana Delfin is the recipient of a scholarship from ANII-Uruguay.
Compliance with ethical standards
All fecal samples were collected with informed consent of donors and studied according to the ethic protocols followed by the Laboratory of Mycology and Parasitology of the Hospital Pasteur, Montevideo, Uruguay.
The blood sample used for the preparation of hemoglobin was donated for this purpose with informed consent by one of the authors of this study, and was taken by trained personnel in a local hospital.
The use of a 2-year-old llama for this study was approved by the authorities of the Zoológico Parque Lecocq, Montevideo, Uruguay, and all the procedures were carried out by the veterinarians of the zoo following the protocol approved by the Comisión de Ética en el Uso de Animales del Parque Lecocq (CEUA).
Conflict of interest
The authors declare that they have no conflict of interest.
Copyright information
© Springer-Verlag GmbH Germany, part of Springer Nature 2019