Addressing K/L-edge overlap in elemental analysis from micro-X-ray fluorescence: bioimaging of tungsten and zinc in bone tissue using synchrotron radiation and laser ablation inductively coupled plasma mass spectrometry
Abstract
Synchrotron radiation micro-X-ray fluorescence (SR-μXRF) is a powerful elemental mapping technique that has been used to map tungsten and zinc distribution in bone tissue. However, the heterogeneity of the bone samples along with overlap of the tungsten L-edge with the zinc K-edge signals complicates SR-μXRF data analysis, introduces minor artefacts into the resulting element maps, and decreases image sensitivity and resolution. To confirm and more carefully delineate these SR-μXRF results, we have employed laser ablation inductively coupled plasma mass spectrometry (LA-ICP-MS) to untangle the problem created by the K/L-edge overlap of the tungsten/zinc pair. While the overall elemental distribution results are consistent between the two techniques, LA-ICP-MS provides significantly higher sensitivity and image resolution compared with SR-μXRF measurements in bone. These improvements reveal tissue-specific distribution patterns of tungsten and zinc in bone, not observed using SR-μXRF. We conclude that probing elemental distribution in bone is best achieved using LA-ICP-MS, though SR-μXRF retains the advantage of being a non-destructive method with the capability of being paired with X-ray techniques, which determine speciation in situ. Since tungsten is an emerging contaminant recently found to accumulate in bone, accurately determining its distribution and speciation in situ is essential for directing toxicological studies and informing treatment regimes.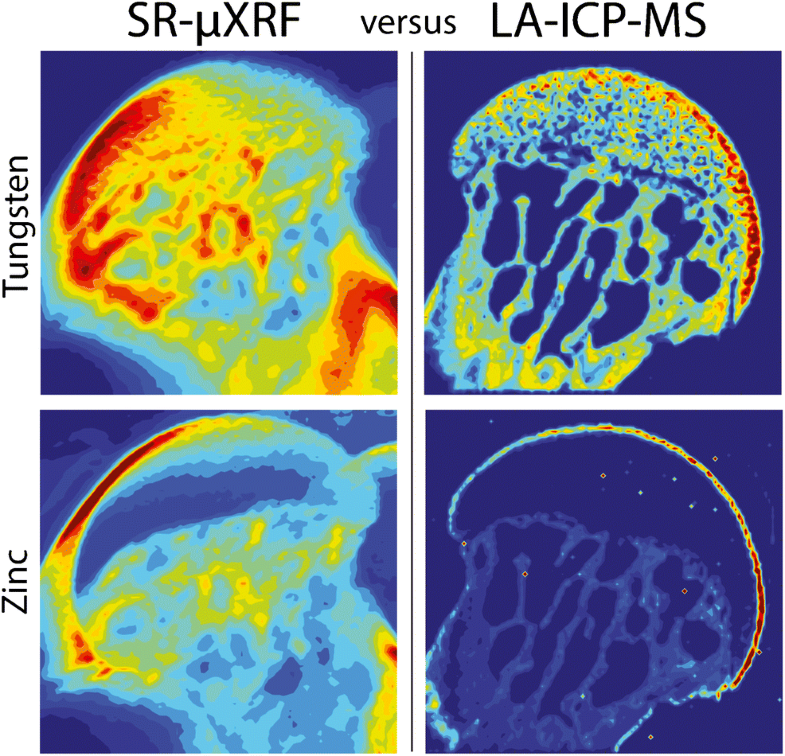 Keywords
Tungsten 
LA-ICP-MS 
X-ray spectroscopy (XPS | XRF | EDX) 
Zinc 
Analyte 
Overlap 
Notes
Acknowledgements
We thank the CLS for beamtime along with Renfei Feng and Peter Blanchard for their assistance at the VESPERS beamline. Research done at the Canadian Light Source is supported by the Canada Foundation for Innovation, NSERC, the University of Saskatchewan, the Government of Saskatchewan, Western Economic Diversification Canada, the National Research Council Canada, and the CIHR. Dartmouth Trace Element Analysis Core is supported by NCI Cancer Center Support Grant 5P30CA023108-37 and NIEHS Superfund grant P42 ES007373.
Author Contributions
KKM, DSB designed the project. KKM and HC supervised sample collection from animal specimens. CRV prepared bone samples and collected BE images. CRV and DK collected, processed and analyzed SR-μ-XRF and LA-ICP-MS data. BPJ assisted with LA-ICP-MS collection and analysis. DSB, CRV and DK wrote the manuscript with input from all authors.
Funding information
This study received financial support from the Natural Sciences and Engineering Research Council of Canada (NSERC), Canadian Institutes of Health Research (CIHR), and the Canada Research Chairs Program as well as fellowship support from the CIHR to DK and CRV.
Compliance with ethical standards
Animal experiments were performed in the Lady Davis Institute Animal Care Facility following the guidelines of the McGill University Animal Care Committee–approved protocol.
Conflict of interest
The authors declare that they have no competing interests.
Copyright information
© Springer-Verlag GmbH Germany, part of Springer Nature 2019