Leek-derived codoped carbon dots as efficient fluorescent probes for dichlorvos sensitive detection and cell multicolor imaging
Abstract
A biomass nitrogen and sulfur codoped carbon dots (NS-Cdots) was prepared by a simple and clean hydrothermal method using leek, and was employed as efficient fluorescent probes for sensitive detection of organophosphorus pesticides (OPs). The leek-derived NS-Cdots emitted blue fluorescence, but was quenched by H2O2. Due to acetylcholinesterase/choline oxidase–based cascade enzymatic reaction that produces H2O2 and the inhibition effect of OPs on acetylcholinesterase activity, a NS-Cdots-based fluorescence "off-on" method to detect OPs-dichlorvos (DDVP) was developed. More sensitivity and wider linear detection range were achieved from 1.0 × 10−9 to 1.0 × 10−3 M (limit of detection = 5.0 × 10−10 M). This developed method was applied to the detection of DDVP in Chinese cabbage successfully. The average recoveries were in the range of 96.0~104.0% with a relative standard deviation of less than 3.3%. In addition, the NS-Cdots fluorescent probes were also employed successfully in multicolor imaging of living cells, manifesting that the NS-Cdots fluorescent probes have great application potential in agricultural and biomedical fields.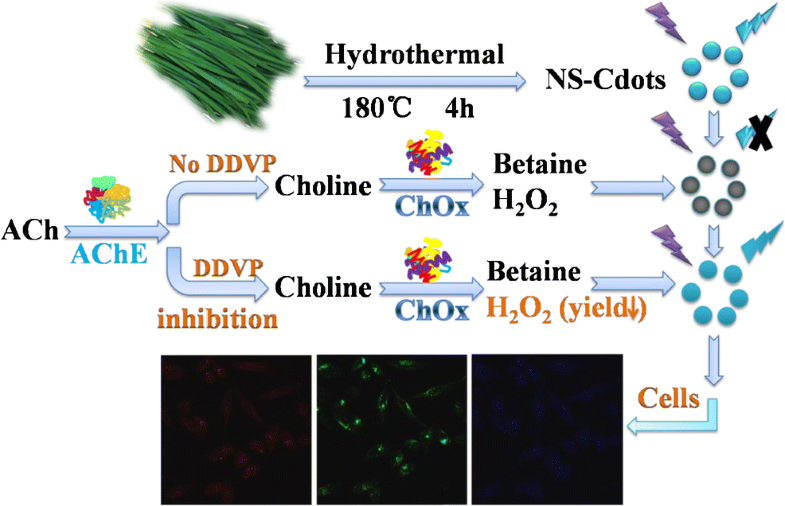 Keywords
Codoped carbon dots 
Organophosphorus pesticides 
Fluorescence detection 
Cells multicolor imaging 
Notes
Funding information
This study was funded by the Natural Science Foundation of Guangxi Province (No. 2017GXNSFAA198274)
Compliance with ethical standards
Conflict of interest
The authors declare that they have no conflict of interest.
Ethical standards and informed consent
This research was approved by the Hezhou University Ethic Committee and all experiments were performed in accordance with the Guideline for Experimentation of Hezhou University.
Copyright information
© Springer-Verlag GmbH Germany, part of Springer Nature 2019