Enhancing the accuracy of measurement of small molecule organic biomarkers
Abstract
Over two decades, the Organic Analysis Working Group (OAWG) of the Consultative Committee for Amount of Substance: Metrology in Chemistry and Biology (CCQM) has organized a number of comparisons for clinically relevant small molecule organic biomarkers. The aim of the OAWG community is to be part of the coordinated international movement towards accuracy and comparability of clinical measurements that will, in turn, minimize the wastage of repeat testing and unnecessary therapy to create a sustainable healthcare industry. International and regional directives/requirements on metrological traceability of calibrators and control materials are in place. Metrology institutes worldwide maintain infrastructure for the practical realization of metrological traceability and demonstrate the equivalence of their measurement capabilities through participation in key comparisons organized under the auspices of the CCQM. These institutes provide certified reference materials, as well as other dedicated value-assignment services benefiting the in-vitro diagnostic (IVD) industry, reference (calibration) laboratories and the clinical chemistry laboratories. The roles of these services in supporting national, regional, and international activities to ensure the metrological traceability of clinical chemistry measurements are described.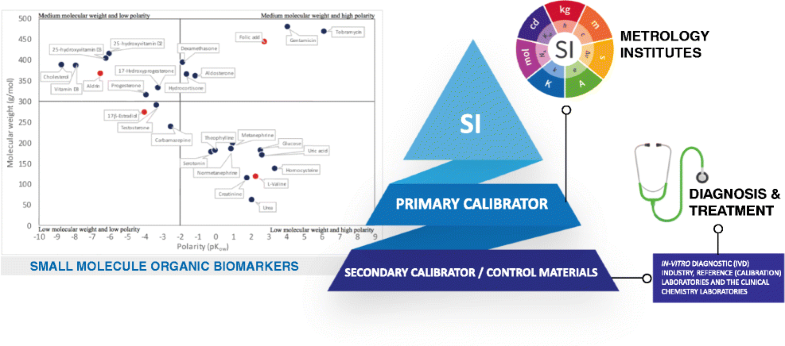 Keywords
Biomarker 
Clinical measurements 
Metrological traceability 
Certified reference materials (CRMs) 
Pilot studies and key comparisons 
External quality assessment schemes (EQAS) 
Abbreviations
BIPM

International Bureau of Weights and Measures

CCQM

Consultative Committee for Amount of Substance: Metrology in Chemistry and Biology

CIPM

International Committee for Weights and Measures

CRM

certified reference material

DBS

Dried Blood Spot

DEQAS

Vitamin D External Quality Assessment Scheme

DI

Designated Institute

EQALM

External Quality Assurance Programmes in Laboratory Medicine

EURAMET

European Association of National Metrology Institutes

EQAS

External Quality Assessment Schemes

ICHCLR

International Consortium for Harmonization of Clinical Laboratory Results

IDMS

Isotope dilution-mass spectrometry

IMEP

International Measurement Evaluation Programme

IFCC

International Federation for Clinical Chemistry and Laboratory Medicine

ILAC

International Laboratory Accreditation Cooperation

ISO

International Organization for Standardization

IVD

In-vitro diagnostic

JCTLM

Joint Committee for Traceability in Laboratory Medicine

MRA

Mutual Recognition Arrangement

NMI

National Metrology Institute

OAWG

Organic Analysis Working Group

RMPs

Reference measurement procedures

SI

International System of Units

PT

Proficiency testing

RCPAQAP

Royal Australasian College of Pathologists Quality Assurance Programs

SRM

Standard Reference Material®

VDSP

Vitamin D Standardization Program

VitDQAP

Vitamin D Metabolites Quality Assurance Program
Notes
Acknowledgments
The authors thank all colleagues involved in the organization and participation of the CCQM pilot studies and key comparisons for small molecule organic biomarkers over the past two decades. HSA acknowledges the contributions by Lingkai Wong, Yizhao Chen, Hong Liu, and Hui Ling Teo. NIST acknowledges the contributions by Lorna Sniegoski, Michael J. Welch, Susan S.-C. Tai, Jeanita Pritchett, Karen W. Phinney and David L. Duewer, as well as Steven A. Wise and Christopher T. Sempos in collaboration with and financial support from the NIH Office of Dietary Supplements. NMIA acknowledges the contributions by Stephen Davies, Veronica Vamathevan, Mark Lewin, Lesley Johnston, Meg Croft, and Edwin J Murby. LNE acknowledges the contributions by Catherine Perrot, Maryline Peignaux, Carine Fallot, Julie Cabillic, and Gustavo Martos. KRISS acknowledges the contributions by Byungjoo Kim, Inchul Yang, Dukjin Kang, and Hwashim Lee. NIMT acknowledges the contributions by Cheerapa Boonyakong, Charun Yafa, and the Thailand Creatinine Standardization Working Group. INMETRO acknowledges the contributions by Bruno C. Garrido, Eliane C.P. Rego and Jane L. N. Fernandes.
Compliance with ethical standards
Conflict of interest
The authors declare no conflict of interest.
Copyright information
© Springer-Verlag GmbH Germany, part of Springer Nature 2019