Novel nanoarchitecture of arginine-glycine-aspartate conjugated gold nanoparticles: a sensitive and selective platform for detecting arachidonic acid
Abstract
A novel electrochemical approach for determination of arachidonic acid (ARA) was developed based on the linear arginine-glycine-aspartic-Au (RGD-Au) nanomaterial modified on glassy carbon electrode (GCE). The prepared material was characterized by transmission electron microscopy (TEM), field emission scanning electron microscopy (FESEM), ultraviolet-visible spectroscopy (UV-vis), Fourier transform infrared spectroscopy (FTIR), X-ray diffraction (XRD), and X-ray photoelectron spectroscopy (XPS). The electrochemical signal was obtained from the reduction of 1,4-naphthoquinone and ARA served as a proton source. Under the optimum experimental conditions, the RGD-Au-based electrode was used to analyze ARA. Meanwhile, the electrochemical characteristics were also studied by cyclic voltammetry (CV), electrochemical impedance spectroscopy (EIS), and linear sweep voltammetry (LSV). The sensor showed a wider linear range from 0.5 to 100 μM and the linear fitting equation was Ip (μA) = 0.0721 c + 2.4583 (R2 = 0.9987) with a detection limit of 80 nM. The application of the sensor in real samples was tested and compared with that of LC-MS/MS. This sensor would be a promising platform for detection of ARA in blood plasma.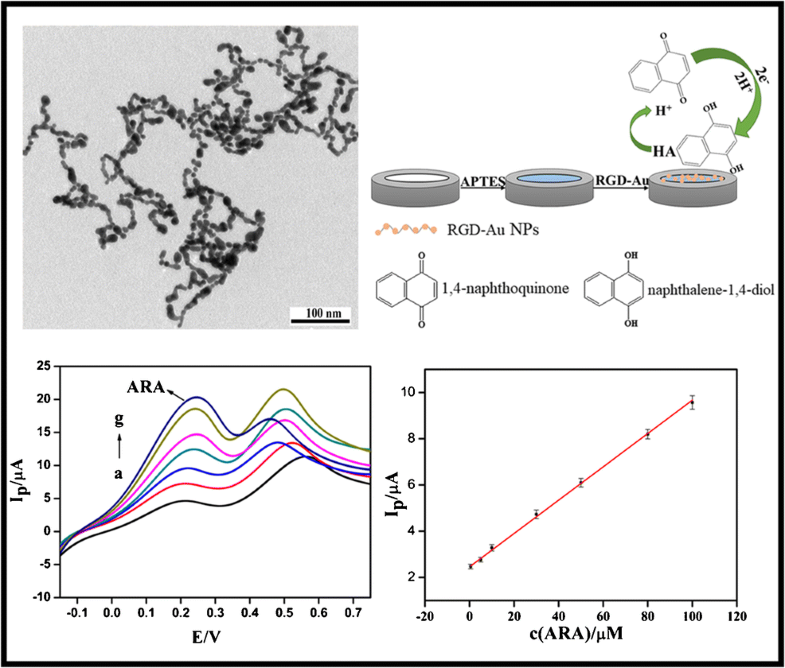 Keywords
RGD-Au nanomaterial 
Arachidonic acid 
1,4-Naphthoquinone 
Electrochemical sensor 
Notes
Funding information
This study was supported by the National Natural Science Foundation of China (21575067, 31601405), the Natural Science Foundation Program of Jiangsu Province (BK20160591), and the Research Funding of Jiangsu Academy of Agricultural Sciences (6111681).
Compliance with ethical standards
The study was approved by the ethic committee of Jiangsu Collaborative Innovation Center of Biomedical Functional Materials, Nanjing Normal University, and all the experiments were carried out in strict accordance with the ethical standards.
Conflict of interest
The authors declare that they have no conflict of interest.
Copyright information
© Springer-Verlag GmbH Germany, part of Springer Nature 2019