A novel anodic electrochemiluminescence behavior of sulfur-doped carbon nitride nanosheets in the presence of nitrogen-doped carbon dots and its application for detecting folic acid
Abstract
The application of carbon dots as a coreactant for Ru(bpy)32+ (where bpy is 2,2′-bipyridine) electrochemiluminescence (ECL) has been widely studied. However, the high cost of Ru(bpy)32+ and its derivatives has prohibited its widespread use in ECL biosensors. Herein, a novel anodic ECL system based on sulfur-doped graphitic carbon nitride nanosheets (S-g-C3N4 NSs) and nitrogen-doped carbon dots (N-CDs) is presented. In this ECL system, N-CDs serve as a new ECL coreactant that can significantly enhance the anodic ECL signal of S-g-C3N4 NSs (approximately 83 times) under optimal conditions. The possible ECL response mechanism of the S-g-C3N4 NSs/N-CDs system is proposed in detail on the basis of cyclic voltammograms, ECL–time curves, and ECL spectra. Furthermore, the ECL signal of the S-g-C3N4 NSs/N-CDs system was quenched by folic acid (FA), which was chosen as a model analyte to study the potential application of the new ECL system. The ECL intensity decreased linearly with the concentration of FA in the range from 0.05 to 200 μM. The detection limit for FA measurement is 16 nM (signal-to-noise ratio of 3). The proposed new ECL system has many advantages over traditional approaches, such as low toxicity and excellent biocompatibility. Especially, the proposed approach can detect FA in diluted human serum samples with satisfactory recoveries, indicating promising application for bioanalysis.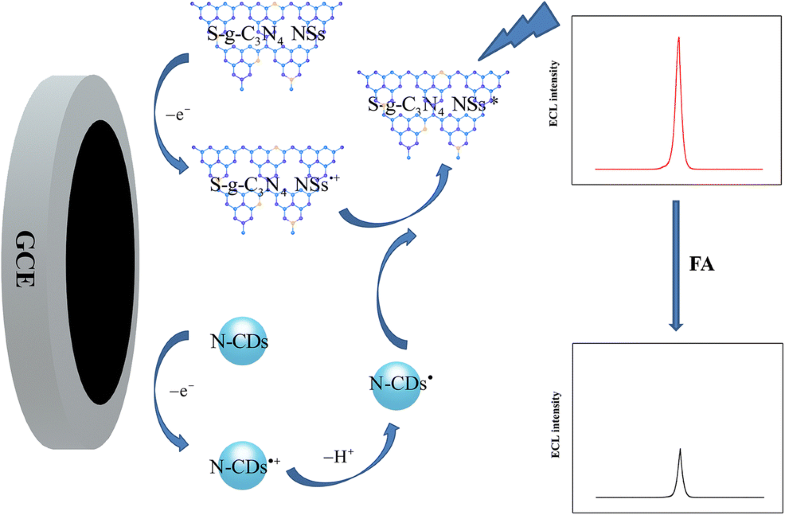 Keywords
Electrochemiluminescence 
Folic acid 
Carbon nitride nanosheets 
Nitrogen-doped carbon dots 
Notes
Acknowledgements
This work was supported by a grant from the Key Program of the National Natural Science Foundation of China (grant nos. 21838010, 21676270, and 21890762), the National Natural Science Foundation of China–Key Projects of Shanxi Coal Based Low Carbon Joint Foundation (grant no. U1610222), the Chinese Academy of Sciences (grant no. 211211KYSB), and the National Key Research and Development Plan (grant no. 2016YFF0203700).
Compliance with ethical standards
The study was approved by the Health Center of the University of Chinese Academy of Sciences and was performed in accordance with ethical standards. Informed consent was obtained from all individual participants included in the study.
Conflict of interest
The authors declare that they have no competing interests.
Copyright information
© Springer-Verlag GmbH Germany, part of Springer Nature 2019