Graphene oxide composites for magnetic solid-phase extraction of twelve quinolones in water samples followed by MALDI-TOF MS
Abstract
Antibiotic compounds in natural waters are normally present at low concentrations. In this paper, an easy and highly sensitive screening method using graphene oxide–functionalized magnetic composites (GO@NH2@Fe3O4) combined with matrix-assisted laser desorption/ionization-time-of-flight mass spectrometry (MALDI-TOF MS) was established for twelve quinolone antibiotics. GO@NH2@Fe3O4 composites were utilized as adsorbents for magnetic solid-phase extraction. This method combines the advantages of magnetic solid-phase extraction and MALDI-TOF MS, which allows for fast detection of quinolones at low concentrations. To improve absorption efficiency, the following parameters were individually optimized: sample acidity, extraction time, amount of adsorbent used, eluent used, and desorption time. Under the optimum conditions, the established method gave a low detection limit of 0.010 mg/L and allowed the high-throughput screening of twelve quinolone antibiotics (enoxacin, norfloxacin, ciprofloxacin, pefloxacin, fleroxacin, gatifloxacin, enrofloxacin, levofloxacin, sparfloxacin, danofloxacin, difloxacin, and lomefloxacin). The proposed method, having an easily prepared sorbent with a high affinity for quinolones and a convenient, high-throughput detection step, has been shown to have merit for the detection of antibiotics in water samples.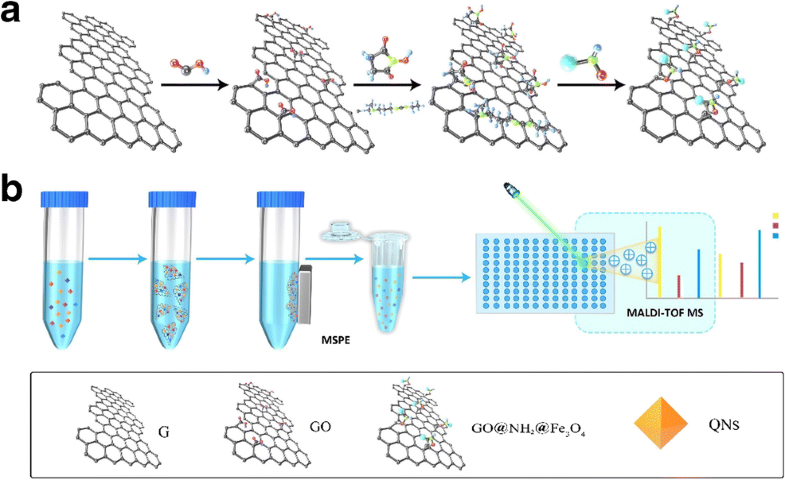 Keywords
MALDI-TOF MS 
Magnetic solid-phase extraction 
Graphene oxide 
Quinolones 
High-throughput screening 
Magnetic composites 
Notes
Funding information
This work is a part of the National Key R&D Program of China (Nos. 2017YFF0211301 and 2017YFC1601101) and the Tianjin Scientific and Technology Support Program Funding Agency (No. 16YFZCNC00730).
Compliance with ethical standards
The study was performed in accordance with the ethical standards.
Conflict of interest
The authors declare that they have no conflicts of interest.
Copyright information
© Springer-Verlag GmbH Germany, part of Springer Nature 2019