Four steps for revealing and adjusting the 3D structure of aptamers in solution by small-angle X-ray scattering and computer simulation
Abstract
Nucleic acid (NA) aptamers bind to their targets with high affinity and selectivity. The three-dimensional (3D) structures of aptamers play a major role in these non-covalent interactions. Here, we use a four-step approach to determine a true 3D structure of aptamers in solution using small-angle X-ray scattering (SAXS) and molecular structure restoration (MSR). The approach consists of (i) acquiring SAXS experimental data of an aptamer in solution, (ii) building a spatial distribution of the molecule's electron density using SAXS results, (iii) constructing a 3D model of the aptamer from its nucleotide primary sequence and secondary structure, and (iv) comparing and refining the modeled 3D structures with the experimental SAXS model. In the proof-of-principle we analyzed the 3D structure of RE31 aptamer to thrombin in a native free state at different temperatures and validated it by circular dichroism (CD). The resulting 3D structure of RE31 has the most energetically favorable conformation and the same elements such as a B-form duplex, non-complementary region, and two G-quartets which were previously reported by X-ray diffraction (XRD) from a single crystal. More broadly, this study demonstrates the complementary approach for constructing and adjusting the 3D structures of aptamers, DNAzymes, and ribozymes in solution, and could supply new opportunities for developing functional nucleic acids.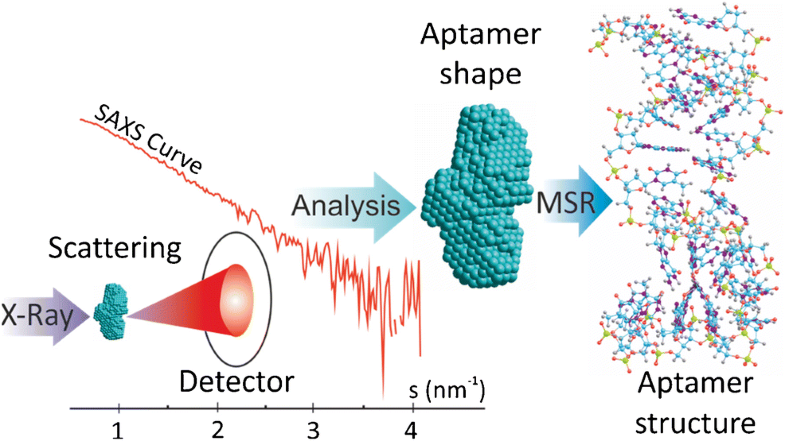 Keywords
Aptamer 
Thrombin 
Three-dimensional structure 
Small-angle X-ray scattering 
Molecular modeling 
Abbreviations
CD

Circular dichroism

Cryo-EM

Cryogenic electron microscopy

FRET

Fluorescence resonance energy transfer

MSR

Molecular structure restoration

NMR

Nuclear magnetic resonance spectroscopy

SAXS

Small-angle X-ray scattering

XRD

X-ray diffraction
Notes
Acknowledgements
Authors are grateful to Ana Gargaun for English grammar correction. This work was funded in parts by the Ministry of Science and Higher Education of the Russian Federation; project 0287-2019-0007 the Council of the President of the Russian Federation for Support of Young Scientists and Leading Scientific Schools (project no. SP-938.2015.5) and the grant of KSAI "Krasnoyarsk Regional Fund of Supporting Scientific and Technological Activities" for M.P., the internship "The study of the stacking of the secondary structure of DNA aptamers to thrombin" for R.M.
Author contributions
V.N. Zabluda, S.S. Zamay, S.G. Ovchinnikov created an idea, designed the overall concept, supervised the work. R. Moryachkov, M. Platunov, G. Peters, V.N. Zabluda, A. Melnichuk performed SAXS experiments, F.N. Tomilin, I. Shchugoreva, S.G. Ovchinnikov, A. Sokolov perform modeling, V. Spiridonova, A. Melnichuk, A. Atrokhova performed circular dichroic spectrum analysis and UV-melting, F.N. Tomilin, S.S. Zamay, G.S. Zamay, T.N. Zamay, M.V. Berezovski, R. Moryachkov, M. Platunov, A.S. Kichkailo analyzed all data and wrote the paper. All authors provided intellectual input, edited and approved the final manuscript.
Compliance with ethical standards
Conflict of interest
All authors declare that they have no conflict of interest.
Compliance with ethical standards
This article does not contain any studies with human participants or animals performed by any of the authors.
Copyright information
© Springer-Verlag GmbH Germany, part of Springer Nature 2019