Determination of antipsychotic drugs in oral fluid using dried saliva spots by gas chromatography-tandem mass spectrometry
Abstract
The present work describes the optimization and validation of an analytical method for the determination of six antipsychotic drugs (chlorpromazine, levomepromazine, cyamemazine, clozapine, haloperidol, and quetiapine) in oral fluid samples after solvent extraction from dried saliva spots, by gas chromatography coupled to tandem mass spectrometry. The method was fully validated, and the included parameters were selectivity, linearity, limits of quantification, precision and accuracy, stability, and recovery. The method was linear for all compounds from 10 to 400 ng/mL, except for haloperidol (5–100 ng/mL), presenting coefficients of determination higher than 0.99. Inter- and intra-day precision and accuracy were in conformity with the criteria usually seen in bioanalytical method validation; i.e., coefficients of variation were lower than 15% and an accuracy of 15% or better for all studied drugs. The recoveries obtained with this miniaturized technique ranged from 63 to 97%. The herein described method is the first to be reported using the dried saliva spots approach for the analysis of these antypshychotic drugs, proving great sensitivity apart from its simple and fast procedure. The method was considered a good alternative to the conventional techniques to be applied in clinical and toxicological analyses, even more taking into account the extremely low sample volume used (50 μL).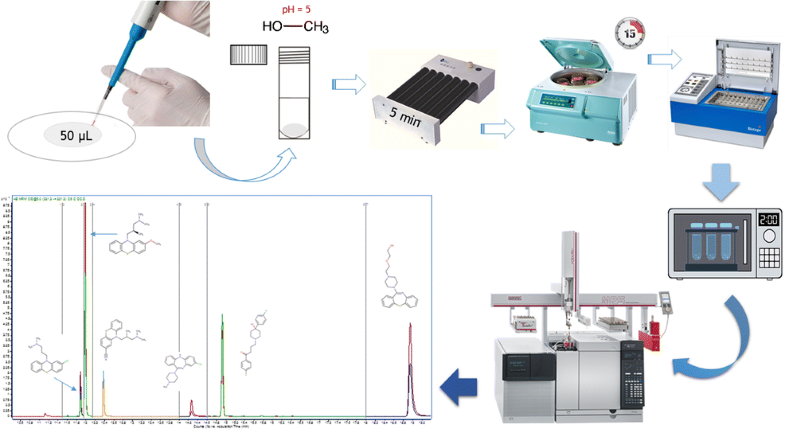 Keywords
Dried saliva spots 
Oral fluid 
GC-MS/MS 
Antipsychotic drugs 
Notes
Acknowledgments
The authors acknowledge all the nursing team of the Departamento de Psiquiatria e Saúde Mental from the Centro Hospitalar Cova da Beira.
Funding information
This work is supported by FEDER funds through the POCI-COMPETE 2020 - Operational Programme Competitiveness and Internationalization in Axis I – Strengthening Research, Technological Development and Innovation (Project POCI-01- 0145-FEDER-007491) and National Funds by FCT – Foundation for Science and Technology (UID / Multi / 00709/2019).
Compliance with ethical standards
The present study was approved by the ethics committee from Centro Hospitalar Cova da Beira and has been conducted according to ethical standards. The analyzed authentic samples belonged to individuals who provided an informed consent for their use, and all analyses were carried out according to the ethical standards of the institution.
Conflict of interest
The authors declare that they have no conflicts of interest.
Copyright information
© Springer-Verlag GmbH Germany, part of Springer Nature 2019