Surface plasmon resonance based analysis of the binding of LYAR protein to the rs368698783 (G>A) polymorphic Aγ-globin gene sequences mutated in β-thalassemia
Part of the following topical collections:
Abstract
Recent studies have identified and characterized a novel putative transcriptional repressor site in a 5′ untranslated region of the Aγ-globin gene that interacts with the Ly-1 antibody reactive clone (LYAR) protein. LYAR binds the 5'-GGTTAT-3' site of the Aγ-globin gene, and this molecular interaction causes repression of gene transcription. In β-thalassemia patients, a polymorphism has been demonstrated (the rs368698783 G>A polymorphism) within the 5′-GGTTAT-3′ LYAR-binding site of the Aγ-globin gene. The major results gathered from surface plasmon resonance based biospecific interaction analysis (SPR-BIA) studies (using crude nuclear extracts, LYAR-enriched lysates, and recombinant LYAR) support the concept that the rs368698783 G>A polymorphism of the Aγ-globin gene attenuates the efficiency of LYAR binding to the LYAR-binding site. This conclusion was fully confirmed by a molecular docking analysis. This might lead to a very important difference in erythroid cells from β-thalassemia patients in respect to basal and induced levels of production of fetal hemoglobin. The novelty of the reported SPR-BIA method is that it allows the characterization and validation of the altered binding of a key nuclear factor (LYAR) to mutated LYAR-binding sites. These results, in addition to theoretical implications, should be considered of interest in applied pharmacology studies as a basis for the screening of drugs able to inhibit LYAR–DNA interactions. This might lead to the identification of molecules facilitating induced increase of γ-globin gene expression and fetal hemoglobin production in erythroid cells, which is associated with possible reduction of the clinical severity of the β-thalassemia phenotype.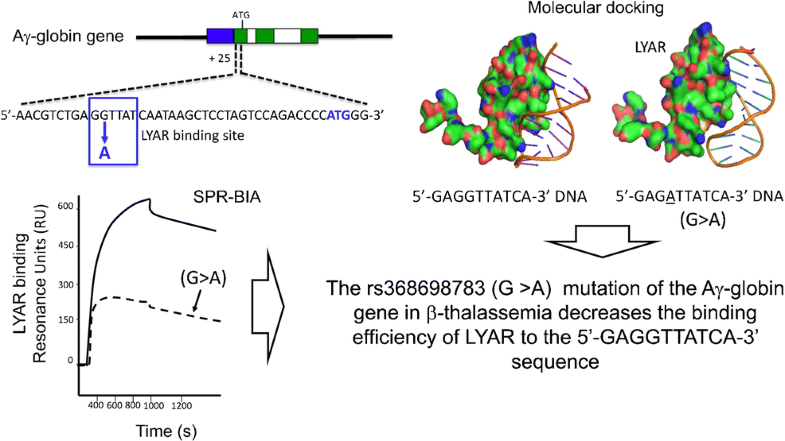 Keywords
β-Thalassemia 
Fetal hemoglobin 
γ-Globin gene polymorphism 
Ly-1 antibody reactive clone 
Surface plasmon resonance 
Abbreviations
HbF

Fetal hemoglobin

HEPES

N-(2-Hydroxyethyl)piperazine-N′-ethanesulfonic acid

LYAR

Ly-1 antibody reactive clone

ODN

Oligodeoxyribonucleotide

poly(dI-dC)

Poly(deoxyinosinic-deoxycytidylic) acid

SPR-BIA

Surface plasmon resonance based biospecific interaction analysis

UTR

Untranslated region
Notes
Acknowledgements
RG is funded by Fondazione Cassa di Risparmio di Padova e Rovigo, Consorzio Interuniversitario per le Biotecnologie, the UE THALAMOSS Project (Thalassemia Modular Stratification System for Personalized Therapy of Βeta-Thalassemia; no. 306201-FP7-HEALTH-2012-INNOVATION-1), the Wellcome Trust (innovator award 208872/Z/17/Z) and AIFA (AIFA-2016-02364887). This research was also supported by Associazione Veneta per la Lotta alla Talassemia, Rovigo.
Compliance with ethical standards
No violation of human rights occurred during this investigation. The collection and processing of the human biological samples for this research were approved by the Ethics Committee of Ferrara District, number 06/2013 (approved on June 20, 2013). The study complies with the Declaration of Helsinki, the principles of good clinical practice, and all further applicable regulations. All samples of peripheral blood were obtained after written documentation of informed consent from patients or their legal representatives. Copies of the written consent were collected for archiving by "Day Hospital for Thalassemia and Hemoglobinopathies, S. Anna Hospital, (Ferrara, Italy). Consent to submit this article was received from all coauthors.
Conflict of interest
The authors declare that they have no competing interests.
Copyright information
© Springer-Verlag GmbH Germany, part of Springer Nature 2019