Microfluidic sample delivery for serial crystallography using XFELs
Abstract
Serial femtosecond crystallography (SFX) with X-ray free electron lasers (XFELs) is an emerging field for structural biology. One of its major impacts lies in the ability to reveal the structure of complex proteins previously inaccessible with synchrotron-based crystallography techniques and allowing time-resolved studies from femtoseconds to seconds. The nature of this serial technique requires new approaches for crystallization, data analysis, and sample delivery. With continued advancements in microfabrication techniques, various developments have been reported in the past decade for innovative and efficient microfluidic sample delivery for crystallography experiments using XFELs. This article summarizes the recent developments in microfluidic sample delivery with liquid injection and fixed-target approaches, which allow exciting new research with XFELs.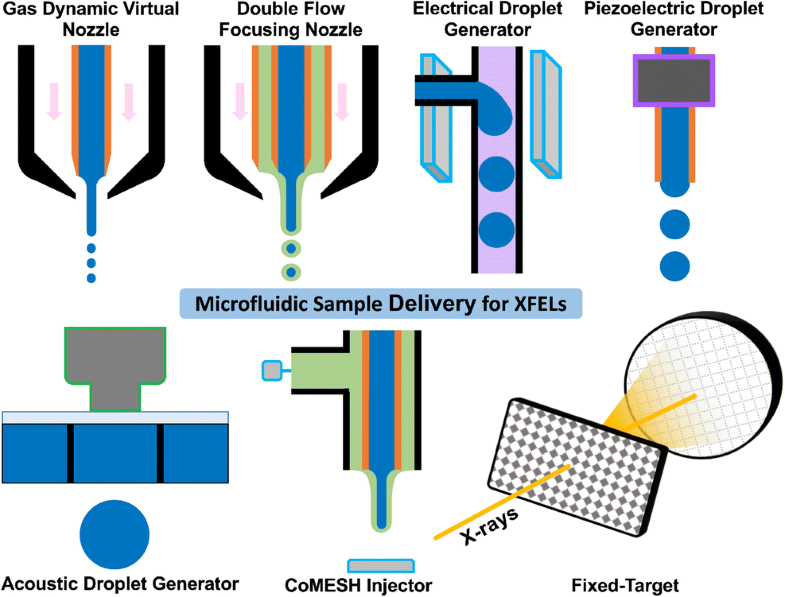 Keywords
Protein 
Nozzle 
Injector 
Fixed-target 
Mixing 
Time-resolved 
Notes
Acknowledgments
Financial support from the STC Program of the National Science Foundation through BioXFEL under Agreement No. 1231306 and the National Institutes of Health Award No. R01GM095583 is gratefully acknowledged.
Compliance with ethical standards
Conflict of interest
The authors declare that they have no conflict of interest.
Copyright information
© Springer-Verlag GmbH Germany, part of Springer Nature 2019